677 Reviews
Location:

London, United Kingdom

Duration:

10 hours 30 minutes

(approx.)
Take an early or late-access tour of Stonehenge, and walk inside the UNESCO-listed stone circle without any of its daytime crowds. Choose from a morning or evening tour and explore the inner circle of stones — an experience only available to your group. Depending on the time of year, you might even catch the sunset or sunrise, too. This exclusive once-in-a-lifetime experience, which additionally includes tours of Lacock and Bath, sells out quick as tickets are limited; book now for an excursion you won't forget!
Highlights
Early or late access Stonehenge tour with admission to the inner stone circle
Walk around the roped-off stones, an experience only available to your group
Learn about the UNESCO-listed stone circle from a knowledgeable guide
Visit the Saxon village of Lacock and enjoy breakfast or dinner at a vintage pub (own expense)
Explore the elegant city of Bath, enjoy a tour of the Roman Baths and visit Bath Abbey
Select a morning or evening tour and visit this top England attraction without the crowds
Recent Photos of This Tour
Private Viewing of Stonehenge including Bath and Lacock
What You Can Expect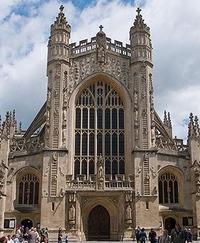 Choose a morning or evening tour when booking, and then leave your central London hotel to visit the UNESCO World Heritage site of Stonehenge, free from its daytime crowds. Visitors arriving at the site during the peak daylight hours are not permitted to have direct access to the intriguing stone circle. However, your 'private viewing' tour enables your group to walk inside the roped-off circle, and admire the stones close up.

Hear the secrets and mysterious stories about Stonehenge from your expert guide, and experience the site at its atmospheric best! Depending on the time of year you visit, you may even be lucky enough to catch the sunset or sunrise; it's sure to make your Stonehenge viewing an unforgettable experience. Read on for more details of each option; both tours finish with a drop-off at Victoria in central London.

Morning Tour:
After exploring the stones with your guide, travel onward to the nearby village of Lacock, a place often cited as one of England's most picturesque villages. Hear of Lacock's past as a Saxon dwelling, and learn about its use as a setting for many movie and TV programs including the adaptation of Jane Austen's Pride and Prejudice and Harry Potter and the Philosopher's Stone. Stretch your legs on a walk with your guide, and then head inside the George, a 14th-century pub, for breakfast (own expense).

Continue to Bath, a UNESCO-listed city in the county of Somerset. Enjoy a tour of the Roman Baths, visit Bath Abbey, and learn some more about Jane Austen, who was born in the city. If you wish, enjoy a short walking tour to see where the legendary novelist Charles Dickens lived and worked as a young man, and sample fresh cheese from a local dairy. Alternatively, make the most of some free time to explore independently.

Evening Tour:
From London, travel first to the city of Bath to explore the Roman Baths and visit Bath Abbey, as described for the Morning Tour. Continue to Lacock for a walk around the picturesque village, and then enjoy dinner at the George pub (own expense). Last, but not least, travel to Stonehenge for your tour of the stones when the day-trippers have left the site.
August 2015
This was a wonderful experience! We did the sunset tour and have a great time. Our tour guide was a blue badge guide and he was well informed. I did appreciate how he kept the entire group on schedule even when we had a few people that were not considerate of time. The sites were great, the time passed well on the bus as our guide gave us information on some of the surrounding areas as we passed them. I enjoyed the tour.
July 2015
This tour was absolutely fabulous - to stand among the stones was amazing! I saw Stonehenge 25 years ago from the outer circle so to be able to go inside was a real highlight. Breakfast in Lacock was a treat and Bath was well done also!
July 2015
Was a super fantastic day being able to get inside Stonehenge was a dream come true.Bath was awesome and a beautiful city.The guide was incredible she kept the tour moving along yet there was plenty of time to see all the sights.Lacock was a nice village and breakfast was delicious.A great day
July 2015
2of2
On the bus and off to Lacock. David took breakfast orders onboard so that all fifty of us could eat a quick, yet satisfying meal. We were served tea, coffee, and our food arrived within minutes of us arriving - fantastic. We walked around this little town/village and learned about the nuns who founded it, the King who despised them and its recent history as a film/tv location.
Back on the bus to Bathe. Once again the ride was a breeze and filled with informative tidbits, humor and debates about the moral behavior of humans. The city itself is small and packed with touristy stuff like the church, the baths, the ice cream shops, etc. We could have spent a long weekend exploring this town, but only had a couple of hours. David laid the groundwork of what was realistic to see and do and let us go on our own.
The bus was late departing for the second time due to some families being a little slow to return. Our driver Richard was another amazing person who patiently waited for everyone, every time and made what accommodations his rules and guidelines allowed. We had spent too much time at Stonehenge I believe we all wanted to, and people were late getting back at every stop, so now our driver was up against the safety clock. We had to sacrifice the convenience of being dropped off at multiple hotels for a plan that worked for the most people on the bus. I was shocked to hear people complain that they werent getting door-to-door service when it was our own faults for being late, but then some people complain about the taxes when they win the lottery.
My family had the best time! We cannot recommend this tour highly enough, especially if you are lucky and blessed enough to spend your day with Farmer David. He touched our hearts and filled our heads with memories that we will cherish forever. Some people are special, some places are holy and some days are extraordinary to get all three is more than a grand slam homerunit wasa miracle.
July 2015
1of2
The best day ever-an eleven on a scale of one to ten-life changing?
These titles may seem a bit of an exaggeration, yet I would say theyre all understatements when it comes to describing our recent trip to Stonehenge and our wonderful guide David Jordan.
The bus ride was easy with comfy seats and plenty of space, but no bathroom. One of our fellow travelers failed to plan for the two-hour ride without stops and forced all of us over for an emergency bathroom stop. The driver and guide handled this well and kept the rest of us calm saying we would still have plenty of time to enjoy the stones on our own.
David kept us entertained, informed and awake with great stories about England, history, scientific discoveries, social interactions, dos, donts and his own knowledge, enthusiasm and openness really made the day! He knew the route so well he would literally count down the seconds to a great view, a photo opportunity or chance piece of wisdom he wanted to share. His genius was magical and enriched our tour far more than any audio guide or pre-written statements.
When we arrived at Stonehenge the mist was lifting from the ground, the sun was hidden behind clouds and the place was empty. The souvenir shop was not even open, but luckily the bathrooms were. Seeing the stones for the first time as they revealed themselves on the horizon was awesome! We approached the site along a path that was roped off to protect the area. When I saw the guard lower that rope barrier to allow us access to the stones, I knew this trip was worth every extra pound we paid to be here. The uniqueness of seeing Stonehenge up close with just fifty people instead of staring from a distance in a mob of thousands was priceless. I will not spoil your visit with more descriptions expect to say that I could not stop taking photos when asked to leave because I felt I could not capture the feeling, scope, and grandness of what we just witnessed with my digital camera.
July 2015
Loved the private viewing of Stonehenge. Going amongst the stones was absolutely the best experience. Lacock was also interesting. Bath was a bit disappointing. I must say the green water was off putting. But the rest of the tour was so great the overall tour was wonderful!
July 2015
Lucy was fabulous! She had great enthusiasm and knowledge about all the historic and prehistoric sites we visited. I got so much out of this tour.
July 2015
This was a lovely tour - its a bit more expensive than some of the other Stonehenge, etc., options, but its worth it to have the private and inner access to the stone circle. The hotel pickup was easy and on-time we had a short 10 minute walk from our hotel to one of the designated pick-up spots our guide, Frank, and our coach driver, Malcolm, were perfect gentlemen and a joy to be around all day. They truly enjoy what they're doing, and both gentlemen did their best to share as much information as possible, particularly when we were divided into two smaller groups for entering the stone circle. The stop in Lacock was a treat - this little village is a gem, and I promise that you'll get more out of that than you expect. Our final stop in Bath was lovely - while it would be wonderful to spend more time in this charming town, the time we had was fine - enough to tour the Roman Baths, stroll the town, and enjoy a quick drink at a pub. It is a long day, but it is also a terrific way to get a taste of each of these three beautiful places. Highly recommend.
June 2015
Excellent tour! Our tour guide was wonderful and really made the trip very pleasant for all of us. Everything went like clockwork and going into the inner circle was very cool to say the least. Nice clean bus and every stop was fun and exciting!
June 2015
Amazing to see the sun setting behind Stonehenge! well worth the price. The commentary on the region was interesting and informative throughout the tour.
Advertisement
Advertisement