Witness the enchantment of London at night with a two-hour evening cruise along the historic River Thames! Aboard the glass-encased boat, enjoy the city's main attractions at dusk, including the Shard, Big Ben and the Cutty Sark ship. Savor sparkling wine and canapés as you cruise the river and delight in the magic of London's urban shoreline as night falls.
Highlights
2-hour River Thames sightseeing cruise at sunset
Listen to live music as you cruise between Westminster and Greenwich

Enjoy colorful canapés and a glass of sparkling wine
Pass top London attractions like Big Ben, the Houses of Parliament and the Cutty Sark ship
Cruise past the glass-faced Shard building – London's tallest!
What You Can Expect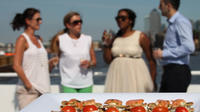 Your journey along the River Thames begins in the evening at Westminster Pier where you'll board the ship. Stroll the open-air deck and help yourself to delicious canapés as you embark on a two-hour float along London's famous waterway. Then find a seat in the indoor saloon, enjoy live jazz music and admire unobstructed views of passing city landmarks at sunset.
Heading first past Westminster, you'll get great views of the Houses of Parliament and the iconic Big Ben, followed by the illuminated London Eye and Shakespeare's famous Globe Theatre, a gorgeous Elizabethan playhouse that still runs regular performances. Sip on bubbly wine as your boat cruises under London Bridge and past the Tower of London and the monolithic Shard building – London's tallest building at 1,016 feet (310 meters) in height.
The final leg of your cruise takes you by Canary Wharf, the Naval College and the striking Cutty Sark clipper ship, one of the remaining three clipper ships from the 19th century. From here, your boat will make its way back to Westminster Pier, where you'll disembark with plenty of time for dinner or evening activities.
October 2015
Great evening of relaxation on the Thames. Drinks and plenty of appetizers available throughout the trip.
Lots of wonderful photo opportunities. With the good weather we were able to stay up in the open air the entire time.
October 2015
Wonderful experience! The lights of the city at night were beautiful, especially Tower Bridge. I would recommend this cruise to anyone!
September 2015
Excellent, would recommend this to anyone.
August 2015
This was fab. They weren't stingy on the canapés, the service was great, the bar reasonably priced. We also got the benefit of seeing the sights in both the light and then lit up which was beautiful. Bring a brolly in case of rain as the view from up top is a million times better but not covered.
July 2014
great value for money, the staff were friendly and made sure you were catered for at all times. great sights and an overall perfect romantic evening. A definite MUST GO!!! xx
January 2014
SUPER TIME , A SUPER EXPERIENCE, EXCELLENT CANAPES, AND A TERRIFIC PRICE, COULD NOT HAVE WANTED MORE.
December 2013
Wonderfujl beginning to our stay in London. Lovely sunset views, wonderful appetizers and the champagne just topped it off. Highly recommend this tour to anyone especially if it is your first day after a long international flight.
We met a British couple who were delightful and very informative about what we were passing by. We were in the cabin part of the boat. I think there was some kind of explanation on the top deck.
July 2013
My group had loads of fun on the cruise. We got to see a so many London landmarks from a different perspective along the river. The food and drink was very good, and everyone aboard was having a marvelous time. Would highly recommend this tour for a relaxing end to a busy day of sightseeing.
syafieq Malaysia
July 2013
The cruise was absolutely fantastic. It will bring you further up until Canary Wharf. The view on that day is magnificent with perfect sunset to enjoy. They will serve you with drink and snacks throughout the cruise. Will definitely recommend to others,
June 2013
this was such a suprsie fun trip for us!!! we LOVED it! and was by far our favorite thing we did in London. we did it the 1st day we arrived and even though it wasn't very sunny out for a sunset (that is London for you...over cast and cloudy)...it didn't matter at all. most of the people on board were so cold..we all stayed below deck (but there were plenty of seats above deck to sight see and take pictures). downstairs they offer drinks and complimentary appetizers (was not expecting that) and some live light jazz music. we loved it and would definitly do it again!
Advertisement
Advertisement