127 Reviews
Location:

London, United Kingdom

Duration:

1 day pass
See where King Henry VIII wooed his many wives with fast-track entry to Hampton Court Palace. Even better, by purchasing your ticket ahead of time you'll jump the queue. Don't waste time waiting in lines on vacation!
Highlights
Skip the Line admission to Hampton Court Palace
Book in advance and jump the queues
Henry VIII's lavish State Apartments
Queen's State Apartments
Family-friendly attraction with Family Trails for children to follow and Family Room with play equipment
Historic Tudor kitchens
Palace gardens, including the famous maze and Great Vine
Free tours and presentations by authentically costumed guides
Recent Photos of This Tour
Skip the Line: Hampton Court Palace Tickets
What You Can Expect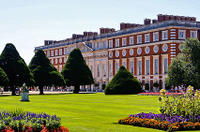 Flamboyant Henry VIII is most associated with this majestic palace, which he extended and developed after acquiring it in the 1520s. The palace's many royal occupants have ensured the palace has fabulous furnishings, tapestries and paintings. It is set in beautiful formal gardens, which include the famous maze and the Great Vine.
Hampton Court has a designated Family Room, where parents and young children are invited to take a rest from the bustle of the palace. The play equipment is suitable for children aged under five. Family Trails guiding children around the palace are available at the Information Center.
The palace is pushchair friendly and a lift is available if you'd like to access the upper floor without using the stairs.
Hampton Court is just half an hour from Central London by direct train and is a great place to spend a relaxing afternoon out of the city!
At least three hours is recommended for your visit to Hampton Court.
Do you want to visit more Royal sites?
Upgrade to the Royal Palaces Pass, including the Tower of London, Hampton Court and Kensington Palace. Your pass comprehends one visit to each attraction and is valid for two years. You'll have plenty of time to explore the stories and intrigues at each site at your leisure, as part of you own itinerary.

Itinerary
Things to See and Do:
The Other Boleyn Girl dresses
Dresses worn by Scarlet Johannson and Natalie Portman in the recent Hollywood blockbuster 'The Other Boleyn Girl' are currently on display until August 26, 2008.
The Young Henry VII exhibition

Be among the first to visit this fascinating new exhibition. It explores the stereotypes that have over shadowed the true characters and stories of Henry VIII, Cardinal Wolsey and Katherine of Aragon for centuries. Historic paintings from the Royal Collection, together with audio-visual and hands-on displays, will help you explore and discover a very different King Henry VIII.
The Georgian Rooms:

Shown today as they were in 1737 during the final visit of the royal court the Georgian Rooms present a more relaxed, informal and domestic side of palace life.
The Wolsey Rooms:

A permanent interactive exhibition revealing the relationship between Henry VIII, Katherine of Aragon and Cardinal Wolsey during the 1520's at Hampton Court Palace.
Mantegna's Triumph of Caesar:

Andrea Mantegna's Triumphs of Caesar are considered to be one of the most important works of the Italian Renaissance.
Palace Gardens:

There are over 60 acres of gardens to explore at Hampton Court including the Maze, the Great Vine and the recently restored Privy Garden.
Courtyards and Cloisters:

The buildings of Hampton Court Palace cover 6 acres and there are many courtyards and cloisters to explore.
Henry VIII'S State Apartments:

Henry VIII was Hampton Court's first royal owner, and his magnificent public rooms still survive today.
The Tudor Kitchens:

If you can stand the heat, come into the new Tudor kitchens! Real smells, sounds and huge roasting fires will give you a taste of Tudor life.
The King's Apartments:

King William III's Apartments are some of the finest and most important Baroque state apartments in the world.
The Queen's State Apartments:

These rooms took 30 years to complete and represent a wide range of styles. Some of the most spectacular interiors in the palace can be found here.
Costumed Guides

Every day there are free tours and presentations by costumed guides in the State Apartments. Learn about life at court and the colorful characters who lived here.
August 2015
We got there early and it wasn't crowded---easy to get around quickly. It was terrific! Much to see and hear!
August 2015
June 2015
Fabulous site, both castle and grounds! One should read up on the way the tour is handled prior to going--there are guides for hire and I recommend using one because the audio lectures are WAY too long and boring. Food is so- so; take your own if you can. Lots of walking!
June 2015
June 2015
Parking was a disaster as the car parks were full. There was also no need to print off you voucher as stated on the visitor web site. This would have saved us a great deal of trouble had we known. Otherwise Hampton Court was amazing and well worth a visit
May 2015
No waiting. Wonderful stroll thru the gardens and Hampton Court. Loved the portraits and furnished room displays. Informative and friendly, helpful staff.
March 2015
Absolutely loved it! If you are going to go, word of advice : GET THERE EARLY. There's an incredible amount to see. I spent 6 hours there--the gardens were all dead (a couple of crocuses but that's it), missed the kitchens and ditched my audio guide halfway through--still not enough time. If you get there early, they have these red velvet cloaks (and an assortment of long colored vests) to wear. It was fun to feel like I was walking out of time and doubly nice as it kept me extra warm on that cold day. All the wardens are super friendly and knowledgeable. Be sure to chat them up. The audio guide is awesome, particularly the dramatic version in the Henry VIII's apartments. I really like these booklets in most of the rooms discussing each of the paintings, light fixtures and porcelain artifacts. You can sit on thrones, indulge in a scratch and sniff map, see actors flit through the halls (saw the King and the cardinal discuss matters of state on the staircase). I can't express enough how delighted I was that this wasn't just another stuffy museum. If you are worried about it being too far, don't! It was an easy train ride (comfy seats, practically empty). Like I said, you need to make a day of it. Leave Waterloo no later than 9:30am and have an amazing day!
March 2015
First time there and thoroughly enjoyed it
March 2015
Excellent day which was both informative and interesting with the use of the audio guide. Great value for the cost.
February 2015
Very nice trip, wonderful palace,
Advertisement
Advertisement