21 Reviews
Location:

London, United Kingdom

Duration:

Flexible
Charles Darwin was a fellow of ZSL London Zoo and visited regularly. Now you can follow in his footsteps with skip-the-line entry to ZSL London Zoo. Even better, by purchasing your ticket ahead of time you'll jump the queue. Head inside to see exciting sites like Penguin Beach, Gorilla Kingdom and -- new for 2013 -- the Tiger Territory!
Highlights
Skip the Line admission to London Zoo
Award-winning Gorilla Kingdom
Come face to face with Sumantran tigers, Jae Jae and Melati, at the new Tiger Territory

Walk-through exhibit with free-flying hummingbirds
Free-roaming monkeys in the Rainforest Life Attraction
Komodo dragon lair
Giraffes and hunting dogs in the African enclosure
Butterfly Paradise, walk through a giant caterpillar and immerse into a world of amazing and beautiful butterflies and moths from around the globe.

Recent Photos of This Tour
Skip the Line: London Zoo Tickets
What You Can Expect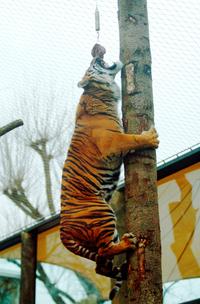 New at ZSL London Zoo is the Tiger Territory. Five times the size of the previous tiger enclosure, the new site has been designed to mimic the tropical foliage of the Island of Sumtran to make the zoo's tigers -- Jae Jae and Melati -- feel at home. Over three million pounds has been invested in the enclosure to give the best view of the tigers in their natural environment while protecting them from extinction.

Hit the Beach and join London's biggest penguin colony. Penguin Beach recreates a South American beach landscape in the heart of London, with stunning colonies of around 200 Macaroni and Humboldt penguins. The exhibit features a large pool with underwater viewing areas so you can see how our flippered friends fly under the waves. And a larger demonstration area with seating turns feeding time into an even bigger spectacle than before.

Meet the giant Galapagos tortoise that can live for over 150 years, and carry around huge, bony shells that they can hide inside if they feel threatened. Visit the fantastic Blackburn Pavilion and learn how Darwin's contemporary, John Gould, identified the differences between species of finches that Darwin brought back from the Galapagos, helping Darwin formulate his theories on evolution.

You can observe the behavior of the apes in the award-winning Gorilla Kingdom, and also come face to face with a group of Bolivian Squirrel monkeys in conditions akin to their natural habitat.

Travel into Africa and marvel at the giraffes via a raised viewing platform or check out the playful yet lethal hunting dogs. Be sure to observe the komodo dragons prowling their state-of-the-art lair, landscaped to mimic a dry river bed.

ZSL London Zoo is a leader in conservation breeding and reintroduction and, with over 1 million visitors a year, provides a unique opportunity to engage and inspire visitors of all ages!
August 2015
Everyone must do this! It's one of the most famous zoos in the world and a great day out. There is plenty of space to walk around or enjoy a coffee or ice cream. The animals all seem very happy and well looked after. I'd recommend going on a weekday as it would be less crowded, but since it's so big, I don't think there is ever a problem of waiting in queues to see any of the animals.
June 2015
March 2015
January 2014
Everything was perfect! Our access to the zoo was very easy!
Thank you,Viator!
July 2013
A fun day out for all of the family! Saw some very interesting animals and the new tiger enclosure is great! There are lots of interactive activities for kids too!
January 2013
We really enjoyed this as there was lots of animals to see and my son is obsesssed with animals so he was delighted to go. There was a good sized shop at the end to buy some souvenirs. The only thing was the restaurant there was very busy we had to leave cos we could not get a seat so if u want to eat there i would go early as in before lunchtime. They are building another restuarent but that won't be finished for a few months yet.
April 2012
Excellent service, very helpful day out, was good. Will use your company again.
July 2011
August 2015
The zoo was great, but we didn't ned the jump to the front pass. There was no line. The walking with lemurs was awesome. I really enjoyed it!
August 2014
We wasted our money buying Skip the Line tickets, as the zoo was so quiet on the day that we didn't wait in line at all (despite the weather being sunny). The zoo itself was a nice place to visit though, with interesting attractions and not-unbearable crowds. The rainforest walk was amazing; a zookeeper was actually walking an anteater among the visitors, and letting it explore on its own. The gorillas were brilliant and fun to watch as well. You'd probably need less than two hours to make your way through if you don't have kids with you.
Advertisement
Advertisement