Special Offer
Save 20% by booking select times! See pricing options for complete details.
Immerse yourself in glamour and spectacle at Madame Tussauds in London. Head to the world-famous venue and jump the queue with your pre-purchased entrance ticket (guaranteed entry within 45 minutes of arrival). Spend some quality time with remarkable wax replicas of Her Majesty the Queen, Beyoncé, One Direction and Michael Jackson. Enjoy access to the Marvel Super Heroes 4D Exhibition, where you'll meet classic Star Wars heroes like Yoda, Luke Skywalker and Princess Leia.
Highlights
Guaranteed admission to Madame Tussauds in London
Book in advance to ensure guaranteed admission within 45 minutes of arrival
Pose for photos with wax figures of world-famous celebrities like Leonardo DiCaprio and Kate Winslet
Snap a selfie with Kim Kardashian and rub shoulders with Her Majesty the Queen and the British Royal Family
Hang out on the ceiling with Spider-Man at the Marvel Super Heroes 4D Exhibition

Step into iconic Star Wars scenes at the immersive Star Wars at Madame Tussauds
Recent Photos of This Tour
Madame Tussauds London Priority Entrance Ticket Including Star Wars Exhibition
What You Can Expect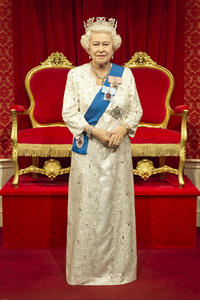 Add some glitz and glamour to your London trip with a family-friendly visit to Madame Tussauds! Head into central London and flash your ticket for quick access to this vibrant venue. View over 300 wax figures throughout 14 themed zones like Bollywood, Film and Culture. You'll meet the Royals, classic film stars and famous extraterrestrials, as well as some of the world's greatest artists like Shakespeare and Vincent Van Gogh.
Upon entering, skirt past the paparazzi to get a photo with Kate Moss, and rub shoulders with other celebs like Leonardo DiCaprio, Kim Kardashian, Brad Pitt, Angelina Jolie and Michael Jackson. Stroll down the red carpet for some glamorous shots with Kate Winslet and then head to the Sports zone to meet David Beckham.
Next, board a classic black cab and enjoy a ride throughout London's colorful history, and head into the Marvel Super Heroes 4D movie experience. Combining 4D animation, interactive displays and life-like replicas of super heroes like Spider Man and the Incredible Hulk, this exhibition is fun for all ages.
Finish your visit with a stop in the Star Wars exhibition. Grab your lightsaber for a match against Anakin Skywalker, meet Yoda in Dagobah, head into Jabba the Hutt's Throne Room and more! A must for Star Wars fans old and new!
Itinerary
Marvel Super Heroes 4D Exhibition

Atmospheric sets will conjure up the high-tech Super Hero world of S.H.I.E.L.D (Supreme Headquarters International Espionage Law-enforcement Division) and you will be able to get close to wax figures of Marvel's most famous names.
There will also be the chance to 'turn hero' yourself in a series of interactive experiences including walking on the ceiling with Spider-Man and stepping into Iron Man's chest shield
.


Taking up 900 sq meters over three floors the experience will culminate in a new animated 4D 'short' cinema presentation
.
The story sees a crack team of Super Heroes including Hulk, Spider-Man and Captain America battling against one of Marvel's most villainous baddies in an all new adventure.
Star Wars at Madame Tussauds
Traverse the swamps of Dagobah with Yoda, wield a lightsaber with Anakin Skywalker, hang out with Han Solo in the cantina bar and more during a visit to the immersive Star Wars at Madame Tussauds experience, created in collaboration with Disney and Lucasfilm.
Step into some of the most iconic moments in film history and get up close to 16 of the saga's most popular heroes and villains. As you make your way through 11 authentic walk-in sets, including Jabba's Throne Room and the flight deck of the Millennium Falcon, pose for photos with extraordinarily life-like wax figures of your favorite characters. Snap a selfie with Chewbacca, feel the Force alongside Obi-Wan Kenobi and Qui-Gon Jinn and witness the ultimate battle as Luke Skywalker and Darth Vader, embark on their final duel.

May 2016
When I developed my London Tour Brochure of 2 days I included Madam Tussauds, City Highlights and an excursion out to Cotswolds area. I'm very happy to have pre-booked my Madam Tussauds ticket 2 months ahead of my visit and skip the long queue at the site! I loved to see the popular wax figures of the current Royals and late lady Diana I still love, the political and actors and actresses of the day including special star wars loved characters Most of all, I loved the Ride through the London history- a spectacular treat for my eyes as the drama continued through the journey in the Spirit of London! :- Will book more with Viator in future for sure!
May 2016
Madame Tussauds was more than I was expecting. Not only do you see celebrity wax figures, you experience the pride of London which is a ride through the timeline of London while riding in a Typical black London cabbie. We spent hours roaming about. Extremely worth it.
April 2016
This trip to Madame Tussauds was amazing. I hadn't been for years and it was a gift to my other half, we had the best time.
April 2016
We had a wonderful few hours at the exhibition. Thoroughly enjoyed by all, Grandma, Mum and three kids. Well worth the money.
April 2016
I would recommend buying tickets even though you have to queue to get in - this is a seriously used attraction - do not risk buying tickets at the door
March 2016
March 2016
Pics with the star wars characters, pretty nice
February 2016
Thank you, the two boys were in awe all the way round. They lived it.
February 2016
The London Madam Tussauds is a great experience. They really play up the scenes with interactive pictures of course they are trying to sell you all those pictures at the end, but the prices were not bad at all They even have live actors to enhance the experience so it was a lot of fun.
January 2016
Madame Tussaud's is such a fun place to visit. I highly recommend it
Advertisement
Advertisement