Immerse yourself in the wonderful world of marine life right in the middle of London! Head to Sea Life London Aquarium and breeze past the queue with your skip-the-line ticket. While away the hours exploring the 50 colorful displays, home to over 400 species of sea creature including sharks, eels, clownfish, octopus, penguins and more! Visit all 14 themed marine habitats and catch an exciting live feeding.
Highlights
Skip the line and avoid the long queues!

See up to 400 species of sea life in 2 million liters of water
Watch sharks swimming beneath your feet!

Experience 14 themed zones of marine habitats
The Sea Life London Aquarium is located close to the London Eye

Recent Photos of This Tour
Skip the Line: Sea Life London Aquarium
What You Can Expect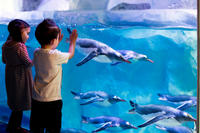 Don't fritter away your precious time in London waiting in line! With your skip-the-line pass to the Sea Life London Aquarium, enjoy instant access to this world-class site. Upon entering, plot your itinerary through the 3-story complex. With more than 50 eye-catching displays and 400 species of sea animals to view, as well as a full schedule of exciting live feedings and talks throughout the day, a little planning ensures a great experience!
Perhaps start with the captivating Pacific Zone exhibit featuring the Shark Walk – an exhilarating viewing experience. Stroll upon a suspended glass platform that separates you from 10 shark species zipping inches beneath your feet! From there, check out sand eels, octopus and jelly fish in the stellar Atlantic Ocean exhibit, and then get better acquainted with some of the resident sea characters – including stingrays, seahorse and piranhas – at a live feeding. (Schedule listed below; subject to change)
If the Shark Walk didn't get your pulse racing, check out the popular Shark Reef Encounter, where you'll get up close and personal with myriad varieties of shark including Sand Tiger sharks, Bow Mouths and Black Tips Reef sharks. Upgrade to the 'Snorkel with Sharks Experience' to dive in and make some toothy friends.
This family-friendly sea adventure also offers the 'Behind the Scenes Tour' upgrade. Real marine life enthusiasts will love an expert guided tour of the aquarium's three behind-the-scenes areas: 'Creature Care & Research', 'Food Preparation' and 'Water Management'. Get an insider look at what it takes to sustain a great aquarium!
Itinerary
Throughout the day, free talks and feeding demonstrations are offered. Please see below the daily schedule. Timings are subject to change. Please check upon your arrival.

11:00 - Octopus Feed11:30 - Ray Talk and Feed
Learn all about these friendly rays and maybe even get a chance to help with the feed
12:00 - Dive and Discover
See turtles, sharks and rays whizzing about! Walk through the amazing underwater tunnel and learn a little about the colorful inhabitants
12:30 - Seahorse Talk
Journey to the Seahorse Temple and learn fascinating facts about these mysterious fish
13:00 - Rainforest Talk & Feed
From Terrapins to Catfish to Piranhas. You can see it all in the rain forest area. Come to this interesting talk, and maybe even see the infamous Piranha feeding frenzy!
14:00 and 16:00 - Shark Talk
Come along and be in awe of these fearsome looking creatures! Found out everything you want to know about these famous predators
14:30 - Shark Feed
Survival of the fittest is the name of the game when it's feeding time in the shark display! See all the inhabitants of the Pacific display compete for their fair share of the food! (Only available Tuesday, Thursday and Saturday)
15:30 - Coral Reef Talk & Feed
A coral reef is one of the brightest, busiest places in the ocean. See some of the beautiful coral reef inhabitants get on with their day-to-day activities
16:30 - Terrapin Talk & Feed
Journey into the tropical rainforest area and see these curious little creatures as they buzz around (Tuesday, Thursday and Saturday only)
March 2016
Absolutely loved it - Recommended for family with kids. There was no queue to skip on the day when we visited. Good value for money
September 2015
Great fun experience! Loved the sea life especialy the penguins, sharks and sea turtles. Appreciated the posters with fun informational facts about the sea life. Recommend for kids and kids at heart! only hiccup was finding the line for the express pass, but the regular ticket line wasn't too bad and we didnte have to wait too long.
June 2013
More than highly recommended , if u r looking for an enjoyable place go to sea live with trusted skip the line aviator booking
March 2013
This is a very well organised attraction. I would unhesitatingly recommend it.
Joelle T United Kingdom
September 2012
I was a bit doubtful about this tour, as I see zoos and parks or aquariums as prisons for animals, but actually not. i have realized that they take care of these animals as precious being! I really loved the aquarium. i recommend it for people who like to be (sort of ) close to wildlife. You will not be disappointed.I recommend this tour.
July 2012
It was well worth opting for the skip the line, despite arriving fairly early the queues were forming and would have meant a considerable wait.

July 2012
Fantastic. Me and my two children thoroughly enjoyed our day, wow the sharks!! Very easy to get to....deff recommend.
David T United Kingdom
April 2012
If you like sea life then this is for you. The "Behind the Scenes" tour is to be recommended. The tour guide was very informative. Great place to visit.
December 2011
The exhibition in London Aquarium was great, the acquisition of the ticket via internet was super easy.

November 2011
enjoyed my visit at the sea life aquarium and enjoyed it much more with the advanced tickets cause the queue was long
Advertisement
Advertisement