Enjoy exclusive access to the inner stone circle at Stonehenge, one of England's most mysterious and magnificent landmarks, on a full-day tour from London. Combine your intimate experience of Stonehenge with an enriching visit to Oxford, home to the prestigious Oxford University, and Windsor Castle, an official residence of Queen Elizabeth II. Enjoy included entrance fees, hotel pickup by luxury coach and a knowledgeable guide on this comprehensive and captivating tour.
Highlights
Comprehensive tour by bus/coach

Informative, friendly and professional guide

Hotel pickup included

All entrance fees included

Enjoy a day away from the hustle and bustle of the city

Explore the local streets on a walking tour of the city

Likely to Sell Out
Recent Photos of This Tour
Stonehenge Inner Circle Access Day Trip from London Including Oxford and Windsor Castle
What You Can Expect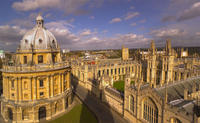 Depart from your centrally located London hotel in a luxury, air-conditioned minivan and relax during the scenic journey to Stonehenge, a UNESCO World Heritage-listed site shrouded in mystery and legend. Depending on the option selected, see either the sun rise or set over the prominent stones of the legendary landmark and venture within the inner stone circle, an honor normally denied to visitors.
Gaze at the monument from a unique inside perspective and listen to arresting stories that detail the mysteries surrounding the atmospheric landscape. After your incredible experience, return to your minivan and continue to Oxford through the picturesque English countryside.
On arrival in the historical city, absorb the architectural charm of Oxford on a guided walking tour. Stroll past the impressive buildings of the prestigious university and discover which intellectual figures attended; see the Great Hall in Christchurch College, setting of many Harry Potter scenes; and admire the classic books within the 17th-century Bodleian Library.
Return to your luxury vehicle for the journey Windsor Castle, an official residence of the Queen of England, and receive a historical introduction to the home of the British Royal Family. See the opulent State Apartments and the beautiful St. George's Chapel on a guided tour, and capture photographs of panoramic vistas from vertiginous vantage points on the castle grounds.
Relax during your journey back to London, where the tour concludes at your original departure point.
April 2016
Rhys and Joanne were great. Rhys was very informative. We really appreciated the interesting facts he shared and also that he kept the group on track. He gave lots of opportunities to ask questions. The inner circle at Stonehenge is the way to go. To be able to walk among the stones was an incredible experience - this is the only way to go! Windsor Castle and Oxford were good too - fairly quick but enough time to get a taste of what's there.
Gina Marie United States of ...
April 2016
Great tour. Reese and Joanne did a wonderful job and definitely added to the experience. Windsor Castle and Oxford is a short but worthwhile visit.
Seeing Stonehenge privately and being able to walk right up to it and in the center is definitely worth it. It and #39;s such a memorable experience!
October 2015
a lot to cover in 1 day but overall great tour.. seemed well organized .. tour leader helpful and pretty good about keeping things on track.. Stonehenge interior access definitely made extra cost worthwhile
September 2015
The private time in the inner circle at Stonehenge was great. The Driver Ricky and Guide David were very helpful and did a nice job helping us along.
September 2015
Our tour to Windsor Castle, Oxford, and Sunset at Stonehenge was totally delightful. The coach driver Andy and tour guide Daniel were fun and knowledgeable! There was plenty of time at each location giving us about 2 hours and 20 minutes at each. We were able to do everything we had planned at each venue. There are food options available at Windsor and Oxford. We ate lunch at Windsor and brought food from Oxford to eat later after Stonehenge on the way back to London. Despite it being August, it was cold at Stonehenge and my jacket was needed. I would recommend this tour to anyone planning a trip to Stonehenge from London. The ability to walk among the stones inside the inner circle is definitely worth the private sunset tour. In fact this was my favorite event during my entire trip to London. Thank you Andy, and Daniel for an amazing and unforgettable experience!
September 2015
Our tour guide Claudia was very knowledgeable, with a great sense of humor. We had a fun and very informative tour. We would recommend her as the best tour guide and a very pleasant and interesting person there is.
August 2015
An absolute must see! We were so fortunate to book this trip and have the opportunity to get inside the circle. Although the trip had sites other than Stonehenge, it was the most thrilling. Our guide kept us on track for the day and thankfully held to a timeline. We arrived well before sunset and had plenty of time to bask in the history and glory of Stonehenge. We were there almost at solstice so it was even more exciting. We have lots of photos for wonderful memories. This was the highlight of our England visit.
August 2015
Our tour guide, Daniel was fabulous
August 2015
Traveling into the inner circle of the stones is rare - only a certain number of people are permitted each year! If you have the opportunity to do this tour.. go!!! Well worth it!!! Yeah, you have to get up early, but there are no crowds - it is almost like a private viewing of about 20 people or less! John was our driver - very safe and efficient and David was our guide - he was very friendly, knowledgeable and enthusiastic. Overall a great time! The pictures are beautiful and not full of tourists, just the beautiful stones!!!! Oxford was interesting and Windsor castle was elaborate and enlightening. Great bus too air conditioning, comfortable seats and plenty of bathroom breaks included too. Loved this trip!!!!!!
August 2015
Our family really enjoyed this trip - our tour guide and driver were great. Although we spent a short period of time at each stop, that is what we were expecting on this tour. It was great to be able to get so close to Stonehenge. Our time there was about 20 minutes - had we gotten there earlier, we would have had more time -- but then we would have to leave London much earlier - so, we thought this was a fair trade-off. It is not a sunrise tour of Stonehenge again, we would have had to leave quite early. Overall, this day tour was a highlight of our trip, exactly what we were hoping for, and well worth the money. Our tour guide was really fantastic and took some superb pictures for us and it was nice that they used an amplified Vox system.
Advertisement
Advertisement