Special Offer
Price displayed includes a 13% discount off the local admission price!
See the best of London without the stress of rigid tour times and massive crowds on this hop-on hop-off bus tour. With your flexible, single-day pass, pick any date you'd like to hop aboard the double-decker, open-top bus for a comfortable sightseeing excursion. Great for kids and adults, your pass offers three route options with stops at main attractions like Big Ben, the Tower of London, Buckingham Palace and more. Bonus features include three city walking tours, a River Thames cruise and local discounts.

Highlights
Ticket for a London hop-on hop-off tour, valid for 24 hours of sightseeing
Use your hop-on hop-off sightseeing ticket on three tour routes and three transport link services
Hop on and off around the city at top London attractions like the London Eye, Big Ben and Tower Bridge
Enjoy complete flexibility to explore top London attractions at your own pace
Hear audio commentary on the red and blue routes or a live guide on the yellow route
Use your ticket to enjoy additional activities including a Thames River cruise and Changing of the Guard walking tour
Keep the kids entertained with children's commentary and activity packs on the three tour routes
Why Our Insiders Chose This Tour
An exceptional value! Your ticket not only gives you access to the multiple routes that the ultra-convenient hop-on, hop-off buses travel, but also to a cruise on the Thames and three fascinating walking tours. Excellent way to get the scoop on all the top attractions.
Recent Photos of This Tour
The Original London Sightseeing Tour: Hop-on Hop-off
What You Can Expect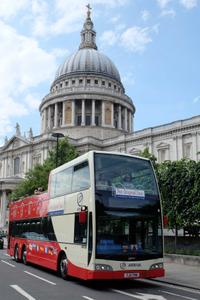 Enjoy a hassle-free bus tour of London's best attraction, monuments and landmarks by comfortable, double-decker bus. Purchase your 24-hour, single-day pass and redeem it on any date by hopping on the bus at one of the many designated stops such at the Tate Gallery, Shakespeare's Globe Theater or London Bridge. Grab a seat inside or on the open-top deck for panoramic views as you zip through town. Kid's will delight in lively kids-focused audio commentary and complementary activity packs.
Enjoy ultimate flexibility by traveling on any of the main tour routes (blue, red and yellow; stops listed in the itinerary section below) or the green, purple and black transport links. Your ticket comes with an added bonus! Hop off to join any of three fascinating city walking tours or take a River Thames sightseeing cruise. See itinerary for details.
To end your tour, just disembark at any point along the route.
Itinerary
Tour – Red Route:
Discover top city highlights in central London with multi-lingual audio commentary throughout. Stay on board for the full 2-hour loop, or hop on and off at your leisure at any of these stops:
Madame Tussauds, London Planetarium, Regent's Park, Oxford Street, Regent Street, Piccadilly Circus and Eros Statue, Leicester Square, The National Gallery, Nelson's Column and Trafalgar Square, Horse Guard's Parade, Downing Street, Big Ben and Houses of Parliament, Lambeth Palace, Imperial War Museum, London Aquarium, London Eye, South Bank Arts Centre, BFI Imax Cinema, Covent Garden, Fleet Street, St Paul's Cathedral, Monument, London Bridge, London Dungeon, Tower Bridge, Tower of London, Shakespeare's Globe, Tate Gallery Bankside, Millennium Bridge, Catamaran Cruisers, Sherlock Holmes Pub, Westminster Abbey, Buckingham Palace, Hyde Park and Speakers' Corner.
Tour – Yellow Route:
Explore central London with live commentary. Stay on board for the full 2-hour loop, or hop on or off at any of the stops. The route includes all stops mentioned on the Red Route except Madame Tussauds, London Planetarium, Regent's Park, Oxford Street and Regent Street. These attractions are replaced with the Ritz Hotel, Royal Academy of Arts and Fortnum and Mason.
Tour – Blue Route:
Discover London's museums and shopping districts and enjoy comprehensive audio commentary throughout. Stay on board for the full 2-hour loop or hop on and off at any of the stops:
Kensington Palace, Baden-Powell House, Natural History Museum, Science Museum, Victoria and Albert Museum, Brompton Oratory, Harrods, Knightsbridge, Harvey Nichols, Hyde Park, Ritz Hotel, Piccadilly Circus, Shaftsbury Avenue, British Museum, Russell Square, Wellington Museum, Royal Albert Hall, Albert Memorial, Kensington High Street and Princess Diana Memorial Fountain.
Transport Links
Transport Link

– Black Route:
Use this route to travel between the main London transport hubs of St Pancras, King's Cross, Marble Arch, Paddington, Marylebone and Euston.
Transport Link – Green Route:
This route provides a handy loop around central London, stopping at Leicester Square, the London Eye, Westminster and Piccadilly Circus.
Transport Link – Purple Route:
Use this route to travel around west London, stopping at Holland Park, Notting Hill, Bayswater, Kensington Gardens, Paddington and Madam Tussauds.
The following complimentary activities are subject to availability on the day of your tour.
Thames River Sightseeing Cruise:
Simply hop off your sightseeing bus at either Big Ben and the Houses of Parliament (Westminster Pier) or the Tower of London, and then walk the short distance to the pier. Show your hop-on hop-off ticket and step aboard the boat to begin your river cruise. Take in spectacular city views from out on deck or relax by the windows inside the boat as you glide up and down the Thames River, with top London attractions such as the London Eye, Tate Modern and St Paul's Cathedral drifting slowly by.
Walking Tour – Changing of the Guard:
Meet your guide at The Original London visitor center in Trafalgar Square at 10:30am. Stroll past St James's Palace on your way to Buckingham Palace, and then watch the time-honored Changing of the Guard ceremony taking place. In time to drumbeats, soldiers from the Queen's Foot Guard march in front of the palace in their red tunics and bearskin hats.
Walking Tour – Rock 'n' Roll:
Start at The Original London visitor center in Trafalgar Square at 1pm then set off to explore the capital. Discover famous venues and sites linked to rock 'n' roll legends of the past few decades. See where the Beatles were nearly arrested, the venue of Jimi Hendrix's last gig and more.
Walking Tour – Jack the Ripper:
Leave the bus stop at the Tower of London at 3:30pm with your guide and walk around Whitechapel in London's East End. Follow the trail of London's infamous serial killer, hear murderous tales from the city's dim and dark past and see the places that gave the Ripper his notorious acclaim.
June 2016
The best way to see all of London
June 2016
Able to see the sights in ashore period of time.
June 2016
Great way to see London in a short amount of time! It takes you all around the city to the most visited sites and the 48 hour ticket includes a boat ride to Greenwich. We went on all three lines red, yellow, and blue and they were all very helpful. The yellow line had a live guide who was wonderful and the blue line went on a great museum route. Overall, definitely worth it!
June 2016
Even though I had been to London on two earlier occasions, this was still informative and well worth the money
June 2016
My experience on this tour was excellent.Safe,it covers alot of ground in one day. I am a very happy happy person after this tour.I have already recommended it to family and friends.
June 2016
Great trip , easy on and off
June 2016
So glad we did this tour! Got to see all the amazing sights in London and didn't have to walk as much or navigate and pay for the public transportation!
June 2016
This tour was perfect for me and my family, especially since when we redeemed our vouchers for tickets at the downtown office, we also had an opportunity to choose other tours at discounted prices and so maximized our experiences. The girls chose the red tour and went to the London Eye and others that my husband and I did not want to go on. We chose the yellow tour and went to Westminster Abbey and the Tower of London. We all met back at the hotel at the end of the day and talked about our adventures. The live guide on the yellow tours were very good and the electronic guide on the red tour were adequate - sometimes the timing was off because we were stuck in traffic a bit. People who take this tour should know that London traffic is formidable in the late afternoon, so get on early and do as much as you can. Also, they stop admitting people to the Tower at 5 pm although you don't have to leave if you are inside until 5:30. It takes at least 3 hours to see this place. It's huge! It's also where the Crown Jewels are at.
June 2016
Great way to see the city!
June 2016
Everything went very well. Able exchange vouchers for tickets without a hassle.Never had to wait more than a couple of minutes for a bus after we had toured a sight. While on the yellow route the gentleman, providing the commentary handled a rather challenging biking protest with both humor and clas
Special Offer
$40.63 Save $5.41
Advertisement
Advertisement