201 Reviews
Location:

London, United Kingdom

Duration:

Varies
Get your tickets to Wicked the Musical Theater Show at Apollo Victoria Theatre in London. It tells the untold story of the legendary witches from Frank L Baum's The Wonderful Wizard of Oz. When Dorothy famously triumphed in Oz, only one side if the story was told.

Now, Wicked brings to life the captivating and surprising story of how misunderstood, green girl named Elphaba became the Wicked Witch of the West.
Highlights
Ticket to Wicked the Musical Theater Show at Apollo Victoria Theatre
Choose from two seating options to suit your budget

Optional pre-theater dinner at Da Scalzo Restaurant in Belgravia, Victoria

What You Can Expect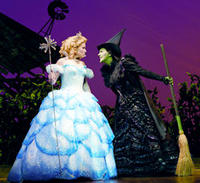 Based on Gregory Maguire's best selling novel, Wicked transports audiences to a fantasy land of wizardry and witchcraft, with Grammy award winning music, Tony award winning sets and costumes, and stunning special effects. Experience this magical adventure and discover the whole story about the land of Oz.

You have the choice of two seating options for the performance. Standard priced seats offer a good view of the stage and are usually located in the rear stalls or dress circle. Alternatively, opt for top priced seating and enjoy a full view of the stage and get closer to the stars!

Why not make the most of a memorable evening and enjoy a 2-course dinner at Da Scalzo Restaurant in Belgravia?
Da Scalzo Art Brasserie is located only a few minutes away from Victoria, and offers contemporary Italian cuisine and an excellent selection of wines. A sample menu can be viewed in the itinerary section (below).
Itinerary
DA SCALZO RESTAURANT SAMPLE MENU
Starters
Soup of the day with rustic bread
Garlic pizza bread with mozzarella (v)
Bruschetta (v) tomatoes, garlic & onions
Saute' king scallops & prawns with lemon and chilli sauce
Calamari fritti with garlic mayonnaise
Pasta and Risotto

Penne arrabiata (v) chilli, garlic and tomato sauce
Spaghetti bolognese meat ragu
Tagliatelle carbonara (pancetta, parmesan and cream sauce)
Lasagne al forno with garlic bread
Tagliatelle salmone smoked salmon, fresh parsley and cream sauce
Risotto porcini (v) porcini mushrooms and parmesan
Mains
Scoloppa Milanese
Breaded Pork Fillet served with Salad & Sauteed Potatoes
Pollo al Limone
Grilled chicken breast with a Lemon Sauce, Sauteed potatoes and grilled Vegetables
Salmon & Haddock Fishcakes
served with a lobster sauce, soured cream, rocket salad and chips
Pizza al forno (Stonebaked)

Margherita (v) mozzarella, tomato and oregano.
Quattro formaggi (v) mozzarella, pecorino, ricotta, parmesan and rocket
Piccante, mozzarella, tomato, spicy sausage, jalapenos chillies and roasted peppers
Fiorentina (v) mozzarello, tomato, spinach, garlic, poached egg and olives
Quattro Stagioni, four seasons; mozzarella, spicy sausage, ham, mushrooms and artichokes
Vegetariana (v)-mozzarella, tomato, mushrooms, courgettes, roasted peppers, aubergine and radicchio
Desserts
Apple flan served with Mascarpone Cream
Creme Brulee with homemade biscuits
White & Dark Chocolate Mousse
Chef's own Tiramisu
The dinner package includes 2-course menu with a choice of starters, main courses and desserts. The price includes service charges and taxes. Any additional items ordered must be paid for at the restaurant.

October 2015
September 2015
This was my second time to see Wicked and I loved it just as much if not more than the first time. The actresses singing was amazing.
August 2015
Great show, Great voices. There was technical difficulty so they paused for about 10 min.
Scene started again as if nothing was wrong and everything was fine until the end.
August 2015
Ticket collection was simple - we handed our voucher over at the box office and received our tickets immediately. We were very impressed with our seating allocation. We were 8 rows from the front, slightly off centre, but with an excellent view of the entire stage. This was the first time our family had seen Wicked, and we all loved it! Talented cast, great sets, brilliant songs and a wonderful story made for a thoroughly enjoyable night out. We would definitely recommend seeing this show when visiting London.
August 2015
Awesome, loved the performance
July 2015
The seats were wonderful/ They were roughly 10 rows from the stage. You could see everything.
July 2015
An absolutely wonderful show!
June 2015
We wanted to experience the theatre in London and since we hadn't seen Wicked in the USA we choose that play. It was wonderful. The music and performers were delightful. The theatre was larger than we expected, we had good seats and felt like we were back in time enjoying the play because of the deco of the theatre.
June 2015
Amazing. Would go watch it again. The seats in the theatre were a little crammed though. Easy to get to with Victoria station across the road. Great night out.
June 2015
Advertisement
Advertisement