See Las Vegas and the Grand Canyon National Park on a 2-day tour from Los Angeles, and experience the desert's wildest places. Visit the glittering Las Vegas Strip, place your bets and take in views from the iconic Tropicana hotel. Capture rugged desert vistas on a scenic flight to the Grand Canyon, bank above the Hoover Dam, Lake Mead and the magnificent West Rim of the canyon, then get a glimpse of the thundering Colorado River before swooping back towards Las Vegas and boarding your return coach to L.A.
Highlights
Los Angeles to Grand Canyon

Traveling in style and comfort on a state-of-the-art motor coach from Los Angeles Las Vegas

Enjoy free time to explore Las Vegas and unwind
Deluxe scenic air tour From Las Vegas to the Grand Canyon

Recent Photos of This Tour
What You Can Expect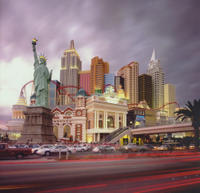 Traveling in style and comfort on a state-of-the-art motor coach, the 4.5-hour trip will fly by with an on-board stewardess and a sophisticated entertainment system showing full-length new-release movies.

Upon arrival into Las Vegas you will be dropped off at Harrah's Hotel and Casino. From there you will transfer yourself to the Tropicana Las Vegas where you will spend the night. Enjoy free time to explore Las Vegas and unwind before your Grand Canyon Tour the following day.

West Rim Air Tour:
Capture the awesome natural beauty of the Grand Canyon West Rim with the best aerial views available aboard a deluxe scenic air tour. Keep your cameras ready as you fly over Lake Mead, Hoover Dam and the majestic Grand Canyon with guaranteed window seats for all!

In just a few short hours (3.5 hours hotel to hotel approximately), witness the Grand Canyon firsthand. All the deluxe airplanes are air-conditioned for your comfort.

The day concludes with your flight back to Las Vegas followed by bus transportation back to your Los Angeles hotel, arriving between approximately 8pm and 9pm.

Please note: the listed price does not include a $2 per person fuel surcharge, payable at the time of tour check-in. There is also per night plus tax hotel resort fee payable at check-out

The price displayed is per person, based on 4 people per room. If you require separate rooms, you must make separate bookings.
July 2014
Amazing trip. Everything was great. Skywalk was the cherry on the cake.
Anonymous
February 2014
This package deal was a great way to see both Las Vegas and the Grand Canyon in a short amount of time! Our aerial flight over the Grand Canyon was spectacular and our hotel was clean, in a great location and the staff were friendly. The bus ride from Los Angeles was smooth and comfortable.
February 2014
EXCELENT TOUR. PERHAPS I WANTED A BETTER HOTEL IN VEGAS.

March 2013
I didn't have a lot of time, still wanted to visit Vegas and see Grand Canyon. I believe this was a great value for my time and money. Tour was very well organized. Bus and staff from Luxbus company were great. Hotel Quad is an average hotel, I didn't expect more honestly for this price.
May 2012
The coach travel was good, the hotel was satisfactory, Las Vegas was amazing but exhausting. Our flight over the Hover Dam and Grand Canyon was great. Our only complaint is that only those on the left side of the air-plane could see the Hoover Dam.
September 2011
I had a great time on this tour. Everything was well co-ordinated beginning with the bus travel from LA to Vegas.
I was put up at The Imperial Palace Hotel and the hotel room was clean and comfortable.
The air tour was fantastic!
I wish it was a little longer though - it lasted a little over an hour.
Overall, the experience was terrific!
March 2011
The busride was nice, the hotel was very good, I guess the Grand Canyon Tour was great too, unfortunately we missed it because of our previous Vegas-Party-Night. Whatever. I liked it. If you don't mind waiting for the bus to start (check-in took a while), and if you are independent and know how to deal with problems (they signed us in for the 3-day-tour - but we complained and they rescheduled everything for us) ....do it. It's nice.
March 2014
Las Vegas and Grand Canyon were definitely worth going.
However, this tour is not organized at all.
At first, the staff said they would pick me up where I stayed, but they didn't.
And they didn't know the schedules well.
They were not helpful at all.
February 2014
The experience was great, the transportation and the tour to the Grand Canyon was wonderful but the hotel in Las Vegas (Imperial Palace) was terrible... not to the level I was expecting!!
Thanks

September 2011
We were totally screwed on this trip. We comfirmed the trip via phone and was guaranteed by a rep. that we would be flying over the west rim and landing. We were told we would have several hours to tour the rim and lots of tours would be available upon landing. Once on the flight we flew 1 hr and landed back where we started. No one was willing to explain, refund money or even recognized that a trip of such was not even available. Over all view was great!
Advertisement
Advertisement