See the best that California has to offer during this 3-day, 2-night West Coast tour, covering some of the Golden State's top cities and outdoor areas. Start your trip in Los Angeles, snaking north by van or motor coach through California hotspots including Santa Barbara, Solvang, Yosemite National Park, Carmel, San Francisco and Hearst Castle. It's a memorable opportunity to explore one postcard-worthy destination after the next. Your tour of the California coast also includes two nights of accommodations and a driver-guide.
Highlights
3-day California coastal tour

Visit the Spanish Mission in Santa Barbara and discover the Danish town of Solvang

Walk along the beautiful boardwalk of Carmel
Take a cruise around San Francisco Bay and visit Fisherman's Wharf on a city tour
See San Francisco's Golden Gate Bridge, Alcatraz Island, Union Square and Chinatown
Explore Yosemite National Park or Hearst Castle (depending on the season)
Ride in an air-conditioned van or motorcoach

Recent Photos of This Tour
What You Can Expect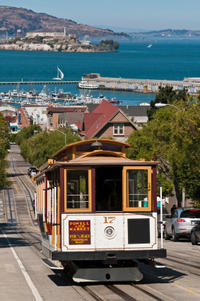 Don't limit your California trip to just Los Angeles and San Francisco. Instead, take this 3-day, 2-night trip through some of the state's most beautiful coastal towns and gorgeous outdoor scenery, offering a great chance to get a taste for the legendary beauty of the Golden State.
Begin your trip on the morning of your first day from either the Los Angeles Farmer's Market or the Four Points by Sheraton in Culver City. Your drive will wind its way out of the urban grid of L.A. and snake its way along the Southern California coast to Santa Barbara, a one-time site of a colonial Spanish mission. Head next to Solvang, a charming community with a strong Danish heritage that is evident in its architecture, stores and bakeries. You'll then continue your drive along the jaw-dropping California coast, passing through Carmel-by-the-Sea before ending your day in Santa Clara near the Bay Area's Silicon Valley.
Spend day two exploring lovely San Francisco, including a cruise from Fisherman's Wharf to visit the Golden Gate Bridge and circle the notorious prison on the island Alcatraz. Spend your afternoon on a sightseeing tour to explore the city's numerous historical sights and diverse neighborhoods.
Your day three itinerary depends on the season, with those visitors joining in the summer months heading to Yosemite National Park, while those visitors who join in the winter continuing to Hearst Castle (for trips after November 1st). Both sites offer an incredible wealth of terrain and attractions to explore. Finish your California trip back in Los Angeles in the evening.
Read the Itinerary below for full trip details.
Itinerary
Day 1: Los Angeles – Santa Barbara – Solvang – Carmel
Departing Los Angeles in your van or motorcoach, enjoy the drive north up the spectacular California coast to your first stop — Santa Barbara. Visit a Spanish mission and learn how this religious outpost was a key to the development of the entire region.
Continue to Solvang, a quaint Danish community, where you can browse the local shops. Admire the bakeries, restaurants and stores that will make you feel like you are in Denmark — you'll even see a replica of Copenhagen's Round Tower in the town square!
Next, head north along scenic 17-Mile Drive and take in some of the West Coast's most stunning views. From dramatic jagged coastline and beautiful homes, there's plenty to admire on your way to charming Carmel-by-the-Sea, home to actor and former mayor Clint Eastwood. In Carmel, enjoy free time to leisurely stroll through town. Then continue on to the Silicon Valley, located south of San Francisco.

Overnight: La Quinta Inn & Suites in Santa Clara

Day 2: San Francisco (B)
After breakfast, start your exploration of the renowned city of San Francisco at Fisherman's Wharf, where you'll depart on a relaxing cruise around San Francisco Bay (breakfast included). Cruise under the Golden Gate Bridge and around Alcatraz Island, home to the notorious prison that once held infamous criminals like Al Capone. You'll also enjoy wonderful and unique views of the city from the water, so make sure your camera is charged up!

After your cruise, return to Pier 39 to watch the local sea lions and enjoy the lively atmosphere of the pier. Enjoy free time to have lunch (own expense) before your afternoon tour begins. This sightseeing tour will take you past all the city's famous landmarks, including the Golden Gate Bridge, Union Square, Chinatown and historical Nob Hill. End your tour with a breathtaking nighttime view of the illuminated Bay Bridge.

If you're headed to Yosemite National Park on Day 3, you'll spend the night in the town of Modesto. If you're visiting Hearst Castle, you'll stay in Monterey.

Overnight: Park Inn Hotel in Modesto (summer) or Holiday Inn in Monterey (winter)

Day 3: Yosemite National Park or Hearst Castle – Los Angeles (B)
Head to either Yosemite National Park or Hearst Castle, depending on the season (breakfast at hotel included before departure).

Summer: Enjoy a scenic drive through the farmlands of the Joaquin Valley to Yosemite National Park. This 1,200-square-mile (3,100-sq-km) wonderland of towering forests, clear lakes, majestic mountains and tumbling waterfalls is located in the Sierra Nevada mountain range. Stop at the park's most popular features, including El Capitan, Bridalveil Fall, Half Dome and the Mariposa Grove, home to the world's largest living things — sequoia trees.

Winter: Start the day with a tour of Monterey, including the wharf and Cannery Row, then travel further south to Hearst Castle. Built by the newspaper baron William Randolph Hearst, this famous mansion rivals the castles of Europe. Tour the famous castle, filled with beautiful antiques, and learn about its history and how it served as a playground for the rich and famous for the first half of the 20th century.

Your 3-day California adventure ends back in Los Angeles in the evening.

May 2016
The tour was very nice,the tour guide Dorit whom we wud give 10/10 was excellent, she made the tour along with the driver who was also very good a memorable one. It took us approx 6 hours to reach SF, but we had about 4 wonderful breaks of 20 min. each at diff. places of sight seeing and Dorit made it absolutely wonderful by explaining the sights in details.
Nevertheless there are few things which Viator should address-
1. The seating in the Mercedes van was good for 7 persons the rest of the four had to struggle a bit, it was nice of tour guide Dorit, who recommended the rotation of seats after few hours, which was accepted by travellers with a bit of resentment. let me also state that the 11 seater coach/van was brand new.
2.It would be very nice if a place like Carmel is shown little more and a short tour of the new Museum in San-Francisco is added.
3.La Quinta hotel should be changed to either Marriott,Hilton or Holiday inn chain of hotels.
May 2016
It was wonderful! The bus driver and the tour guide were so friendly. The tour guide was also very knowledgeable about each of our tour sites. I am so thankful for our tour guide, Giovanni. I passed out for a sec. or two on the bus and Giovanni stayed right by my side. He reassured me the whole time that I would be ok. which I was. Would love to go a tour again especially if Giovanni is the tour guide. Thank you, Viator Tours, for an awesome tour. Sincerely, M. Gulledge
May 2016
Fantastic tour, we highly recommend it!! Our Italian tour guide, Giovanni, was excellent. He was knowledgeable, caring and courteous. He took us to all places stated plus extras. We saw elephant seals who were shedding their skin on a beach, a beautiful monastery and the beautiful Madonna Inn. His tour of San Francisco was great. We got to see allot as we were walking plus more on the Golden Gate Bay Cruise. Jeff, our driver, was very careful and caring. Giovanni was the translator for an Italian honey-moon couple. Zippy was the translator for 4 Hebrew people which was great. Also, there was a girl from Japan and there was a translator for her too.It is wonderful that you provide a translator for every nationality on your tours. We are from the east coast and we have never been to California, honestly, this tour was the highlight of our trip! Thank you! Bob and Angela C.
December 2015
Loved this tour, it was fabulous !!! Really enjoyed the drive along the Pacific Coast Highway Route 1, we even managed to see elephant seals basking in the sun along the beach, waiting for the females in January. Santa Barbara, Carmel and Monterrey was lovely too, during the trip the guides make sure we were given adequate time at each of these stops. Would have loved to be longer in Monterrey Bay, but a 3 day tour has time restrictions. San Francisco was lovely, managed to visit China Town, did a tram ride and took lovely photos of the city from Lombard. Our guides Dorrit, Giovanni and driver Yacob were exceptional, so very knowledgeable and professional. Dorrit is particular was friendly, caring and extremely patient with our constant questioning !! Love her ! The hotel rooms were all comfortable and there were many stopovers to enable us to take photographs of the beautiful scenery. I could do this tour again, it was fab !!
June 2015
Our Tour Guide Emanuel an Italian and our driver Sam Russian were terrific, courteous thoughtful and full of helpful info. We were a group of 4 adults Aussies we had a great time and would highly recommend this tour. Outstanding value for money.
May 2015
One of the best tour guide we have ever had. She made the trip so enjoyable, very caring person.

December 2014
I enjoyed every minute of this trip. Met some lovely people from all over the world. Our tour guide was friendly helpful and very knowledgeable. The places we stayed were of high standard and the tour its self amazingly adventurous.
December 2014
This is an amazing tour! We had the wonderful guide named Dorit. She is a lot of fun and communicates well with everyone!! We travelled from NZ for a trip of a lifetime and thanks to this tour we have! Definitely recommend.
July 2014
I highly recommend this tour it was the best part of my LA holiday. The hotels were 5 star and Central , very organised and we have seen the best of California. I will defenetly book another tour with Viator
May 2014
It was everything I was hoping for and more. Our tour guide Eli was excellent, warm, funny and knew details about every little town and place we stopped. We had a good experience and we were very comfortable in the bus. They picked all the right stops to stop and take pictures.
Advertisement
Advertisement