Take your Los Angeles trip to new heights with this Hollywood helicopter tour, offering a bird's eye view above the streets of Tinseltown. Pick from among three different flight lengths to match your preferred interests and attractions, offering you the chance to fly above the famous Hollywood Strip, gaze at the luxury homes of Beverly Hills and Bel Air, or admire the beautiful coastal towns along the ocean, among other sights. During your flight you'll also receive insightful commentary about the landmarks and city below. This helicopter tour also includes optional round-trip transport from your hotel.
Highlights
Hollywood and Los Angeles helicopter tour
See the major sights of Hollywood and LA from above on an exciting helicopter flight
Soar over the Hollywood Sign, Beverly Hills, Paramount Pictures, the Playboy Mansion, Santa Monica and more
Choose from three different flight itineraries
Recent Photos of This Tour
Best of Hollywood Helicopter Tour
What You Can Expect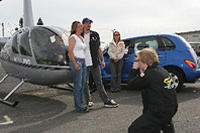 Soar like a bird above the incredibly diverse scenery of Los Angeles during this sky-high helicopter flight. During your ride you'll enjoy amazing vistas of everything from mountains to oceans to celebrity mansions and iconic landmarks like the Hollywood Sign.
Depart for your helicopter ride at a time that suits your schedule, any time between 8am and 8pm. You can also pick from among a range of tour options that include hotel pickup if you wish. Then head to the starting point (or make your own way) to your ride takeoff point at Compton Woodley Airport.
From there you'll ascend into the gorgeous sun-drenched skies of Los Angeles for one of three different flight itinerary options. Choose the 'Hollywood Strip' option to circle around famous show business landmarks like Paramount Pictures Studios, the Capitol Records building and the Dolby Theatre (home of the Academy Awards ceremony). Or spend your flight skirting California's gorgeous cliff-strewn coast during the 'Coastal Cities' flight, spotting such iconic beachfront towns as Manhattan Beach, Palos Verdes and more. If you're hoping to do some star gazing, try the 'Celebrity Homes' flight option, offering the the chance to fly above celebrity mansions in Beverly Hills, Brentwood, Pacific Palisades, the Hollywood Sign and more.
For a full rundown of sights on each helicopter flight, please read the itineraries below.
December 2014
Very cool tour love the nice view and the cool staff great experience
December 2014
Amazing, totally recommend the longer tour, it covered everything, so much fun. LA is so different from the air.
Melissa P USA
August 2011
I'm so glad we did this tour it was wonderful. We opted for the mini limo and it was great that they picked us up at our hotel in Beverly Hills. The driver was really nice and friendly, and a safe driver which is always a plus! Our helicopter tour was right on time which was great, it was supposed to be 35 mintutes flight but was probably about 28 minutes flying time. The Captin (I believe Mike??) was great, very informative. Saw alll of the wonderful LA sites and star homes. I definetely recommend this company and when I'm in LA again I would definetely do another tour with them!

Saké Thailand
April 2011
I have been on other helicopter tours but this helicopter tour of the Hollywood Strip is my absolute favourite! I could write a very long article on how wonderful this helicopter tour was for us but I will try to keep it short: The Limo Service: We chose the tour option with the limo service (we were told that it was a bit of a drive and passes through a rough neighborhood). This advice is correct! Our meeting point to get picked up was in front of the Kodak theater. The drive was about 30 minutes (a bit of traffic). There was a minibar in the 'Cruiser' which we did not use but was there if we needed anything. The Helicopter Tour: The helicopter was very small but - I do not mean this in a bad way at all - if anything , it was great! Because it was so small it felt more personalized. The windows were huge giving us the most amazing unobstructed views. We flew over celebrity homes (or should I say palaces!) including those belonging to Aaron Spelling, David Beckham, Tom Cruise, and Johnny Depp. We also flew over the beach and to make it perfect - we saw two dolphins jump out of the water! And of course, we flew so close to the Hollywood sign that we had to take the pictures in multiple shots! We passed numerous LA / Hollywood landmarks as well including the Disney Concert Hall. It was one of my favorite and memorable moments during my visit. I will be definitely recommending this to others and would not even mind doing it again (if the opportunity arises). This is a highly recommended helicopter tour to do in LA!
April 2011
We really enjoyed the air tour and the pilot was very funny as well as informative, making the trip fun and we will take it again on our next trip!
Donna B Canada
July 2010
It was the most amazing experience. The pilot and entire staff made it special. The tour guide was very knowledageable on the entire L.A. area and celebrity homes. I would highly recommend this to anyone who is thinking of going to L.A. on holidays or for any reason.
Andreas P Germany
May 2010
We had a very pleasant flight over the south beaches and a nice view over marvelous houses. We were lucky that our pilot spoke German too!
TAM H USA
August 2008
Awesome trip, highly recommend for local and tourist to see CA from above.
April 2014
The experience was great, but having to confirm in advance was difficult, especially because I had problems with my mobile.
February 2014
The experience was pretty good to my friends.
Advertisement
Advertisement