Relive your favorite cinematic moments as you explore famous filming locations on this 3-hour Hollywood movie tour in Los Angeles. Join your film-obsessed tour guides as you stop by iconic locations covering big-screen favorites from yesteryear and the present day, comparing them with their on-screen equivalents. Whether you're into classic films like 'Sunset Boulevard,' or prefer newer gems like 'The Aviator,' you're sure to spot a locale you recognize.
Highlights
See the locations of some of your favorite movies and television shows on the Hollywood Movie Tour

Drive past the house used in Nightmare on Elm Street and the apartment complex from Pretty Woman

Tour guides are all passionate movie buffs

Locations visited include old-time movies like Sunset Boulevard as well as more recent movies like The Day After Tomorrow

Why Our Insiders Chose This Tour
I can't think of a more fitting way to discover the sights of LA than through movies! You watch clips from both classic and newer films for context when visiting their filming locations on this highly entertaining small-group tour.
Recent Photos of This Tour
Hollywood Movie Location Tour
What You Can Expect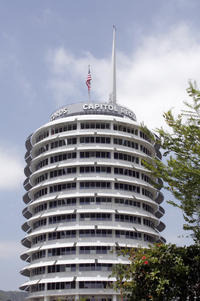 Discover Los Angeles through the lens of its many movie locations during this 3-hour tour of some of Hollywood's top filming sites. This insider exploration of the city's iconic and lesser-known film settings is a movie-lover's delight.
Leave for your movie-themed excursion at 9am from the city's iconic Sunset Boulevard. You'll travel aboard the "Movie Theater on Wheels," a comfy bus equipped on-board screens, that lets you compare famous movie scenes with their real-life equivalents, watching scenes from more than 50 movies, some well-known, some not.
Experience Hollywood's golden age through settings from films including Chinatown, Sunset Boulevard and Glen and Glenda, along with modern-day classics like Back to the Future, L.A. Confidential and Ed Wood.
Along the way you'll also check out locations from other Tinseltown favorites including Pretty Woman, A Nightmare on Elm Street, The Day After Tomorrow, Who Framed Roger Rabbit?, Pee Wee's Big Adventure, Bugsy, Rebel Without a Cause, The Aviator, Terminator and much more.

Monty Canada
March 2016
I loved this tour. Brian was a great and hilarious guide. He was highly informative and knew a lot of Hollywood history. We were able to see so many locations in 3 hours. It was a comfortable ride despite LA traffic. I loved how he showed movie clips before taking us to the location. Highly recommended!
December 2013
very enjoyable, comfortable ride, driver was very informative about the various movies and where they were filmed, large windows made taking pictures easy
Lorraine W New Zealand
August 2013
I'd been on the Dearly Departed tour before and this one was just as excellent. The guide knew a lot about Hollywood. The new departure office was about 600 metres walk away from Hollywood and Highland in a slightly lonely neighbourhood, though I was assured it was quite safe. It was fun in the office looking at all the Hollywood memorabaelia though I would take it all with a pinch of salt (the photo of the bedpost held by Rock Hudson does not look like the bedpost on display). Fascinating tinformative our
August 2013
Excellent guide - extremely knowledgeable and obviously a real film enthusiast. Videos of films shown as we arrived at each movie location which made it even more real and interesting.
May 2012
Brain was just a hoot on this tour, well worth trip A++
March 2012
Brian, our tour guide, was fantastic. We were the only 3 on his tour which was nice. You can see Brian loves his job and knows so much about the film industry and made the tour very fun and interesting, well worth doing. Thank you Brian!!

Larry W USA
November 2011
Reccomend this tour. You are treated like a friend rather than a paying customer. Lots of fun
Anonymous
April 2011
I really liked that they used video clips to show us the locations in the movies as we actually saw them - it brought it all together nicely. Great tour!

JennyC United States of ...
April 2011
Loved it! The guide was amazing - the amount he knew was incredible. I would highly recommend this tour.
September 2013
I enjoyed the tour very much. The interface between seeing the scenes on the tv in the bus and looking out at them was great! A very informative tour!
Advertisement
Advertisement