Eat your way through the diverse range of food vendors and eateries that constitute the Original Los Angeles Farmers' Market on this 2.5-hour, small-group culinary tour with a guide. Discover this historic food market, dating from 1934, as you taste samples from seven different delis, cafes and stands as you get an insider's look at this famous gastronomic hotspot from your local guide. Who knows, you might even spot a celebrity along the way.
Highlights
Food walking tour of the Los Angeles Farmers Market

An insider's look at the famous Farmers Market
Tastings from seven delis, cafés and market stands
In-depth tour with an LA local
Small and intimate group setting

Chance encounters with celebrities!
Recent Photos of This Tour
What You Can Expect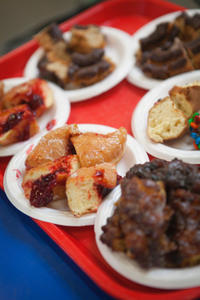 Explore the delicious food culture of Los Angeles during this 2.5-hour, small-group visit to the city's original farmer's market. Gain a newfound appreciation for the history of this decades-old food market as you enjoy a range of mouth-watering samples covering cuisines from across the globe.
Start your L.A. "Original" Farmer's Market excursion at 9:30am, meeting your guide to begin a trip that's sure to have your mouth watering. This long-standing food center, known to locals as "The Original," hosts a range of family-run retailers that date back to the 1930s, spanning everything from restaurants to cafés to gourmet grocery stores visited by Hollywood celebs.
Listen to fascinating anecdotes from your guide about the market's quirky merchants, many of which have been at the center since it opened. During your trip you'll also have the chance to sample everything from the first pizzeria in Los Angeles, a Brazilian-style churrascaria and a top-notch doughnut shop. Finish your tour back at the original departure point, your stomach full of a delicious sampling of Los Angeles' top food offerings.
April 2016
I got the Los Angeles Farmers Market Small-Group Food Walking Tour for my mom as a birthday gift. I didn't know what to expect. Yesterday was the tour at 9:30 in the morning . It was my mom, dad and myself along with about 4 other people in the group . Andrew was our guide. He was very knowledgeable about the history of Farmers Market and the early beginnings. We headed over to Bob's Doughnuts and Coffee. We had the coffee, the apple fritter and a classic doughnut. After that we got a history lesson on Huntington Meats about Kobe beef and a few other meats. We then walked over to an area where Andrew showed the group how Farmers Market uses these green baskets as grocery carts and services them weekly to make sure the wheels work properly. Then the group headed over to this really cute shop called Mr. Marcel. we tried caviar cheese, After that we walked over to Magee's House and we tried peanut butter and it had very little oil in it which was nothing I have ever tried before. Our last stop was Bennetts Ice Cream and we got the Fancy Nancy which is a coffee flavored ice cream, caramel and banana. I would really recommend this walking tour for locals and people who have never been to the Los Angeles area! It's really fun and informative food was great and tour guide was fun too.

January 2016
Our tour guide was very informative and entertaining. My daughter and I had a great time. He was able to provide food that she could enjoy as a vegetarian. He also provided us with excellent information concerning places to go for meals and entertainment.
October 2015
The tour was amazing! The food and commentary opened up our eyes to the uniqueness of the Farmer's Market! We will definitely do this again!
August 2015
Great was to tour Farmers Market! Our tour guide Andrew was wonderful!! He stories and the food was amazing! When in LA this is a must tour to take.
June 2015
Tour guide Diane was fantastic- so friendly and knowledgeable. The food was great too, and the place is so interesting. We ended up with a private tour as we were the only ones booked in for that day. Would recommend to anyone visiting LA!
June 2015
Diane was amazing! This was one of the best food tours we have ever had. The Farmers Market was excellent and we made a entire day out of it. I strongly recommend trying this tour it is a little piece of heaven in a big busy town. Thank you Mellting Pot Tours.
July 2013
Excellent guide. Very knowledgable and friendly. The food and the location was awesome.
November 2012
Awesome trip, tour guide was very informative and would highly recommend to all visitors to LA. Be a tourist in your own home. Loved it!!
October 2012
Thankyou Kendall for our tour. Your knowledge of the history of the market and the experiences you gave us were excellent and have definetly made us want to come back and explore LA more thoroughly. There is a special side to LA that we now know about. Do not miss this tour if you want a special insight into LA life.
September 2012
Kendall was fab and really knowledgable, the food tasting was excellent and I will always squeeze my donuts from now on!!!
Advertisement
Advertisement