Get your motor (and your heart) racing during this 2.5-hour exotic car racing experience in Los Angeles. Drive a high-end Lamborghini, Ferrari, Porsche, Audi or Nissan on a five or eight lap spin at the city's Auto Club Speedway, site of IndyCar and NASCAR races in Los Angeles. You'll be joined by an expert instructor, who will provide driving tips as you push the car to top speeds as high as 130 mph (209 kph). Best of all, you'll get two included test laps in a Porsche Cayenne GTS before driving your requested vehicle.
Highlights
Dream car driving experience on a professional speedway near Los Angeles

Drive a Ferrari, Lamborghini, Porsche, Audi or Nissan five to eight laps at Auto Club Speedway

Receive racing tips and one-on-one coaching from your instructor

Take discovery laps in a Porsche Cayenne before your driving experience

Choose between eight different high-end car options

Perfect gift for a car fanatic!

Why Our Insiders Chose This Tour
These super-expensive, high-horsepower cars are some of the most elite models out there, and you'll have enough time behind the wheel to really get a feel for their power.
What You Can Expect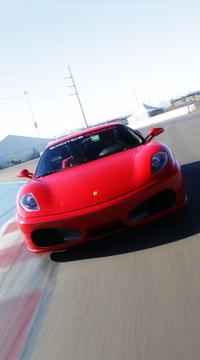 Take your pick from a selection of the world's most elite, high-end sports cars as you enjoy a five- to eight-lap drive at the Auto Club Speedway in Los Angeles, home to the city's NASCAR and IndyCar events. Car lovers and anyone looking to push their adrenaline levels to the red line will love this chance to get behind the wheel of these amazing cars, including a range of Lamborghinis, Ferraris, a Porsche and more.
Begin your driving experience by heading to the Auto Club Speedway, 45 minutes east of Los Angeles in Fontana, California. Pick from among a range of start times to fit your schedule. This unique 1.2-mile (1.9-kilometer) raceway offers the perfect site for your experience, with eight turns and 1,600-foot (549-meter) straightaway to help push your driving skills to the max.
Before getting behind the wheel of your chosen dream car, listen to a detailed technical and safety briefing from your instructor. You'll learn about proper driving position, plus braking, steering and accelerating techniques for high-end sports cars like the Lamborghini, Ferrari and Porsche. The instructor will also share tips to help locate the best racing lines, something you'll learn while driving two test laps in a Porsche Cayenne GTS.
Then start your engine, because its time for your drive! Rest easy if you don't know how to drive a manual transmission, as your high-performance car comes with a paddle shifter. You'll zoom around the course for five to eight laps inside an elite sports car like Porsche 991 GT3, the Lamborghini Gallardo LP550-2 or Ferrari 458 Italia (see Itinerary for a full list of current choices).
Follow the lead of your instructor as you push your car through its paces, reaching top speeds of 110 to 130 mph (177 to 209 kph). Your max speed depends on your specific car choice, experience and comfort level. Your friends can celebrate your stellar driving skills from the on-site spectator area. At the end of your 2.5-hour driving experience step out of your car with some serious bragging rights and another item you can check off your bucket list.
Itinerary
Choose from the following eight options for your driving experience:
Ferrari F430 F1 (5 laps)
Lamborghini LP550-2 (5 laps)
Porsche 991 GT3 (5 laps)
Audi R8 (5 laps)
Nissan GT-R (5 laps)
Ferrari 458 Italia (5 laps)

Lamborghini Huracan (5 laps)
Ferrari F430 F1 and Lamborghini Gallardo LP550-2 (8 laps, 4 laps in each car)

Advertisement
Advertisement