Get a bird's eye view of the glitz, glamor and amazing scenery of Southern California during this 60-minute helicopter ride in Los Angeles. Enjoy the longest scenic helicopter flight offered in the city, soaring above iconic sights like the mansions of Beverly Hills and Bel Air, the Hollywood sign, the skyscrapers of downtown L.A., Santa Monica and much more. You can even choose to up the VIP factor by paying for an optional upgrades to include mini-limo pickup at your hotel, sparkling wine, snacks and a souvenir t-shirt.
Highlights
Los Angeles VIP Grand Helicopter Tour
See all the highlights of LA from the air

Upgrade to the Hollywood-Style Tour, which includes sparkling wine, snacks and more

Be treated like a VIP with hotel transfers by mini-limousine
Why Our Insiders Chose This Tour
Enjoy a full hour on a helicopter ride over landmarks like Dodger Stadium, the Queen Mary and the Hollywood sign. I advise upgrading to the mini-limo transport option for the best experience.
What You Can Expect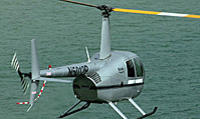 Feel like a Hollywood celebrity as you soar above the glimmering skyline of Los Angeles during a 60-minute helicopter ride. If you're looking for a way to feel like a VIP during your L.A. visit, this helicopter flight offers an amazing way to get up above it all with an unforgettable flight over this sun-drenched metropolis.
Begin your flight any time during the operating hours at the Compton Woodley Airport. Guests can either choose to arrive on their own, or upgrade to the mini-limo or "Hollywood" options to include a round-trip pickup from their hotel by limousine.
Then strap into your helicopter seat and prepare for the ride of a lifetime. Among the many sights you'll explore during your flight are iconic Los Angeles spots like the Hollywood sign, the glamorous neighborhoods of Beverly Hills and Bel Air, the towering skyscrapers of downtown L.A., Dodger Stadium and many more.
Those hoping to enjoy their helicopter ride in true "A-List" fashion should upgrade to the "Hollywood" package, which includes all the celebrity creature comforts you might expect such as limo pickup, sparkling wine, snacks and a souvenir photo and t-shirt. For a full list of highlights seen during the ride, along with details on the upgrade packages, check out the Itinerary below.
Louis Siow Singapore
January 2014
Great experience, pity it was a short ride that came by so quickly, would come back again with my daughter. Love it :)
July 2012
Thoroughly enjoyed it, was the best part of the vacation for me. The sights were amazing and the pilot was friendly and a good tour guide. definitely worth the money. Grace, 20, England
September 2011
The helicopter captain was very nice and explained a lot!
Unfortuneately fog didnt allow us to fly over the beaches. But it is really worth it to do this trip!
Kind of funny to go to the hood to start that kind of trip.. ;)
Anyway, we had a blast!
Anonymous
August 2008
What a great helicopter tour of LA. Saw plenty of sites from Hollywood to the coast. The pilot was awesome. Very informative. Highly recommended.
Susan T United Kingdom
August 2010
Really cool way to see LA in a short time! Saw it all, really! A little wierd flying out of Compton, but was totally fine in the end. Pilot was really nice and informative. Felt safe and in good hands the whole time.
May 2012
Very dissappointing. Originally booked for Friday but after calling for 3 days no reply wehad to re-schedule for Monday. Flight lasted less than 30 mins as other people waiting. Customer service needs improving. Pilot is great but a special flight became a dissappointment after flying half way round the wor;ld and it was a brithday gift.
September 2011
Tour was good overall. I was not happy that despite requesting a 10am flight time 1 month in advance and having it confirmed 3 separate times, I was called a few hours before to inform me that they were not flying at 10am and that the only available time was 1pm.
The company does not seem very reliable and they don't seem to take customer care seriously.
Giuseppe T Italy
September 2009
The flight was only 30 minutes NOT 50 minutes.
Patricia H United Kingdom
April 2008
The helicopter trip itself was good. However, we had to drive for over 1.5 hours to get there and were kept waiting for nearly 2 hours, as a Belgian TV crew had overrun the helicopter. This meant were very very late for our evening appointment. Book early in the day to give yourself plenty of time.
December 2011
55 min was 37 min in total. Appartently we had a faster helicopter. The pilot was 40 mins late and we ended being there 40 mins early, so a long delay with no appology. The waiting area was more like a day care then the pilots little kid came with us which wasn't that bad but didn't seem as professional as i thoguht. The flight was good but all together with the delays and shorter flight by 17 mins, quite annoyed and disappointed.
Advertisement
Advertisement