Enjoy a day of fun-filled rides, games and food at Pacific Park® on the Santa Monica Pier with this admission pass. Enjoy the park's more than a dozen rides, more than 20 games and a waterfront food plaza during your visit. You'll also have access to the iconic Pacific Wheel, the only Ferris Wheel in the world powered by the sun. A range of four ticket options offer a variety of action-packed opportunities to explore this unique park.
Highlights
Ticket to Pacific Park on the Santa Monica Pier

Enjoy a day of fun at the West Coast's only amusement park on a pier!

Ride more than 12 rides including the Pacific Wheel, the world's only solar-powered Ferris wheel

Play one of the 21 boardwalk games
Recent Photos of This Tour
What You Can Expect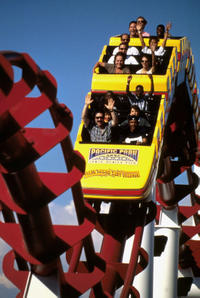 Spend a day in the sun enjoy a variety of amusement park rides, games and food, all set along the beautiful oceanfront Santa Monica Pier, with this admission to Pacific Park®. It's the perfect family-friendly way to spend your day in this world famous Southern California city.
Head to the Santa Monica Pier any time during the park's normal hours of operation to begin your visit. A variety of different ticket options, emphasizing the park's wide range of games, rides and food options will help you save money and pack in more fun. Choose from the following options:
Wheel and Meal Deal: Take a fun-filled ride aboard the park's Pacific Wheel combined and have lunch at one of the park's tasty eateries.
Unlimited Ride Wristband: Thrill seekers are sure to love this pass granting unrestricted access to the park's non-attraction rides (excluding Eurobungee, Gyro Loop and Rockwall).
Food and Fun Deal: Includes the same access to unlimited non-attraction rides as the above option, plus lunch at the food court.
Fun to the Max Deal: Enjoy all the best amenities at Pacific Park, including unlimited non-attraction rides, $6 in credit for the boardwalk games and a meal at the food court.
Pacific Park restaurants covered by the meal deals mentioned above include:
Harbor Grill: Choose from among a hamburger, cheeseburger or a grilled chicken sandwich, plus French fries and a drink.
Pizza Hut: Pick between either a pepperoni or cheese individual-size pizza, plus breadsticks and a drink
Taco Bell: Pick either a taco supreme combo or burrito supreme combo and drink
For information on rides and games at Pacific Park, please see the
Itinerary
section below.
Itinerary
Rides:
Pacific Wheel: The world's only solar-powered Ferris wheel gives you a panoramic view of the Southern California coastline from more than 130 feet (39.6 meters) high. The wheel moves at 2.5 revolutions per minute with intermittent stops to pick up passengers. This ride features more than 160,000 energy efficient LED lights that display dynamic, eye-popping lighting entertainment in the evenings.
Inkie's Wave Jumper: Catch a wave on this pier-top surf ride that rotates, allowing you to 'jump' up and down and bounce around just as if you were riding a wave.
Inkie's Pirate Ship: This swashbuckling-themed, family-fun ride lifts you to-and-fro for a sea-like adventure on a grand pirate ship!
Sig Alert EV: These are not your traditional bumper cars -- these all-new electric vehicles spin 360 degrees and feature dual joy-stick control, allowing for full turns and easy maneuvering. These futuristic cars are equipped with neoprene-covered bumper tubes for safety while providing a hover-like experience.
Sea Planes: Fly high above the pier on this new ride and control the height and speed of the plane.
Inkie's Airlift: This new ride combines the movement of a teacup ride with a hot air balloon race. Rotate the car while the balloon rides up and down.
West Coaster: This is the only oceanfront steel roller coaster on the West Coast, and overlooks the Pacific coastline. Enjoy ocean spray breezes as you escalate up 55 feet (16.8 meters) above the pier. See spectacular views of the Santa Monica Bay and the Pacific Ocean as it trails from one end of the park to the other at 35 mph (53 kph)!
Inkie's Scrambler: This fast-paced swirling ride takes you on a series of roundabout moves and sidesplitting rotations at a speed of 11 rpm.
Sea Dragon: A swinging wooden ship with two lifelike dragon heads make you feel as though you're sailing on the turbulent seas with the scariest of serpents.
Pacific Plunge: This 9-story tower ride leaves you feeling weightless while providing breathtaking views of the Pacific Ocean. You will be lifted 150 feet (45.7 meters) over the Santa Monica Bay before being rendered in a state of momentary flight.
Pier Patrol: These family-styled vehicles patrol the Santa Monica Pier as you ride along a track through picturesque beach scenes complete with sandy stretches of coastline dotted with palm trees and lifeguard chairs.
Frog Hopper: Spring straight up and down to heights of over 18 feet (5.5 meters), providing a feeling of weightlessness and excitement.
Games:
Top Glow: Aim your water gun into a spinning hold and spiral your toy to the top. First one to the top wins a prize -- there's a winner every race!
Wac-a-Mole: Grab your foam mallet and get ready to whack any moles that pop up out of their holes. Whack the most moles and win a prize!
Tub Toss: This is a fun, exciting ball toss game where you are challenged to land a ball in any tub to win one of an assortment of plush prizes.
Coastline Cat Rack: You'll have three chances to knock down the standing props off their paws! Knock down three cats for a large prize.
Riptide Ring Toss: Watch the throwing rings fly! If a plastic ring lands atop one of 187 green glass bottles, you win a jumbo prize!
Roller Derby: Line up and race each other to see who will reach the finish line first! Break ahead of the pack by rolling the most balls into the triangle of holes. There's a winner every race!
Pop-a-Lot: Throw darts and aim to pop the balloons; if you pop any balloon, you win a prize! Kids win every game, guaranteed!
Water Race: Aim water guns at a target to propel your playing piece along the race. First to the finish line wins a prize! Every race has a winner!
Beach Bash: Fling cushioned sacs against a stack of three plastic bottles in an attempt to knock them right off a pedestal.
Break-a-Plate: Grab a ball or two and try to break the plates!
Fire Ball: Use a bowling-style method to secure balls into circular pocket pits. Earn as many points as possible to earn a prize!
Balloon Pop Race Game: Take aim and squirt your gun to race to the top. First person to reach the top pops the balloon and wins!
Long Range Basketball: Test your skills at shooting hoops at this long-range basketball game. Score a basket and win a prize!
June 2016
November 2015
Took my daughter and 5 of her friends to Pacific Park. She does not like extremely fast rides. This place hit the mark on fun and was amazing. Small enough to keep an eye on everyone and the unlimited wrist band was money well spent. I suggest spending the extra 10 on the food package. The portions were large enough that everyone was full. We took time to walk on the boardwalk to let our food settle before hitting the rides again. It also helps that it was a beautiful November day. Recommend for all ages.
March 2015
Nice but NOT a good price !,
Anonymous
August 2013
I had so much fun. I could not get enough of the roller coaster and being able to see the beach from the rides was really cool.
August 2013
What a great way to spend the day on the pier. Great view of the beach from the Ferris wheel and a great value for the family. The day we went happen to have a free concert which was an added bonus.
November 2012
What a great way to spend the evening
June 2014
August 2014
This was good but could just get bands there. Not many rides for adults really. More for children. However enjoyed.
Advertisement
Advertisement