Come and meet the friendliest mammals of the ocean. Get up close, kiss, shake hands/fins and learn about these magnificent creatures in this safe environment in Cabo San Lucas, Mexico. This amazing dolphin encounter will leave you a lasting impression on your heart, soul and mind.
Highlights
Dolphin encounter program in Cabo San Lucas
Choice of two different programs
Learn about the anatomy, physiology and natural history of Bottlenose dolphins
Enter the pool and swim, touch and play with a family of dolphins
What You Can Expect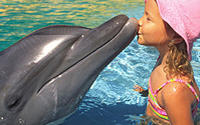 Dolphin Encounter is a unique 35 minute interactive program which allows first-time dolphin lovers the chance to have an up close and personal "encounter" with Pacific Bottlenose dolphins in the specially designed dolphin center in Cabo San Lucas, Mexico.

Your experience begins with an informative introduction by the dolphin trainers that will help you understand the dolphins' anatomy, physiology, natural history and fascinating underwater communication system.

Then, accompanied by a trainer, you'll enter the specially designed educational pool where you'll have 20 minutes to examine the dolphin's physical characteristics while rubbing and petting the dolphin's smooth skin.

Dolphin Encounter for Kids gives smaller children the chance to learn about, interact and play with the family of Pacific Bottlenose dolphins in a fun and safe environment.

This special dolphin interaction program is designed to be fun, very informative and completely interactive, Dolphin Kids is a 35-minute program that starts with a poolside introduction to the family of Pacific Bottlenose dolphins. Then, under the supervision of one of the experienced dolphin trainers, kids get to spend 20 minutes touching and interacting with the dolphins on a shallow shelf in a specially designed pool.
June 2015
Great activity!! A over all great experience. You can't take any photos, They provide a photographer with a price. For two people it ranges from 125 - 225, We purchased the middle option 165. It includes all photos, a video of your experience and two 4x6 photos of your liking.
June 2015
The dolphin encounter was an amazing experience. My 10 year old daughter really enjoyed it. We are definitely going to do it again.
May 2015
Awesome - if you have never done this before - you must put it on your list.
December 2014
The best price for the best dolphin experience in Cabo.
December 2013
We did the dolphin encounter. We had to ride a shuttle from Cabo to San Jose (about 50 minutes...more like 1.5 hours after the pick up at all the hotels) to do this because the center in Cabo is under construction. I wasn't aware of this when I booked (could have been my lack of research). We had a small group (only two couples) - that made the experience even better. We paid for the dolphin encounter but since we had extra time due to the small group our instructor let us do a swim too! AMAZING! I've always wanted to do this on my honeymoon - and very glad we did!
Advertisement
Advertisement