Encounter some of the planet's most majestic mammals during a 35-minute interactive program at a dolphin center in Los Cabos. Get up close with delightful dolphins in a safe and serene environment in the Cab San Lucas Marina during this unforgettable experience. Accompanied by an experienced trainer, meet and greet the fascinating creatures while gaining in-depth insight into their physiology and behavior.
Highlights
Dolphin encounter program in Cabo San Lucas
Choice of two different programs
Learn about the anatomy, physiology and natural history of Bottlenose dolphins
Enter the pool and swim, touch and play with a family of dolphins
What You Can Expect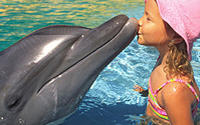 Begin your enchanting Dolphin Encounter at the dynamically designed dolphin center in Cabo San Lucas Marina. Listen to an informative introduction from your experienced trainer, in which the anatomy, physiology, communication systems and natural history of the mammals is explained.

Enter the educational pool accompanied by your trainer for 20 minutes of petting, splashing and frolicking with Pacific Bottlenose dolphins. Examine the dolphin's fascinating physical features and feel the slippery smoothness of their skin, marveling at the playful nature of the animals.
If you're planning to enjoy the experience with children, Dolphin Encounter for Kids is the ideal opportunity for young children to learn about and interact with the Pacific Bottlenose dolphins in an entirely safe environment. The experience begins with an interesting poolside interaction, and then progresses onto a 20-minute session in shallow water playing and interacting with the dolphins with an experienced guide.
June 2015
Great activity!! A over all great experience. You can't take any photos, They provide a photographer with a price. For two people it ranges from 125 - 225, We purchased the middle option 165. It includes all photos, a video of your experience and two 4x6 photos of your liking.
June 2015
The dolphin encounter was an amazing experience. My 10 year old daughter really enjoyed it. We are definitely going to do it again.
May 2015
Awesome - if you have never done this before - you must put it on your list.
December 2014
The best price for the best dolphin experience in Cabo.
December 2013
We did the dolphin encounter. We had to ride a shuttle from Cabo to San Jose (about 50 minutes...more like 1.5 hours after the pick up at all the hotels) to do this because the center in Cabo is under construction. I wasn't aware of this when I booked (could have been my lack of research). We had a small group (only two couples) - that made the experience even better. We paid for the dolphin encounter but since we had extra time due to the small group our instructor let us do a swim too! AMAZING! I've always wanted to do this on my honeymoon - and very glad we did!
Advertisement
Advertisement