Mingle with tropical fish and curious marine mammals in the waters off Cabo San Lucas. This 2 tank scuba adventure lets you choose between two customized dives: perfect for beginners, the Sea Lion Colony dive dips 70-feet below the sea's surface in search of sea turtles, sea lions and eels. The more advanced Sand Falls dive descends 120-feet. The waters surrounding this unique cascading wall of sand are home to octopus, angelfish, seahorses and more.
Highlights
2 tank customized dive from Cabo San Lucas
Choice of dive with depths reaching 120 feet
Explore the wide variety of marine life including tropical fish and sea lions
What You Can Expect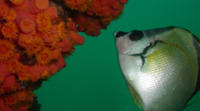 The Cabo San Lucas Bay provides excellent diving conditions. A deep submarine trench closely follows the bay and creates an unusual marine environment that attracts an abundance of aquatic life. Here, the waters are warm and the currents gentle.
Two of many Dive Spots in Cabo San Lucas:
Sand Falls - Discovered by Jacques Cousteau, the sand falls start at 90 feet (27 meters) and descend to 120 feet (36 meters). Steep sand banks cascade into the canyon with many tropical fish.
Sea Lion Colony - 30 feet - 70 feet (9 - 21 meters), Join the sea lions in their own habitat. This dive gives even the novice diver an excellent opportunity to join and observe the amazing marine mammals.
December 2012
Excellent dive!!!! Dove with sea loins as they fed... great instructor and price!
Advertisement
Advertisement