23 Reviews
Location:

Los Cabos, Mexico

Duration:

5 hours

(approx.)
If you're looking for the perfect balance of activities and fun, then the Canyon Canopy Adventure is the choice for you! Thrill seekers get the unique opportunity to zip through canyons on a network of cables suspended high above the unspoiled scenic beauty and rich ecological habitats.Then, you get to ride on an off-road UTV buggie and zoom into the dessert.

Highlights
Canyon canopy adventure from Los Cabos
Experience the thrill of a lifetime from high off the ground
Fly across a series of exciting ziplines
Explore the dessert on an off-road UTV buggie

Breathtaking views of the Boca de Sierra National Park
Complimentary pickup and drop-off from most Cabo San Lucas hotels
What You Can Expect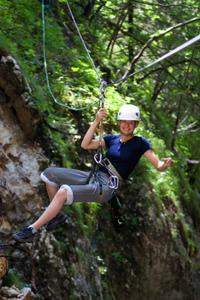 Fast, fun and exhilarating, the Canyon Canopy tour combines unique adventure elements with the stunning back drop of the UNESCO protected Boca de Sierra National Park to create the experience of a lifetime.

Fly across a series of incredible double ziplines through wide open canyons and make your way along the Crazy Ladder, Commando and Hanging Bridges before arriving at the ultimate zipline over 1800 feet (550 meters) long.
Try your hand on the climbing walls, Double Cross and Rappel Lines before landing safely back at base camp for a deserved rest with spectacular views over the Boca de Sierra National Park.
Safety is the top priority! All the guides have been extensively trained and insist on using only the most up-to-date equipment with not one, but two safety ropes for your added security.
End your adventure with an off-road UTV buggie ride into the dessert. Hop on your vehicle and follow your guide on an exciting ride through sand, rocks, dusty roads and dry riverbeds.

There has never been a more exciting way to explore the Baja outdoors and this is an eco-tour that is packed with challenges, adventures and tons of fun!
August 2015
Highly recommend it was a blast! The staff was so nice and helpful! We'll definitely do it again
August 2015
All I can say is WOW! You want bang-for-your-buck adventure in Cabo? This is it. The staff made it crazy-fun and safe all at once.
July 2015
This was the most awesome and fun experience ever! Family of four including a senior. Crew was extremely accommodating and friendly. Would do it again. Highly recommend.
July 2015
Our Group Enjoyed everything about it!!!!
March 2015
February 2015
Do this tour. Loved it. Highly recommended.
White team was awesome frome cabo adventures. Safe,fun and exciting.
August 2014
I'm normally afraid of heights but booked this trip for my kids. I loved every minute of it! The staff is so helpful and patient and very entertaining. Safety is very important to the staff and they make sure that you are well fitted with your gear. It was so much fun and the scenery was beautiful. Any time I go to Cabo, I will book all my adventures with the tour operator!
July 2014
June 2014
The ride to the place was a bit LONG, but once you get there, the people are AMAZINGLY cool!!! They PERSONALLY fit you in GEAR, give you INSTRUCTIONS, then you all take a lil' TRUCK ride to the first ZIP LINING spot. There is a BIT of hiking involved so make SURE to wear TENNIS SHOES. In total, there are about 7-8 ZIP LINES (one you can even do UPSIDE DOWN), 2 lil' BRIDGE things you have to CROSS (you kinda feel like you're on a "SURVIVOR"-like Show, haha), a ROCK CLIMBING/LADDER wall and even a choice of REPELLING down the side of the Mountain, or ZIP LINING across. The ONLY thing I ENCOURAGE you to do, is the FINAL ZIP LINE, called the "SUPERMAN"!!! It's the LONGEST ZIP LINE in Mexico at 4,000 feet long and I GUARANTEE the ONLY thing that you'll REGRET, is NOT doing it!!!! During the whole trip, there are COLD WATER breaks and places to SIT, so even though it may be HOT, you get to rest every now and then. There are SNACKS and BEVS at the end and they you can see all the PICTURES that they PHOTOGRAPHER took of your MEMORABLE experience and CHOOSE to buy any if you like. I LOVED this experience and my friend and I were SO GLAD we did it!!! HAVE FUN!!! :-)
December 2013
Amazing experience! Great staff - I was very nervous but they kept me motivated and comfortable the whole time. Would definitely recommend! One downfall is the price of pictures - I think it was $17 a print.
Advertisement
Advertisement