Soar over the dramatic curves of desert canyons and drive a powerful ATV on off-road trails on a 5-hour Canyon Canopy Adventure from Los Cabos. Glide along suspended steel cables while absorbing the unspoiled scenic beauty of the landscape, then drive through with ecological habitats on a modern ATV vehicle. Satisfy an appetite for adrenaline on this adventurous and active tour.
Highlights
Canyon canopy adventure from Los Cabos
Experience the thrill of a lifetime from high off the ground
Fly across a series of exciting ziplines
Explore the dessert on an off-road UTV buggie

Breathtaking views of the Boca de Sierra National Park
Complimentary pickup and drop-off from most Cabo San Lucas hotels
What You Can Expect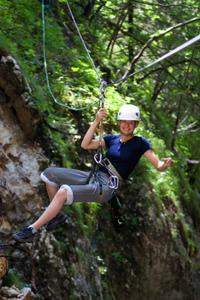 Depart from your Los Cabos hotel in a comfortable and air-conditioned vehicle to begin your exhilarating expedition in the UNESCO protected Boca de Sierra National Park. Admire the distinct desert landscape as you journey to the park while sipping complimentary bottled water.
On arrival, greet your experienced and extensively trained guide for a safety orientation before putting on your professional gear; feel your pulse quicken as your prepare to propel yourself over the gaping crevices below. Soar over wide open canyons as you complete the series of double zip lines, experiencing the Crazy Ladder, Commando and Hanging Bridge before gliding at high velocity down the final zip line's 1800-foot (550-meter) length.
Scramble to the top of vertiginous walls and descend rappel lines before returning to land to revitalize at base camp. Enjoy a light snack as you enjoy unrivalled views of the Boca de Sierra National Park.
Next, climb aboard your state-of-the-art ATV buggy to begin exploring the off-road tracks of the desert. Follow your guide through dusty riverbeds, rocky roads and undulating dunes as you explore the scorching sands. After your adrenaline boosting adventure, relax during the return journey to your Los Cabos hotel.
April 2016
Wow, What an adventure. We are a couple that are in our 50's and were concerned that this may be more difficult to complete for us, but had a great team that instructed and assisted the entire way. We would definitely recommend this to any person without mobility or health issues. We must also comment on the food at the end of the adventure, simple but awesome.
RichardM Canada
April 2016
I already posted a review on Tripadvisor. basically it went something like this.....plain friggin awesome!! Actually it was one of the best days on vacation I have ever had due to the fact that I am a bit of an adrenaline junkie. It exceeded all of my expectations. The RED team I believe with Jordan and his gang are just plain awesome. Seriously though, it truly was an exceptional day and if I should ever go back to that area again I will be visiting again.
March 2016
This tour was amazing! All the guides are soooo nice and very funny which made the tour even better. Although we couldn and #39;t take any cameras with us, the photographer took a lot of very nice photos and videos also. I don and #39;t think I would have had much fun worrying about my phone the whole time anyways.
February 2016
It was so much fun! The tour guides were fun and friendly. They were patient with us slower folks :
January 2016
Blue crew was attentive, fun, and challenged us on this amazing adventure. We always felt safe. The views and the different experiences during the course are wonderful. I would do this again!
January 2016
First timer - So much more than i was expecting, it was amazing! A lot adrenaline on this fast paced morning, hotel pick up and drop off was great. The crew had great energy, go red team! Made me feel safe and kept reassuring me i could do it all! There was zip lining, tandem, rapelling, rock climbing and an awesome finish zip line that was what seemed longer than the length of a football field. Finished the trip by snacking on quesadillas and viewing the professional photos for purchase.
November 2015
When we signed up for this adventure we had no idea what to expect. It turned out to be the highlight of our trip. The guides were professional, well skilled and genuine. The adventure was an amazing, challenging and fun day.
November 2015
Cannot recommend this tour enough. We had the Red Team, and Yordan and the rest of the group were absolute sweethearts. The entire crew is extremely friendly and effortless in their aptitude. Now, the tour is not for the faint of heart the heights get up to 100 feet and there is minimal rock-climbing and a bit of rappelling, but the 1 mile hike through the jungle in the heat and humidity will leave you exhausted by the end. There are plenty of water breaks along the way. Stay hydrated!
I wouldn't bring my 10 year old on the trip, but if you're relatively active and at least 13 years old, you can't do any better.
October 2015
What a thrill! Crew was very professional and safe.
August 2015
Highly recommend it was a blast! The staff was so nice and helpful! We'll definitely do it again
Advertisement
Advertisement