Interact with dolphins, feed them and work alongside their trainers with the Dolphin Trainer for a Day program in Cabo San Lucas. Spend an afternoon helping care for Bottlenose dolphins from both on land and in the water, swimming beside them and learning basic training techniques. You even get to keep your training uniform once the workshop is complete.
Highlights
Dolphin trainer for a day program in Cabo San Lucas
Spend the day working with marine professionals
Enjoy being in close contact with a family of Bottlenose dolphins
Swim with the dolphins and spend extra time in the water
What You Can Expect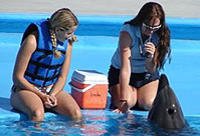 Developed for people who want to learn more about training marine mammals, the Trainer for a Day program gives you the chance to spend an exciting day working beside the experienced dolphin trainers at the dolphin center in Cabos San Lucas, Mexico.

As an active member of the team, you'll be in close contact with a unique family of Pacific Bottlenose dolphins - both in the pool and poolside - throughout the day.

You'll learn the basic skills of caring for and training dolphins as you assist the trainers in every aspect of their work from feeding and behavioral training techniques to helping the dolphin trainers during the "Swim with Dolphins" programs.

By actively participating in the daily efforts that are involved in the training and care of these mammals, you'll get a closer look at the fascinating world of marine professionals.
Dolphin Trainer package includes:
5hours in the Dolphin center
Complete uniform that you get to keep
Dolphin swim
30 minutes extra time in the water with the dolphins (without a lifejacket)
Educational presentation
Lunch will be provided
DVD of your swim
1 photo of your swim
November 2010
I sent my wife on this excursion for her birthday. I didn't see the smile leave her face after wards for days. The trainers and dolphins were such a close knit family. Would do this again in a heartbeat only this time I will be joining them.
Anonymous
September 2008
If you have any interest in dolphins, this activity is a must! I've swam with dolphins in New Zealand, but this was a chance to really get up close and personal. The operator was extremely professional. The limited group size made this a true training experience. During the day, we were introduced to the entire operation and staff, including a session with the veterinarian to learn about the dolphin monitoring and testing to make sure they stay healthy. We prepared the fish for our dolphins, met with their trainers then spent an hour swimming with them before learning how to give commands and positive reinforcement. The day culminated with each of us four being paired with an actual training to participate in an afternoon swimming session with other guests.
September 2008
Awesome. Great experience!!!!!!
Advertisement
Advertisement