Build some thrill into your Cabo San Lucas vacation with an exhilarating ATV adventure! Zip along pristine beaches and through the beautiful desert dunes of the Baja peninsula, checking out the unique Mexican flora and fauna. This trek offers something for riders of all levels. Find your own pace, whether it's ripping through difficult terrain or cruising along the secluded shoreline, enjoying the ocean breeze on your face.
Highlights
ATV adventure from Los Cabos
Explore secluded beaches and tackle the rough terrains
Ride along secret trails which offer breathtaking views of the Mexican scenery
Complimentary pickup and drop off from most Los Cabos hotels
Recent Photos of This Tour
What You Can Expect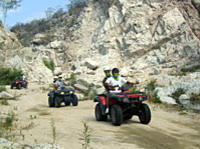 Your morning or afternoon ATV adventure begins with pick‐up from your Cabo San Lucas area hotel. As you head out to the starting point, admire the spectacular unspoiled beauty of the unique Baja landscape. Your 3‐hour excursion begins with a safety briefing and a lesson the basics of ATV use. Once you've got your bearings on the four‐wheel bike, you'll take off on a whirlwind ride with your expert guide.
Zip through the open desert and beach terrain alongside the Sea of Cortez, exploring hidden trails and spotting unique wildlife and tropical plants. You'll have plenty of opportunity for spectacular nature photos as you cross desert and head right down to the Pacific Ocean shoreline.
The tour ends with shuttle return to your hotel.
June 2016
The actual tour was fantastic. We went for a full three hours and had tons of fun. we were on all kinds of terrain, from paved roads to gravel and sand trails to the beach. We went about 50km with just a few beautifully scenic water breaks. One suggestion, be very clear arranging hotel pick up.
April 2016
It was a fun tour. The guides were very friendly and courteous. The route was extremely scenic. One recommendation that I have is to ensure that the guides allow a little time at the beginning to get those who are new to ATV's to become familiar with handling them before starting out on the tour.
April 2016
Great scenery and wonderful guide Celeste who took care of us from start to finish. Great excursion for seniors who haven't ridden before.
March 2016
This was such a blast! We were a group of 12, ranging from 9 years old to 52. I was the oldest, and female at that. : I had pictured this as being a leisurely tour through the desert and beach, but right off the bat the younger ones set the pace. But the tour guides were awesome! We had one leading and one holding up the end. The one at the end always let me keep whatever pace I was comfortable with, and we always eventually caught up with the group. The scenery was spectacular - we passed desert, housing developments we didn't know existed, ocean views galore, donkeys resting along the road, and cows resting in shade. It was so much fun! Would do it again in a heartbeat.
August 2015
IT WAS GREAT TIME. We had a group of 8 on our trip and we all went on the ATV. We had people with no experience to several that own ATV's and the trip was so much fun. The guides were very helpful and funny. The views along the ocean were unbelievable. The best part for me was having all of my kids with me and seeing the smiles on their faces, oh and the s turns in the river bottom were great. Will do this again when we go back.
Owen
June 2015
We had so much fun on the ATV adventure! Amazing!
March 2015
August 2014
It was a great tour. Great views and some free time to just drive around. :)
August 2014
This tour was awesome! The ATVs were easy to operate and the guide was friendly and helpful. We rode through desert and then onto the beach where we stopped a couple times for pictures. This was my husband's favorite excursion and I would definitely do it again!
April 2014
This tour was awesome. Our tour guy was Pancho from Motosol, Pancho was very professional, helpful, and took his time to show us how to use the atv. The view from the beach was breath taken. This tour took about 2 hours. I would of enjoyed more time in the beach. Overall take the opportunity to do this activity. Highly recommended.
Advertisement
Advertisement