Soar at high velocity over the dramatic river canyon of El Tule on an exhilarating 3.5-hour canopy tour from Los Cabos. Appease an appetite for adrenaline as you glide on ziplines suspended 300 feet (91 meters) above ground, taking in the breathtaking scenery below. An experienced expert guide will ensure your comfort and security with state-of-the-art safety equipment and informative orientation talks.
Highlights
Los Cabos zipline tour

2,673 feet (814 meters) of zip cables for you to experience
Bird's eye view of the canopy, trails and rivers
Complimentary pickup and drop off from most Los Cabos hotels
Recent Photos of This Tour
What You Can Expect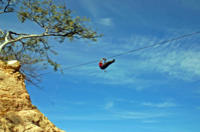 Depart from your Los Cabos hotel and begin your journey to the El Tule Canyon in an air-conditioned minivan. On arrival, greet your experienced guide and listen to a comprehensive explanation of zipline safety, protective equipment and orientation advice.
Feel your pulse race as you approach your first zipline, an ultra-thin cable strung high above the ground. Peer down to the rugged canyons below and prepare for the ride of your life as you're propelled down the line. Choose the tandem zipline option to enjoy this exhilarating excursion with a partner.
Fly on over 2,673 feet (814 meters) of cables, conversing with your guide throughout to ensure confidence and security. Gaze downwards at staggering scenery as you enjoy an unforgettable adventure. Sip refreshing complimentary drinks on the return journey to your Los Cabos hotel.
January 2016
The tour was very exciting. It was a lot more hiking than I expected so you have to be in pretty good shape. I had to stop and rest a few times. However, the zip lining was great, the trainers were great and supporting. Walking across the rope bridge is not for the faint at heart. Overall it was a great time.

June 2015
Amazing! Loved that there were 8 different zip lines rather than just 1 long one. There was a good deal of walking/hiking to get to each station, but well worth it! The staff was very friendly and helpful too!
May 2015
This was a thrill! The guides were fabulous and so helpful! I had zip lined in the California redwoods and this was so different! I'm totally hooked on zipping! Love it!!
January 2015
With this tour, they give you the options of what time to start; I recommend starting at 9 while the heat is still tolerable. Altogether there are 8 zip lines, each progressively longer, so for novices you can quickly become adept. There is a lot of walking and steep hills to walk up and a long bridge but if you like that sort of thing, its perfect. The crew were are really awesome and they made the experience even better with their lively personalities and positive attitudes. We went as a couple on this tour so we were able to do some of the zip lines as a tandem, which was a good experience.

Casey USA
October 2013
This zip line tour is a great way to spend a morning in Cabo!

There are 8 different zip lines that you get to fly down and each one gets better and faster! Getting to each launch area requires a bit of a hike, but you're equipped with a provided water bottle (attached to your harness) and each area has a seating area with more cold water for you to freshen up. The guides are already waiting for you at each zip line and are able to joke around while still making you feel safe and secured. Be sure to try zipping backwards at two of the lines!

The area itself is really neat as well, with huts and colorful areas at which you can sit and enjoy the views. The hotel drop-off gives you enough time after your zip lining adventure to grab a drink and food at the Lion's Den bar if you want. I would recommend a cold beer to celebrate this awesome adventure!

Highly recommend!
Trevor B USA
July 2013
I arrived in Cabo a day earlier than my travel companions so while they were flying in I went zip-lining. I have zip-lined all over the globe in Eagle Crest, Alaska, Castries, St. Lucia and Puerta Vallarta too. Believe me when I say these lines are the best! I was not familiar with the method, but all of my experiences have been different. The lines are long and fast. I weigh 280 lbs so I did not have to go in the company of any other participants on the tandem lines. Going backwards provided a slightly more exhilarating experience than I was accustomed to. I loved every minute of it! There is a bit of hiking involved between a few of the lines, but it is well worth it! I would say take the 9:00 AM option, it was scorching hot out there! The pries of food at the cafeteria are a bit steep, so grab a beer while you are awaiting the return of your shuttle and leave the burgers and hot wings be. The photo CD costs $38 for the photos of two people and goes up from there. I went solo so I coughed up the $38. I would recommend this activity to anyone looking to kill a few hours in Cabo.
February 2013
It was scary but exhilarating at the same exact time, you just have to get over the fear of falling to your death in the canyon. The instructors closely monitor each time someone gets hooked to a line, they make you feel safe. It was great!
Paul S USA
August 2008
Some parts were a little challenge to the nerves for the wife at first but we but loved it. Our only problem was we were pressed for time at the end but that was because we came on a cruise ship and had to get back to port before every one else.
Jorge C USA
August 2008
Loved it, everybody should try this at least once. The tour guides were great too!
June 2016
The staff was very nice and informative. They were professional and gave great tips for a more enjoyable experience. I enjoyed myself and will definitely use this service again.
Advertisement
Advertisement