Soak in a leisurely morning on a sailing cruise along the Bay of San Lucas. Enjoy a light meal and sip spirits from the open bar as you travel alongside exquisite rock formations like the golden-colored Los Cabos Arch. Once reaching Santa Maria Bay, there's a whole underwater world to explore. Hop in the water and snorkel alongside hundreds of tropical fish, then return to the catamaran for a bit more sightseeing.
Highlights
Sailing cruise in Cabo San Lucas Bay

Sail past various rock formations including the famous Arch

Spend time snorkeling amongst tropical fish in a protected environment

Snorkel equipment, a light lunch and full open bar included

Recent Photos of This Tour
Los Cabos Sailing and Snorkel Cruise
What You Can Expect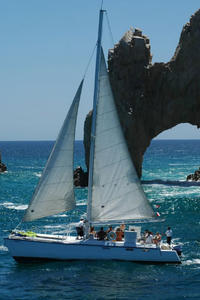 The open-style catamarans provide a stable and smooth sailing experience on the Bay of San Lucas. Known for its long-standing reputation for fun in Los Cabos, this sailing and snorkel adventure will be the talk of your vacation!

The boat crew will go out of their way to ensure that you have a memorable experience. Enjoy a full open bar and a light lunch, and spend time in the water snorkeling amongst diverse wildlife. Santa Maria Bay is an area protected by the federal government and is home to many types of tropical fish.
July 2014
We really enjoyed our cruise aboard Cabo Blue. The music was upbeat and the crew was fun to be around. My only complaint was that when I called to reconfim the local tour company could not find the booking. They took extra steps to get us in. We had a hard time finding the main dock because our drop off from our hotel bus was at the mall. You have to walk to the very end of the marina to find the Main Dock. The views were amazing and the snorkeling was first class. I would go again.
July 2011
The trip was incredible. Great crew on the catamaran, excellent view of the arch before we went snorkeling. Definately worth doing!

Luis6686 USA
April 2014
Good service and a decent lunch . The ecocat boat is really big and awesome. Crew very attentive. Definitely worth the money. Snorkeling was not the best area and a little too short.
July 2012
Great staff!! Snorkeling was OK, we were not in a Reef area, so there were crashing waves on the rocks, where most of the fish were. Still giving it 4 Stars because it was a nice ride and staff!!
November 2010
Beautiful water and numerous kinds of fish. We fed them pieces of bananas which drove them into a feeding frenzy. It was a little intimidating at first but amazing. The guides and crew were very friendly and catering.
April 2015
I booked this tour because my partner and I really enjoy snorkelling and what better place to do it than Cabo? The cruise took us to some of the famous sights including El Arco and Lovers Beach - there were some great photo opportunities. We then sailed to El Chileno beach for 40 minutes snorkelling which was excellent. The good things about this tour were the staff, food and the snorkelling - all were fantastic. The staff on the boat were so friendly and efficient - huge kudos to them. The bad? I wish there had been more stop offs for swimming/snorkelling. This cruise is 3.5 hours long and much of it seemed to be focussed on the booze and party afterwards. If I had known this I probably would have chosen a different trip as I am not a big drinker. That said, most people enjoyed a lot!
December 2011
This activity was fantastic, crew onboard were brilliant and made our day. Drawback was confirming tour, did not accept e-mail confirmation and being on a cruise had difficulty with local phones. Time on voucher was 10.00 but local tour was 11.00 had to hang about for 1 hour. rating would have been 5 stars if confirmation was easier and tour time was correct.
June 2016
This was a joke......you pay for a tour in advance, then the scam artists require calling in order to confirm---is paid in full not confirmation??? Would have been smarter to buy a tour from one of the 100's of land sharks at the pier. Appears to me that the tour company--GrayLine Tours--cares more about selling tickets than any customer service, which would lead me to believe that safety is probably not a priority either. I will never book a tour that has GrayLine involved.
PS-What's even more sad is one of GrayLine's boat operators at the Pier called the number and confirmed we were on a certain boat, and they had our reservation-but alas, when we arrived it had magically disappeared and the boat was full.
July 2012
We didn't even get the snorkel we were supposed to get, were put on another boat instead and were taken to a site with NO fish...AWFUL TIME. The sandwich for lunch was good. I will NEVER use viaor again. booked 2 trips and both were BAD
Advertisement
Advertisement