Come face to face with curious gray whales in the shelted waters of Baja's Magdelena Bay. This unforgettable dolphin and whale watching adventure includes round-trip transport from your Los Cabos hotel as well as plenty of time to obeserve them playing and frolicing. You may even get a chance to touch them! Afterward, enjoy a delicious meal at a local restaurant before returning to Los Cabos.
Highlights
Whale watching adventure off the coast of Los Cabos
See the Gray Whales up close and touch them from the boat!

Enjoy a delicious lobster, shrimp and fish lunch at a local restaurant
Complimentary pickup and drop-off from most Los Cabos hotels
Recent Photos of This Tour
Majestic Whale Watching Adventure from Los Cabos
What You Can Expect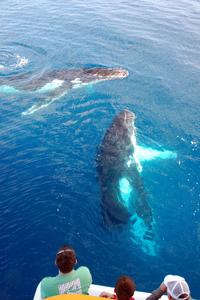 Each year, hundreds of these majestic giants arrive to the warm waters of Baja California to mate and then give birth to their calves in this protected natural bay located a few hours north of Los Cabos.

The most amazing part of this tour is to admire these whales jumping and playing with their young. Whales enjoy tactile stimulation and their curious calves often come up to the boat to see what all the fuss is about!

Your day will begin with a hotel pick-up service, and then it's a 4 - 5 hour drive to Magdalena Bay. Once at the Bay of Pangas, you'll board a 23" (7 meter) Super Panga boat for a 2 hour ride to watch and play with the whales! After all the excitement on the water, you'll go to a local restaurant for a delicious lunch and to rest for a while before heading back to your Los Cabos hotel.

The knowledgeable captain and crew will strive to make your whale watching experience as fun, safe and interesting as possible, making sure your time on the tour is one to remember forever.
March 2016
If you love whales, this is the activity of a life time. Absolutely breathtaking and beyond words.
February 2016
The only thing not 5 stars is the very long drive make sure you understand the schedule!
But getting up close and personal with Gray Whales is something I don't know if you can do anyplace else through a tour company. It was an unreal experience that is incredibly rare, and probably won't be available forever.
Our trip was on Feb. 23, 2016. The weather was perfect, and after several tries we were treated to a mother and baby both nuzzling up to our boat and clearly wanting to be touched. All of the 6 passengers on our boat go to do so. I put my hands on the baby and the mother, got my hat blown back by her exhale, and we even got our boat shoved a bit by the mom. Fantastic! We also saw several other pairs up close, as well as others in the distance.
Our time on the boat also included a dolphin sighting, views of the sand dunes on the far side of the bay, and lots of seabirds, including close up views of frigate birds in trees along the shore.
The town, briefly as we got to experience it, seemed like a quaint, very friendly, authentic Mexican fishing village. Lunch was simple and excellent. Would like to have had a bit more time there, but with the long drive, it was also important to get back on the road.
Our driver Carlos G. was excellent keeping things remarkably smooth considering the roads and speed bumps. Because we were picked up first, from Puerto Los Cabos, our total trip time was about 17 hours. The closer to Cabo San Lucas you are staying, the shorter that will be as you will be picked up after people farther out. Even with the very long drive, my wife and I will undoubtedly do this again someday!
March 2015
An absolutely wonderful experience! It was so exciting to see the many grey whales in Magdalena Bay. Our guide, Lenin, and driver,Fernando,did an outstanding job. The captain of our whale watching boat was skilled in getting us up close to the whales. The highlight of my day was rubbing the nose of the mother whale who came up and nudged our boat--three times in a row. We had a great late lunch of lobster, shrimp and fish at a local restaurant. It was a wonderful day and I would recommend it without reservation!!
March 2013
Mountaintop experience! What a great group with whom to travel and what an EXCELLENT guide! No doubt about it...., this is one for the record books! Our captain was skilled. When the whale nudged out boat into a nearby boat, no one was hurt. Scared the mama whale a bit, but she came right back! Delicious seafood lunch of flounder, lobster, and shrimp and a nice croissant bag breakfast, too. Such a perfect day and a bonus stop at Hotel California on the way home made for a nice surprise ending! I would have thought the van ride would have seemed long, but it wasn't at all most likely due to the compatible guide (Luis) and the good driving skills of Juan. Just can't say enough. I will bring friends and do this again. Everyone needs to do it at least ONCE!
February 2012
Our guide was fantastic and we saw many whales and their babies. I was even able to pet one of them! Due to the early pick up, they provided us with a box breakfast. We also had a delicious lunch in a local restaurant.
January 2012
Luis and Elisa were fabulous. Both were highly knowledgeable and personal. They made the gray whale tour outstanding. I would definitely recommend taking this trip.
February 2011
Wonderful. We saw many whales with their babies. Our guide, Lennin, was very knowledgeable and personable. Our driver, Salvatore, was excellent and we felt very safe on the long drive. The captain of our boat, Francisco, was very skilled at getting up close to the whales without scaring them. We would do this again and would highly recommend the tour to any whale loving soul.
Don H USA
November 2009
The driver was great. Authentic Mexican food was tasty and fun experience. Whales were FANTASTIC!!!
February 2014
Trip was well organised. Juan, our driver was very capable and friendly. Our tour guide , Lennie, was knowledgeable and pleasant. He spoke good English and did his best to ensure everyone had a good time. It's a very long day, but we felt we received good value for money.
February 2014
The trip was great. However, next time I would book it directly with the company. We had scheduled to depart on Jan 23, 2014, however, when we called the tour company(Not Viator) 2 1/2 days in advance, we were told that there were not enough people to go on this day and if we wanted to go, we would have to go on Jan. 21, 2014 (the very next day after we had arrived in Los Cabos). We did agree, so we did get to go and it was a wonderful trip, but if we had not called well in advance, we would have missed the tour. Viator is just a broker for these tours, they do not follow-up with you. It is up to you to reconfirm the tour. Many of these tours you could just book on your own.
Advertisement
Advertisement