Be amazed by breathtaking views of the Swiss Alps on an enriching full-day excursion to Kleine Scheidegg from Lucerne. Enjoy a wonderfully scenic drive to Lauterbrunnen and then climb aboard the renowned Wengernalp rack railway for an enchanting journey through flower filled meadows and rolling forests. Arrive at the vertiginous summit of the Kleine Scheidegg mountain to absorb sweeping panoramas of Mt Eiger, Monch and Jungfrau, and then enjoy some leisurely free time to hike or take the train to the beautiful village of Grindelwald, nicknamed 'Glacier Village'.
Highlights
Full-day trip from Lucerne to Kleine Scheidegg
45-minute rack railway journey from Lauterbrunnen to Wengen and Kleine Scheidegg
Panoramic mountain views of Mts. Eiger, Monch and Jungfrau
Scenic, guided drive through Switzerland's magnificent Alpine regions
Free time to lunch, relax or hike
Recent Photos of This Tour
Eiger and Jungfrau Panorama Day Trip from Lucerne
What You Can Expect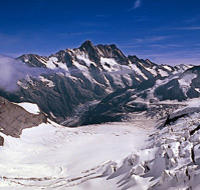 Climb aboard a luxurious coach at a central Lucerne location and relax during the journey through Switzerland's scenic countryside. Stop to enjoy the Alpine ambience of Interlaken, a gorgeous resort at the foot of the Bernese Oberland mountains, and then continue to Lauterburnnen, where a ride on the Wengernalp rack railway awaits.
Climb aboard the train and feast your eyes on a beautiful tableau of flower-filled meadows and dense forests, completed by the quaint architecture of Wengen village. After a 45-minute trip, arrive at the summit of Kleine Scheidegg, a towering mountain whose spire protrudes to 2,061 meters (6,762 feet) above sea level. Capture staggering panoramas of the surrounding scenery on camera and then marvel at the proximity of the imposing Eiger North Face.
Spend some leisurely free time following hiking tails or revitalizing with a fulfilling lunch (own expense) and then take the unaccompanied train trip down the Eiger slopes to Grindelwald. Board your awaiting coach and return to Zurich in comfort.
Please note: In the winter season, the entirety of the tour is full guided.
July 2015
Just do it!! Make sure it is to the summit and not just the Panorama 'view' - I had to pay Euro 83 per head after starting the trip, but it was well worth the money!
Louis V USA
November 2013
The best tour ever! You must pay the extra 160 Euro to go to the top to get the best view in the world.
The tour guide will direct you to an ATM in Interlaken. My tour guide named Kid was outstanding in his knowledge and HUMOR.
October 2012
The Panoramic day trip was simply out of the world. The Eiger, Monche and Jungfrau covered in snow and the beautiful scenery was breathtaking. The train rides were excellent as we could see the mountains at such a close range. Interlaken and Grindelwald were beautiful. Our tour guide named Kid was very knowledgeable and made the tour very interesting.
Catherine G Canada
April 2010
This excellent trip is highly recommended. Our tour guide was an expert on the area and was concerned for our comfort especially when all members of our group decided to pay the supplement and head to the Top of Europe. We were hoping for good weather to view the massive glacier but experienced a blizzard instead much to the delight of visitors from sunny countries. The valley is absolutely beautiful and the views stunning... don't miss it!!
August 2008
This was a birthday present to myself. It was well worth the money although we paid the extra to go right up to the top.
June 2012
Jungfrau trip was very good except that the guide charged us Euro 177 more. He said that our tickets (given by you) are not for Jungfrau but till middle of the tour, which was embarassing.
August 2011
A very enjoyable day, but should have been met in the Tourist Information Ofice in Lucerne.
Keith R USA
February 2010
Trip from Luzern through Swiss countryside to Interlaken and tram up mountain were excellent.
July 2012
This trip actually left from Zurich so by the time it got to Lucerne the bus was almost full and we took the last seats together..other people had to separate.The trip took us to Interlaken, Winteregg and then to Kleine Scheidegg, where according to the tour description we then stopped and you could go hiking etc. Everyone else on the trip had paid more for an additional part of a trip to Jungfraujoch- where you went on a train ride through a 16 mile tunnel built through the mountain.Luckily we had the most fantastic guide Kiet (he gets 5 stars) who told us about this before we got to Interlaken where we found an ATM to take out extra money to pay for the additional part. It made the trip rather expensive but the trip through the tunnel and arriving at the snow covered Jungfraubahn complex which was really amazing. If we had got off where we had originally paid for we could have done nothing. It was snowing and you could hardly see 8 feet in front of you, so not good hiking weather. We would also have missed out on what was a trully amazing adventure. Our guide was fantastic... he knew every bend in the road /train track and would call out ..."good photo on left/right in 1minute/2,3 minute" Also he went through the train taking people's camera's and taking photos of them against an amazing backdrop. Kiet made the trip.
BOB USA
December 2011
During the trip the guide tried to pressure us into an upgrade for $100 per person. When we returned, we were not let off the bus at the pickup point Train station info both. Instead we were exited 5 blocks away but told the train station was around the corner. Had to seek instructions from a local bar. Don't let them do this to you
Advertisement
Advertisement