10 Reviews
Location:

Lucerne, Switzerland

Duration:

5.5 or 8.5 hours
This independent Mount Rigi tour from Lucerne combines a round-trip boat cruise, cogwheel railway ride and aerial cable car ride for an epic Swiss Alps adventure. Cruise along stunning Lake Lucerne and train up Rigi Kulm, the 'Queen of the Mountains,' for majestic views of the Bernese Alps, Vosges Montains and Black Forest. Take an aerial cable car to the postcard-worthy lakeside town of Weggis, and end with a return boat cruise to Lucerne. With convenient pre-booked tickets and detailed timetables, you'll experience the breathtaking Alps at your own pace.
Highlights
Independent Mount Rigi tour from Lucerne
Create your own sightseeing schedule to experience the Swiss Alps at a pace that suits you
Enjoy a round-trip Lake Lucerne cruise from Lucerne to your mountain destinations
Take the cogwheel train up Rigi Kulm for panoramic views of the Swiss Plateau
Ride an aerial cable car from Rigi Kaltbad to the beautiful town of Weggis
Includes pre-booked tickets and detailed timetables for easy planning
Choose a half-day or full-day tour for more time at the Mount Rigi summit
What You Can Expect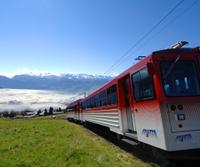 Head to Pier 1 on Lake Lucerne at your chosen time and, with your provided timetables, you'll be able to plan out your day according to your preferences. There are several departure times for the cogwheel train and cable car portions of your tour.
Board a boat at the pier and relax as you cruise along Lake Lucerne, one of Switzerland's most stunning and unique lakes. Disembark in Vitznau and hop on the venerable Mount Rigi Railways cogwheel train for a ride up to Rigi Kulm. Known as the 'Queen of the Mountains,' Rigi Kulm is the highest peak in the Rigi mountain range at 5,899 feet (1,798 meters).
From the summit, soak up a marvelous 360-degree panorama of the Swiss Plateau with the Black Forest, the Vosges mountains, the Glarus Alps and the Bernese Alps beyond. On the half-day tour, you'll have two hours of free time at the summit; full-day tour goers will enjoy five hours. Go sledding, rent snowshoes and hit a hiking trail, have lunch in one of the cozy restaurants or simply soak up the views — it's entirely up to you.
Re-board the cogwheel train and ride down to Rigi Kaltbad, a mountain resort that sits on a sunny terrace at 4,701 feet (1,433 meters) overlooking Lake Lucerne.
From here, board the aerial cable car and enjoy a breathtaking float downhill to Weggis on the northern shore of the lake. Wander this picturesque mountain town by foot before making your way to shore, where your boat awaits. Relax and savor the last views on the boat ride across Lake Lucerne back to the Lucerne pier. Your independent tour ends here in the evening.
August 2014
August 2014
it was a fantastic tour, we enjoyed allot. However, we were hoping to meet someone from viator to hand us over our schedules and passes as mentioned. Since no one was there, we had to go to the ticket counter and ask showing our paid voucher. we were then told that our voucher was our ticket and gave us additional information for the tour. So, my suggestion is either you mention this on the voucher or have someone there to give you all details. It was also a bit award to show a printed paper instead of a ticket to all the locations as most officers was not too familiar with it. Anyway, everything went smoothly and we would highly recommend to all who are interested.
August 2015
Very accommodating and no time restraints . You can do the whole tour at your own pace. Very beautiful sights. Highly recommend this tour
July 2015
It was a wonderful experience. Most people knew what I was showing them on my iPhone with the viator confirmation. Only the one man when we were wanting to go down the cable car had no idea what I was showing him. Definitely worth doing
August 2015
The boat left punctually and was full of visitors. Detailed timetables were not received, however, the boat crew were very helpful in clarifying where to disembark. Travellers should get off the boat at the fourth stop, not the third stop, Weggis where the cable car descends. The train station is located directly by the pier which was useful. At the top of the Mountain the views are fabulous. It is a very steep walk to the very top. Be aware that you will need to walk back along the train track for about 20 minutes to access the cable car station. It is not at the end of the train track at the top of the mountain as you may expect. However, this is a very pleasant, if unexpected walk. The cable car ride is brilliant and offers fantastic views down to the village of Weggis, where you embark the next available boat back to Lucerne.
October 2014
We ended up really enjoying everything we saw on this tour, but it is truly an independent tour. I think I had a different idea of what the "independent" piece meant, thinking it would be a guided tour on a boat cruise, etc. You basically take a ferry/water taxi that stops in multiple places. The person who scans your tickets on the water taxi did not recognize our itinerary and gave us some trouble, but eventually went away. It would be nice if Viator could communicate with them to let them know about these tickets. I believe you get off at Vitznau and take the cogwheel train up the mountain - once you are to the top the views are absolutely amazing and you have plenty of time to enjoy at the top. You then take the cogwheel train back down the mountain to the point where you can relax a bit and then get on the cable car down the mountain. That also offered amazing views. You then find you way back to the water taxi after a 10 minute walk down the hill and get back to Lucerne. Overall I would recommend this tour, but it would be nice if Viator had a bit more information on what to actually expect. When we booked, there were no reviews but I now see there are several and they all indicate the same thing. If you read the reviews, you will have a better idea of what to expect.
October 2014
We enjoyed being out on the lake and seeing the sights from this point of view. I will agree with others that you are on your own in locating where to go, we had to rely heavily on others to confirm the right boarding for boat and train as well as when we needed to disembark. There was no commentary on the boat, it was just a water taxi service, with food and drink accommodations. The train has multiple stops as you travel up the hill, it is not an express trip. But once you get to the top, it was breathtaking. I would highly recommend this trip if you are an avid hiker, which was the majority of folks on the mountain.
September 2014
It was a good tour but there needs to be more specific details - although we made it successfully the confusion wasn't fun.
August 2014
The cog train did not recognize your voucher without some difficulty. We also had difficulty finding the cable car transportation. Otherwise all went well.
July 2014
Never received any information or an itinerary. Overall the attractions themselves were good and I was able to get through everything by showing the receipt on my phone but would've liked to have had the tickets/itinerary in hand!
Advertisement
Advertisement