Take your Swiss Alps adventure to new heights on this independent day trip to Mt Rigi. Explore this breathtaking destination at your own pace, starting with a boat cruise from Lucerne. Use your pre-booked tickets and provided timetables to plan the cogwheel train and aerial cable car portions of your tour. You'll take the railway up Rigi Kulm for two or five hours of free time at the summit, depending on which option you select. Then enjoy more postcard-worthy views en route to Weggis before the return boat ride to Lucerne.
Highlights
Independent Mount Rigi tour from Lucerne
Create your own sightseeing schedule to experience the Swiss Alps at a pace that suits you
Enjoy a round-trip Lake Lucerne cruise from Lucerne to your mountain destinations
Take the cogwheel train up Rigi Kulm for panoramic views of the Swiss Plateau
Ride an aerial cable car from Rigi Kaltbad to the beautiful town of Weggis
Includes pre-booked tickets and detailed timetables for easy planning
Choose a half-day or full-day tour for more time at the Mount Rigi summit
Recent Photos of This Tour
What You Can Expect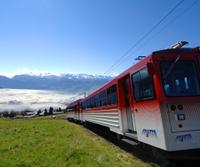 Board your boat at Pier 1 for independent transport across Lake Lucerne in the morning or afternoon, and start your unguided Swiss Alps tour to Mt Rigi with splendid views along one of Switzerland's most beautiful lakes.
With several departure times available for the cogwheel train and aerial cable car at Mt Rigi, simply use the timetables provided to plan out your itinerary according to your preferences.
Disembarking at Vitznau, climb aboard the cogwheel train for a ride up to Rigi Kulm, aka 'Queen of the Mountains.' Topping the Rigi mountain range at 5,899 feet (1,798 meters) in elevation, the summit boasts unbeatable views of the Swiss Plateau with the Bernese Alps, Vosges mountains, Black Forest and Glarus Alps beyond.
If you selected the half-day tour, spend two hours of free time here; the full-day option allows for five hours at your leisure. You can rent snowshoes or a sled, embark on a hiking trail, or grab lunch in one of the cozy restaurants (activities and food are your own expense).
When it's time, the cogwheel train transports you down to the mountain resort of Rigi Kaltbad. From an altitude of 4,701 feet (1,433 meters), it's the perfect vantage point over Lake Lucerne. Board the aerial cable car from here and drift down to the pretty lakeside town of Weggis.
Meander around at your own pace before making your way to the shore where your boat awaits for a return ride across Lake Lucerne, bringing you back to the pier in the evening.
May 2016
GREAT EXPERIANCE ONLY NEG WAS GONDOLA NOT WORKING
May 2016
The trip was very smooth as all of the officers were known to our printed Viator vouchers. The boat trip was excellent and we enjoyed the beautiful very much along the Luzern Lake. There was snowing heavily when we were going up to Rigi. The snowing view thru out the train window was absolutely enjoyable in another way! At the Rigi Kulm, there was still snowing and we could not view the stunning paronama view of the beautiful Luzern lake. But, we were still enjoying the snow flakes while doing the snow-hiking around the mountain peak! There was unfortunate that we could not make the cable car trip down due to the cable car service was under maintenance. Anyhow, we made the return train back and re-boarding the boat back to Lucerne jetty. Absolutely recommended and worthy to join!
September 2015
A very nice trip.Both the boat trip and the cogwheel trip was nice.A beautiful view at the top of Rigi.
September 2015
excellent trip, 5 hours is more than enough. But more details about the trip is preferred, like the boat departure point and the time of all scheduled time for coming back.
August 2014
Dinusha D Sri Lanka
August 2014
it was a fantastic tour, we enjoyed allot. However, we were hoping to meet someone from viator to hand us over our schedules and passes as mentioned. Since no one was there, we had to go to the ticket counter and ask showing our paid voucher. we were then told that our voucher was our ticket and gave us additional information for the tour. So, my suggestion is either you mention this on the voucher or have someone there to give you all details. It was also a bit award to show a printed paper instead of a ticket to all the locations as most officers was not too familiar with it. Anyway, everything went smoothly and we would highly recommend to all who are interested.
September 2015
Trip was good with easy connections- however nobody recognises the voucher and theefore everytime it is shown there is a debate before they shrug their shoulders and let you travel. At the very least produce the voucher in the home countries language in order that the officials do not have to be bi-lingual
August 2015
Very accommodating and no time restraints . You can do the whole tour at your own pace. Very beautiful sights. Highly recommend this tour
July 2015
It was a wonderful experience. Most people knew what I was showing them on my iPhone with the viator confirmation. Only the one man when we were wanting to go down the cable car had no idea what I was showing him. Definitely worth doing
May 2016
Fog and snow greeted us at the top. Cruise was fun
Advertisement
Advertisement