This independent Mount Rigi tour from Lucerne combines a round-trip boat cruise, cogwheel railway ride and aerial cable car ride for an epic Swiss Alps adventure. Cruise along stunning Lake Lucerne and train up Rigi Kulm, the 'Queen of the Mountains,' for majestic views of the Bernese Alps, Vosges Montains and Black Forest. Take an aerial cable car to the postcard-worthy lakeside town of Weggis, and end with a return boat cruise to Lucerne. With convenient pre-booked tickets and detailed timetables, you'll experience the breathtaking Alps at your own pace.
Highlights
Independent Mount Rigi tour from Lucerne
Create your own sightseeing schedule to experience the Swiss Alps at a pace that suits you
Enjoy a round-trip Lake Lucerne cruise from Lucerne to your mountain destinations
Take the cogwheel train up Rigi Kulm for panoramic views of the Swiss Plateau
Ride an aerial cable car from Rigi Kaltbad to the beautiful town of Weggis
Includes pre-booked tickets and detailed timetables for easy planning
Choose a half-day or full-day tour for more time at the Mount Rigi summit
What You Can Expect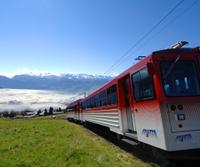 Head to Pier 1 on Lake Lucerne at your chosen time and, with your provided timetables, you'll be able to plan out your day according to your preferences. There are several departure times for the cogwheel train and cable car portions of your tour.
Board a boat at the pier and relax as you cruise along Lake Lucerne, one of Switzerland's most stunning and unique lakes. Disembark in Vitznau and hop on the venerable Mount Rigi Railways cogwheel train for a ride up to Rigi Kulm. Known as the 'Queen of the Mountains,' Rigi Kulm is the highest peak in the Rigi mountain range at 5,899 feet (1,798 meters).
From the summit, soak up a marvelous 360-degree panorama of the Swiss Plateau with the Black Forest, the Vosges mountains, the Glarus Alps and the Bernese Alps beyond. On the half-day tour, you'll have two hours of free time at the summit; full-day tour goers will enjoy five hours. Go sledding, rent snowshoes and hit a hiking trail, have lunch in one of the cozy restaurants or simply soak up the views — it's entirely up to you.
Re-board the cogwheel train and ride down to Rigi Kaltbad, a mountain resort that sits on a sunny terrace at 4,701 feet (1,433 meters) overlooking Lake Lucerne.
From here, board the aerial cable car and enjoy a breathtaking float downhill to Weggis on the northern shore of the lake. Wander this picturesque mountain town by foot before making your way to shore, where your boat awaits. Relax and savor the last views on the boat ride across Lake Lucerne back to the Lucerne pier. Your independent tour ends here in the evening.
August 2014
August 2014
it was a fantastic tour, we enjoyed allot. However, we were hoping to meet someone from viator to hand us over our schedules and passes as mentioned. Since no one was there, we had to go to the ticket counter and ask showing our paid voucher. we were then told that our voucher was our ticket and gave us additional information for the tour. So, my suggestion is either you mention this on the voucher or have someone there to give you all details. It was also a bit award to show a printed paper instead of a ticket to all the locations as most officers was not too familiar with it. Anyway, everything went smoothly and we would highly recommend to all who are interested.
Advertisement
Advertisement