Immerse yourself in the Alpine beauty of Interlaken and Grindelwald on a full-day tour of the majestic mountain region from Lucerne. Depart by luxury coach and marvel at enchanting scenery as you travel to Interlaken, a gorgeous resort located at the foot of the Bernese Oberland Alps. Spend some leisurely free time exploring independently and then head to Grindelwald, known as 'Glacier Village' due to its impressive array of glaciers. Opt to ascend to the summit of Mt First in a cable car to see stunning panoramas of the surrounding sights before returning to Lucerne.
Highlights
Explore the Bernese Oberland, Switzerland's alpine paradise!

Scenic drive through the Swiss Alps

Optional aerial cable car ride to Mt First for stunning mountain views

Free time to explore both towns on your own
Recent Photos of This Tour
Interlaken and Grindelwald Day Trip from Lucerne
What You Can Expect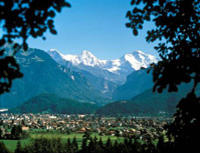 After pickup at a central Lucerne location, sink back into your seat on a luxury coach and enjoy the gorgeous scenery as you travel towards Interlaken, a charming village cradled by the Bernese Oberland Alps. Spend some leisurely free time visiting impressive sights like Jungfrau Park and Lake Thun, perhaps revitalizing with a steaming beverage in a quaint café if you wish (own expense).
Return to your vehicle at a pre-arranged time and relax during the journey to Grindelwald, nicknamed 'Glacier Village', and spend some more leisurely free time discovering the natural splendor of the enclave. Opt to take a cable car ride up to the sun-drenched terrace at the summit of Mt First and see sweeping panoramas of the scenery from a height of 7,113 feet (2,168 meters).
Reconvene with your guide in the afternoon and make the return journey to Lucerne, where the tour concludes.
February 2016
Fantastic review!! We caught our bus only 3 blocks from our hotel in Lucerne. Boarded a luxury motorcoach that took us to Interlaken . We were given very detailed plans about the day and 3 options we could choose for the day. Peter was our guide and was enthusiastic, charming and friendly. He did not want us to feel forced to upgrade, but rather gave us information that we could not resist upgrading. And we did not regret our upgrade!!!! It cost us 115 more per person to go up to the top of Europe. Our booking was just to Interlaken and Grindelwald. The stop in Interlaken was 1/2 hour. We got real hot chocolate and croissant. Boarded the bus to go up further and catch two types of trains to the very top. The rides were enjoyable and informative and comfortable. Our group had 21 people. We had reservations on these trains just for us that Peter handled. At the top of Jungfrau we had two hours to go through a prearranged tour of the history and making of this amazing facility. We felt light headed and were instructed to take our time and walk slowly. We also had an amazing lunch at the top. Gorgeous scenery right outside our window. We were able to take an elevator to the top and go outside to take photos. It was -5. We also wandered into the Lindt chocolate factory/ store. After 2 hours, we boarded the train and went back down. Stopping a few times for photo opportunities like we did on the way up. Boarded our bus in Grindelwald and a bus ride back to Lucerene. Peter and Armando, thank you for out amazing adventure where we enjoyed EVERY single second! And we did!!! So good to have met you Peter! A charming representative of Switzerland!!! We love you!!!
David and Susan George and Amal
Patricia G USA
August 2015
It was a great experience. We really enjoyed both of these towns.
November 2014
This is the best way to explore the landscape just right below Alpine mountain. We have about 5 hours to do little hiking, enjoy the landscape, having a nice lunch in one of Indian Restaurant and take many beautiful picture. I also think that join this tour is the easiest way to get grindelwald rather than by train with reasonable price.
July 2014
Great day and weather. My wife and I were looking for a day in the alps and it was exactly what i had hoped for. For many years i have wanted to see the Eiger with my own two eyes. It was a Sunday in late May so a bit quiet in Interlackan and Grindelwald. I can't imagine what it would be like in peak season. Madness I'm sure. Most of the folks on our coach were heading up to Jungfraujoch so we were dropped off at Interlaken. We had about 90 min. to roam around. We were picked up and taken up to Grindelwald where we had 4 plus hours of splendour. The Eiger is magical and our trip on the gondola to Mt First was worth the $. As i said, it was Sunday with a lot of shops closed but we could still find a cold beer. It was very quiet and if the weather was poor, it would have been a different story. We only had the one full day, on our way Como, to make the trip and we nailed it. Great coach ride and very scenic. A great way to day trip to the Jungfrau region. Easier than a bus or train...........Michael. Halifax Canada
June 2013
An awesome way to know the alps ! Interlaken is a lovely little town, but we spent most of the day in Grindelwald, on the foot of the Jungfrau. Just the view from the town was worth the ride alone, but the beautiful city, friendly environment and nice weather made it for a perfect day!

May 2013
This is a good for a couple's day out. The scenic beauty around this area is very romantic and breathtaking. Also there are local eateries where you can satisfy your hunger! This is really a trip for those who want some quiet time!
September 2012
Beautiful scenery. I especially liked the trip to Grindelwald. You must walk up the hill or take the bus for the short trip up the hill to the only church in the village. The view from there of the mountains and glacier is awesome. The guide was with us only on the bus, but he was informative and great about telling us when to prepare for a good picture.
June 2016
The coach arrived late from Zurich, when our lot of 15 boarded, that made 70 people. This was a bit of a surprise. Kit was very organized, abrupt and difficult to understand. No mention of upgrading to the Jungfrau tour! This is not a guided tour but probably a quicker way to do this trip. A train might be cheaper. By the time you walk around Interlaken, watch some hang gliders land in a central picturesque park, you are ready for the next trip to Grindelwald. The only apparent option is the cable car up to Mt First which has several adventure activities that you can do. Hire bikes for part of decent, flying fox, watch the hang gliders taking off. At 59CHF each extra, made it very expensive day. Trip up to Mt Jungfrau wasn't much more! We had a glorious day with the weather and the scenery on First was amazing. Bad traffic saw us late home.
November 2015
First signed up for this tour to Grindelwald but considering it was a Sunday where most of the shops were closed, in the end decided to join most of the group on the Jungfraujoch tour. Tour guide was very knowledgable and provided a very fun journey up to the mountains where the view was spectacular. A very enjoyable trip indeed :
Cali USA
September 2015
Our guide, Kid, was amazing! He made sure to take fabulous photos of everyone and give us helpful hints. He alone was 5 stars! The reason I didn't give this tour 5 stars was because we only got 20 min in Interlaken and around an hour in Jungfrau. It felt very rushed w/ most of the day going 2 travel
Advertisement
Advertisement