Discover the frozen witchery of Mount Pilatus on an exhilarating half-day tour from Lucerne. With an experienced guide, travel by air-conditioned coach to one of Switzerland's most impressive mountains and take an aerial cable car ride to the snow-smothered summit. Absorb breathtaking panoramas; feast upon a traditional Swiss lunch; and explore the exhilarating hiking trails of the mountain during some leisurely free time.
Highlights
Winter day trip from Lucerne to Mount Pilatus

Day of alpine adventure in Switzerland

Aerial cable car ride

Lunch at the top of the mountain included

Enjoy breathtaking views of the Swiss Alps
What You Can Expect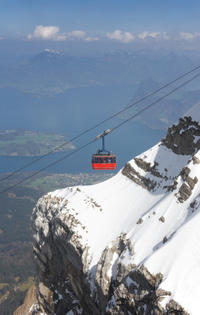 Depart from a central Lucerne location in a comfortable, air-conditioned minivan and relax during the scenic journey to Kriens, an idyllic mountain town cradled by the Swiss Alps. On arrival, climb aboard an awaiting cable car and enjoy an aerial ride to the dizzying summit of Mount Pilatus.
Absorb sweeping vistas from a height of 7,000 feet (2,132 meters) and spend some leisurely free time exploring the frozen wonderland at your leisure. Take the Dragon Path to the mountain's highest point and hear tales of myth and legend from your knowledgeable guide.
Appease your appetite with a traditional lunch of Swiss cheese and succulent sausage (sample menu in the Itinerary section below), and relish the tranquil Alpine atmosphere as you eat. Descend the steep mountainside in another modern cable car and then reconvene with your guide and group at a pre-arranged meeting point.
Relax during the journey back to a central Lucerne location, where the tour concludes.
Itinerary

Lunch Options:
Swiss Alpine Cheese Pasta (typical Swiss winter dish)

Swiss Bratwurst (veal sausage) and Roesti (typical Swiss potato dish)
Vegetables and rice

January 2014
An amazing day. Lovely cable cart rides to the top. We had a perfect day with views for miles. Lunch was spectacular and delicious. We had great fun in the snow. It would be good to start the tour earlier so you could have more time up there. A great way to spend New Years Day!
Patricia F W USA
January 2009
This was a wonderful trip. Lunch could have been a little more timely, but over all the guide was very knowledgeable and Mt. Pilatus was very beautiful. Coming down and seeing the entire town of Lucerne was breathtaking.
January 2013
We were extremely disappointed with the tour in the fact that it was not actually a tour with a guide.We were picked up at the designated spot by a guide , taken to a shop where we had to wait 20minutes for people on another tour,taken to the mountain (10 minutes) and directed with coupons for lunch etc to go to the mountain by ourselves and then advised we had to walk down the winding street to catch a local bus back to Lucerne ..All this without a guide
Marcia W USA
January 2009
I was expecting the 'horn blowers' like in the picture. The time there was too long.
February 2016
The tour with guide amounted to less than 30 minutes. The rest of the time we were on our own.

November 2015
So called tour was nothing but transport, have to share the tour bus with their other tour in the morning, had to wait for 20minutes for them to be ready. Once up on the mountain, we were left to walk around ourselves. There was no bus to take us back to Luzern, had to walk 1km and catch public bus.
April 2014
There was no tour. I got dropped at the entrance and handed a bus pass for returning to Lucerne. From there I was on my own.
March 2014
Tour guide leave you alone at foot of pilatus, was told to take public transport back to your meeting point yourself athought stated transport provided to meeting point. Lunch was awful. We would have plan ourself to the pilatus if that is the case. No tour guide, No transportation. Disappointed
March 2012
What a damned Waste of Money:
You spend more time filling out paperwork and waivers than actually riding to the base of the mountain, which is only 10 minutes away by bus. Meal choice was lousy. Guide was late to pick-up, then didn't even drop us off back at the train station, but made us walk.! Got no info from guide on mountain, history, etc.
Colin S Australia
April 2011
Very poor value. There was no guide for the trip and I was the sole traveller, others having given up when they heard it was not guided. I was given cable car tickets and a bus ticket to get me back to Lucerne.
Pilatus itself was OK but restricted due to considerable construction taking place.
Had I known all this, I would have gone to Titlis or Rigi. If you really want Pilatus, take public transport.
Advertisement
Advertisement