Special Offer
Book by June 8, 2016 to save 10% off our previously offered price!
Experience eight days of pure beauty on this Nile River cruise from Luxor that includes a stop in Aswan and an optional private guide to enhance this memorable experience. Explore historic temples, ancient relics and quiet tombs of the Upper Nile in what may well be the most impressive outdoor museum on earth.

Select guided tours along the way at stops like the Valley of the Kings, the Karnak and Luxor Temples, Philae Temple in Aswan and Edfu Temple. Enjoy exciting additional excursions like hot-air balloon rides over Luxor and Nubian dance performances. Opt for a private tour upgrade to enjoy the experience and knowledge of your own Egyptologist with a trip designed to meet all your expectations and interests.
Highlights
Eight-day River Nile cruise from Luxor
Scheduled group tours include Valley of the Kings, Karnak and Luxor Temples, Edfu Temple, Kom Ombo and Philae Temple in Aswan
Upgrade for your own private guide and enjoy privileged, personalized attention !

Optional tours available, including Abu Simbel, hot-air balloon flight over Luxor and Aswan sound and light show
Evening entertainment including Nubian music and dancers, a Galabayeh night and belly dancing
All meals included, featuring a mix of Egyptian and Western food
Pick-up and drop-off from Luxor hotels, airport or port
Recent Photos of This Tour
What You Can Expect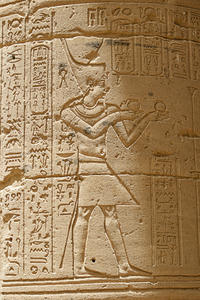 Experience eight days of luxury on the deluxe Nile cruiser M/Y Mirage, with its onboard restaurant, lounges, swimming pool, sundeck, massage service, boutique, laundry service and other chic offerings. Relax in one of the ship's 58 air-conditioned cabins and enjoy private facilities and satellite TV.
Join any of the boat's adventures and enjoy the thrift and social aspect of small group travel, where excursions are capped at 20 people. Of, for a more personalized experience, opt for your own expert local guide who will show you the ancient sites of Egypt on a private tour designed according to your time and interests.
Meals, accommodation and sightseeing are all included in this Nile River Cruise from Luxor, which insures an easy, memorable trip back into ancient time. Whether its with a group, or with a personal guide, you'll gain valuable insights into this nation's ancient history, historical sites and incredible civilizations.
Please note: Groups of travelers requiring different cabin types are required to make separate bookings in order to guarantee cabins of their choice
Itinerary
8-Day Nile River Cruise Itinerary
Day 1 (L,D):
Embarkation upon arrival to Luxor
Visit the East Bank (Karnak and Luxor Temple)
Overnight in Luxor with opportunity to disembark
Day 2 (B, L, D):
Early morning sail to Esna and Edfu
Overnight in Edfu
Day 3 (B, L, D):
Breakfast on board
Visit Horus Temple in Edfu
Sail to Kom Ombo and Aswan
Overnight in Aswan (late night arrival)
Day 4 (B, L, D):
Visit the High Dam, Unfinished Obelisk and Philae Temple
Afternoon Felucca tour around Islands of Aswan
Overnight in Aswan with opportunity to disembark or optional Sound and Light Show at Philae Temple (additional cost)
Day 5 (B, L, D):
Free day in Aswan with possibility of optional tour to Abu Simbel (additional cost)
Overnight in Aswan with opportunity to disembark
Day 6 (B, L, D):
Sail to Kom Ombo and visit of Kom Ombo Temple
Sail to Luxor
Overnight in Luxor with opportunity to disembark
Day 7 (B, L, D):
Possibility of optional Hot Air Ballooning over the West Bank (additional cost)
Visit the West Bank (Valley of the Kings, Temple of Queen Hatshepsut and the Colossi of Memnon)
Overnight in Luxor with opportunity to disembark or optional Sound and Light Show at Karnak (additional cost)
Day 8 (B):
Check-out after breakfast
Schedule subject to change due to Nile River traffic, conditions and water levels
November 2015
The is the second time we have taken this cruise in 12 months. The staff was great and we can't say enough about how wonderful everyone treated us. Our guide was excellent and will remain friends with us for years to come.

November 2015
This was our first tour booked with Viator and we were pleasantly surprised. Very organised which gave piece of mind to mum, super friendly guide and #39;Haythem and #39; who looked after every detail for us, and the cruise had large clean rooms, smooth sailing, the food varied a mixture of western and egyptian.

December 2014
I would guve this trip 10 stars not just 5. The boat and staff were so nice and went out of their ways to make us happy. Iour tour guide was amazing! Very polite and pleasant person. We enjoyed his company very much. I will try to add puctures to this review later! It was such an amazing trip.
Johnny W USA
May 2014
Great cruise. We had a very knowledgable guide and his brilliance made our experience incredible. AWESOME!!!!!!
PHILLIP S Australia
August 2008
Could not fault the ship itself, the food or board service. Excellent in all respects. Only drawback was initial boarding at which point all we had was a voucher and there was no one to meet us on boarding the ship. To their credit however the front office manager of the ship soon inquired as to who we were and organised our documentation. They ended up sending over a guide some 2 hours later who informed us of the program and told us the cabin number. That part could have been much better handled but the overall experience was excellent. Would recommend but make sure they provide written documentation before you board.
Michael K Saudi Arabia
August 2008
El Nil, as we now call it went beyond all my expectations it was a wonderful experience especially so as there was only 10 passengers for the first 4 days and 25 for the last 3. The up side of cruising out of season! Full marks also for the tour guide.
February 2008
Great trip! Service on the boat was excellent during this peak Christmas week. The boat was relaxing since it was the 7-night tour, but you could do the Nile cruise in 4 or 5 days as is also offered on this boat (though for some reason, not by Viator). Pack your jacket during the winter months as the mornings and evenings are cool, but days are sunny and warm. Entertainment was weak. Food was pretty good for a buffet, always with red meat, chicken, fish, salads, and fresh fruits. Heard no stories of intestinal disorders. We had a fantastic guide who gave us the history in a compelling fashion without endlessly going on and on or just repeating phrases as inexperienced guides can do. He made our tour experience fun and memorable.
Anonymous
October 2007
I thought this was a great quality cruising experience, with friendly and attentive staff who made us feel very welcome. We were well looked after.
September 2014
The tour is really great. The room is perfect. However, if the door at the end of the hallway is left open, then the exhaust fumes comes into the boat and the room and it is nauseating. Make sure they keep that door shut. It is totally worth paying for the private tour. Aviator on-line support was amazing. However, I sent Aviator about 10 meals asking to clarify certain things. They promised to respond within 24-36 hours...they have not responded to a single one!!! Viator just abandoned us.
May 2014
I really enjoyed this cruise. There is a lot of free time and you can choose what you would like to do on excursions. The staff were all very friendly and welcoming. There were not many passengers onboard for our trip, and we had the same guide for our group of five the whole time. Food was great!
Special Offer
$423.00 Save $41.40
Advertisement
Advertisement