This private tour combines the best of Dendara and Abydos and showcases another side of Egypt. Explore the Temple of Hathor and venture into the home of "the Cult of Osiris" to see the site where ancient Egyptians made a sacred pilgrimage in historic times.
What You Can Expect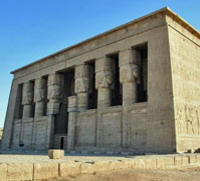 This private tour of Dendara and Abydos offers travelers a taste of both cities. Start things off at the Temple of Hathor, where two Roman fountains flank the entry gate to this incredible structure built as an homage to the goddess of love and pleasure. Learn from your guide how the mud-brick walls date back to the Roman era and explore the two birth houses, Coptic Basilica, sanitarium and sacred lake on the grounds. Your guide will point out the additions made to the temple during the Greek, Ptolemy and Roman periods.
From there journey to Abydos, where buildings surrounding Kom es-Sultan date back to Predynastic times. Learn about the Old Kingdom residential area as you wander the area with your expert Egyptologist and then make your way further into the city known as "The Cult of Osiris"—the god of the dead. Your guide will share local legends that say Orsis was buried here after he was murdered by his brother.
Since this is a private tour, travelers are guaranteed individualized attention. Decide how much time to spend at each site to insure your needs and interests are met!
Teresa United States of ...
March 2016
Fantastic! Our guide Yolanda and the car driver Nobel made our vacation run so smoothly. Yolanda used English / American word association with a little story which help us remember how to correctly pronounce the names of the Kings and Queens. She gave us a first class tour. I highly recommend her.
December 2013
Osiris Temple @ Abydos and Dendara temples are a hidden gem, not commonly visited the history and colors in both temples were fascinating. Make the effort you won't be disappointed!!

September 2012
A long journey but worth it,quite stunning
August 2012
This was a fantastic trip. We were picked up on time, and the guide and driver were excellent. I would have no hesitation in recommending this trip. South Sinai Travel were extremely good, and next time I go to Egypt I want them to take care of all my travel arrangements.
April 2012
Outstanding! We were provided a personal driver and an English speaking tour guide for the all day excursion. They arrived promptly on time at our hotel and were very friendly and courteous. It is a long drive and they ensured we were comfortable. The guide's narrative about the sites as well as Egypt in general was very informative. The driver was very professional and safe. I would definitely recommend this tour.
August 2011
This sites are amassing!!! But again you need a good tour guide that is proactive and shows you all the hiding treasures!!!
May 2011
The young gentleman who was my guide did an excellent job and I would like you to thank him again for me. Abdos and Dendara was a lifetime dream that he helped to fulfill.
Robert S USA
November 2010
Well worth the trip excellent guide and driver
Thomas G USA
April 2010
This is a must do, was great tour.
Winifred R USA
February 2010
Superb service - highly professional.
Advertisement
Advertisement