13 Reviews
Location:

Luxor, Egypt

Duration:

10 hours

(approx.)
Special Offer
Book by December 31, 2015 to save 10% off our previously offered price!

Combine a morning in Dendara where you can visit the Temple of Hathor, before continuing for an afternoon of sightseeing in Abydos, home to "The Cult of Osiris" . It is a place where most ancient Egyptians would have made a pilgrimage to at least once in their lifetime.
What You Can Expect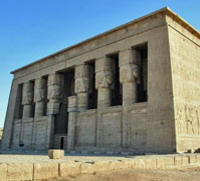 The approach path to the Temple of Hathor is between two Roman fountains that end at the massive entry gate. Hathor was the goddess of pleasure and love and was generally shown as a cow, or woman with a cow's head.
The enclosure walls are mud-brick and date to the Roman era. Within the walls are the temple, two birth houses, a Coptic Basilica, a sanitarium, a sacred lake and the Temple of the Birth of Isis. The temple has a long history with evidence that Pepi I (Old Kingdom) rebuilt the temple, while other texts refer to reconditioning by Thutmose III, Amenhotep III and Rameses II and III (New Kingdom). Additions were made during the Greek, Roman and Ptolemy periods.
Abydos in Middle Egypt is an ancient holy place and burial ground of the rulers of the late prehistoric proto-kingdom, as well as the first attested kings of the politically unified Egyptian state.
Buildings constituting the settlement area in northern Abydos dating back to Predynastic times have been found around Kom es-Sultan, while recent excavators have found an Old Kingdom residential area to the south-east which contains a street of mudbrick houses with courtyards and a faience workshop with its kilns.
Abydos is home to "The Cult of Osiris", the god of the dead. It is said the head of Osiris was buried at the site after he was murdered by his brother.
This is a private tour allowing you to determine the amount of time spent at each of the sites during the tour.
December 2013
Osiris Temple @ Abydos and Dendara temples are a hidden gem, not commonly visited the history and colors in both temples were fascinating. Make the effort you won't be disappointed!!
September 2012
A long journey but worth it,quite stunning
August 2012
This was a fantastic trip. We were picked up on time, and the guide and driver were excellent. I would have no hesitation in recommending this trip. South Sinai Travel were extremely good, and next time I go to Egypt I want them to take care of all my travel arrangements.
April 2012
Outstanding! We were provided a personal driver and an English speaking tour guide for the all day excursion. They arrived promptly on time at our hotel and were very friendly and courteous. It is a long drive and they ensured we were comfortable. The guide's narrative about the sites as well as Egypt in general was very informative. The driver was very professional and safe. I would definitely recommend this tour.
August 2011
This sites are amassing!!! But again you need a good tour guide that is proactive and shows you all the hiding treasures!!!
May 2011
The young gentleman who was my guide did an excellent job and I would like you to thank him again for me. Abdos and Dendara was a lifetime dream that he helped to fulfill.
November 2010
Well worth the trip excellent guide and driver
April 2010
This is a must do, was great tour.
February 2010
Superb service - highly professional.
May 2009
Fantastic tour. Both guide and driver made it a wonderful trip Abydos was a dream. Dendara was equally special but as it was a holiday for the local children, we were followed by large numbers of children - most of whom were lovely.
Special Offer
$63.00 Save $6.30
Advertisement
Advertisement