Travel from Luxor to Dendara either by road in an air conditioned vehicle or by boat along the Nile River to see the well preserved Temple of Hathor, Temple of Isis and Coptic Basilica. Your qualified Egyptologist guide will introduce you to the main features of the complex before allowing you additional free time to explore at leisure.
What You Can Expect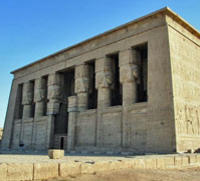 The approach path to the Temple of Hathor is between two Roman fountains that end at the massive entry gate. Hathor was the goddess of pleasure and love and was generally shown as a cow, or woman with a cow's head.
The enclosure walls are mud-brick and date to the Roman era. Within the walls are the temple, two birth houses, a Coptic Basilica, a sanitarium, a sacred lake and the Temple of the Birth of Isis.
The temple has a long history with evidence that Pepi I (Old Kingdom) rebuilt the temple, while other texts refer to reconditioning by Thutmose III, Amenhotep III and Rameses II and III (New Kingdom). Additions were made during the Greek, Roman and Ptolemy periods.
December 2013
Dendara is very special as the colours are still visible and intact. The local people were so warm and welcoming. I loved the Zodiac. Even the drive is amazing watching day to day life.
April 2011
This was a Birthday gift for our Daughter's 40th Birthday. She absolutely loved every minute and could not fault the trip. Food was amazing. Only disappointments were that the Temple itself was being re-built in places, which spoiled the overall atmosphere/photo opportunities. Otherwise, fan-tas-tic! Highly Rec to all.
Advertisement
Advertisement