Visit the age-old Temples of Karnak and Luxor Temple on the Nile's East Bank
on this 4-hour private tour from Luxor. With your own Egyptologist guide, travel by minivan to Karnak, an awesome collection of temples and halls dating back over 3,000 years. Ogle the giant columns of the Hypostyle Hall, walk the Avenue of the Sphinxes, and see other highlights as you learn their history. Then, head for Luxor Temple to admire its columns, courts and statues; and discover how it was embellished by Tutankhamun and Alexander the Great.
Highlights
Private half-day trip to Karnak and Luxor Temples
Walk along the Avenue of Sphinx at Karnak
See the legacy of many pharaohs through the complex of Karnak
Explore Luxor Temple, a true Egyptian temple
Enjoy privileged, personalized attention from your expert Egyptologist guide on this special private tour
Recent Photos of This Tour
Private Tour: Luxor East Bank, Karnak and Luxor Temples
What You Can Expect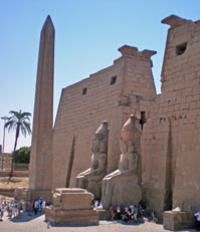 Depart your central Luxor hotel or Luxor river port by minivan and drive to the Temples of Karnak on the Nile's East Bank.
As you travel, hear how Luxor stands on the 4,000-year-old site of Thebes, Egypt's ancient royal capital, and how Karnak is the largest of its temple complexes. Discover how this vast collection of buildings was developed by more than 30 pharaohs, including Amenhotep IV and Ramses II.
On arrival, walk along the Avenue of the Sphinxes to the gateway, and then explore inside with your Egyptologist guide.
Hear how the huge pylons at the entrance were constructed, and marvel at the courtyards and sanctuaries beyond. The deeper you go into the complex, the further back you step, with the oldest ruins dating back more than 3,000 years.
Gaze in awe at the showpiece Hypostyle Hall, crowded with 134 massive columns that tower above you like an ancient forest. Crane your neck upwards and learn about the ingenious methods used to raise them by the long-ago Egyptians. See the sacred lake where pharaonic offerings were purified, and then enjoy free time to stroll around the site at leisure.
Continue to Luxor Temple, an ancient temple in the center of Luxor laid parallel to the Nile. Hear how it was built in around 1,400 BC, and added to by Tutankhamun, Ramses II and even Alexander the Great.
Admire the two colossal statues of Ramses at the entrance, and the granite gateway obelisk whose original counterpart now stands in Paris' Place de la Concorde. Then, head inside to gawk at the richly carved inner sanctuaries, papyrus columns and courts. Peep inside the atmospheric anterooms, including the chapel dedicated to Alexander the Great, who rebuilt the room in his name.
When the time comes, finish your tour with a drop-off at the start point.
Teresa United States of ...
March 2016
Fantastic! Youla, our tour guide is the best!
November 2015
Excellent trip, a great start to our holiday. Fantastic guide and history lesson throughout the Karnak and Luxor temple. Transport in private comfortable car.

November 2015
Awesome! Tour was great, learned a lot and our for guide was hisam is very smart and knowledgable. Loved it!

May 2015
April 2015
You can't go to Luxor and miss these temples, and our guide Michael was punctual, knowledgable, and friendly. He was completely professional and even gave us as much time as we needed for photos after the tours. Book with confidence.
April 2015
This tour was amazing. Spectacular is the only word to use to describe it. Our guide Adel had a passion for the history and brought it to life. A real highlight of our trip.
December 2014
Tour guide was very thorough and honest with the tour and was extremely friendly, would highly recommend to friends.
July 2014
Yolanda was an enthusiatic and very knowledgeable guide. My driver Tony was courteous, friendly and skilled. It was an excellent tour.
April 2014
Amazing places! Could be done without a guide but you would miss out on the intricacies of the details of history.

March 2014
the most amazing temple in Luxor. I never felt so small in my life compared to these pillars. it was a breath taking experience to be honest. a must see in Luxor.
Advertisement
Advertisement