Uncover the mysterious colonial culture of former Portuguese city, Macau, on a full-day sightseeing tour led by a knowledgeable guide. See legendary landmarks like the atmospheric Ruins of St Paul and the sacred A-Ma Temple, both UNESCO World Heritage-listed sites. Marvel at modern wonders like opulent Macau Casino and the Guia Circuit and experience a holistic picture of the spectacular city. Revitalize with a traditional Chinese lunch and enjoy the convenience of round-trip transportation from selected Macau hotels.
Highlights
Full-day city sightseeing tour of Macau
Take a scenic drive along the Macau Peninsula to experience the Guia Circuit, site of the Macau Grand Prix
Visit the UNESCO World Heritage-listed A-Ma Temple and see the statue of Kun Iam, Goddess of Mercy
Climb the steps to the Ruins of St Paul, another UNESCO World Heritage Site
Take photos from the Macau Tower, the world's 11th highest tower, and play cards at the Macau Casino
Enjoy a lunch of local specialties at a Macau restaurant
Round-trip transport included from ferry terminal and selected hotels
What You Can Expect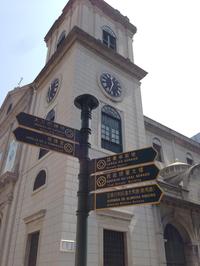 Depart from selected Macau hotels in a comfortable, air-conditioned minivan and listen as your guide narrates your scenic journey with tales of rich historical heritage. As one of the oldest European settlements in the Orient, Macau is a cultural melting pot of Chinese architecture and colonial charm. Sail past the Guia Circuit, home to the annual Macau Grand Prix, and see one of the world's most challenging racing circuits on your journey.
Disembark at the Kun Iam Temple to admire its sacred bronze Buddhas and the colossal Kun Iam, Goddess of Mercy. Gaze at the 66-foot (20-meter) statue and hear of its cultural significance before ascending the Macau Tower to enjoy panoramic city views from a 1,108-foot (338-meter) vantage point.
Capture fantastic photographs then venture to the UNESCO World Heritage-listed sites of the Ruins of St Paul and the A-Ma Temple. Explore the elaborate halls of the 15th-century A- Ma Temple, nestled in the historical heart of the city, and admire the architectural features that characterize the elegance of Chinese design.
Revitalize with a delicious Chinese lunch then head to the 16th-century Ruins of St Paul, a historical church in which sculptures were designed by a cosmopolitan mix of artists. Ascend 66 steps to see the remarkable remnants then absorb the antique charm of the city center on a short, guided walking tour.
At the end of your city tour, venture within the opulent interior of the Macau Casino to dance with Lady Luck; join a poker tournament or enjoy an exhilarating game of black jack before returning to your hotel by ferry and coach.
June 2016
We decided to book our tour the day before our arrival date. The hotel receptionist handed an envelope containing the confirmation/instruction letter from Viator, which we truly appreciated. The whole tour was amazing as we were able to discover Macau's culture, history, some must see places and must activities/experiences. We were blessed with good weather that day. No sun, no rain but clear sky. We were able to meet new people from different sides of the world. Cisco, our tour guide, was great! We learned a lot from his expertise. He walked too fast, so we really have to catch his pace. This is not a shopping tour, his usual remark. Just to remind everyone, especially ladies, to stay focus. My husband was more delighted with it, t'was economical, hahahaha! Cisco, even included a quick trip to Venetian which was not originally on the list. Be conscious with the time and make sure to show up at the designated meeting place for head count before heading to the next destination. Overall, my husband and I had a great Macau 101 sight seeing experience. We would recommend this to those who would like to enjoy Macau other than its bustling city. Please don't miss The House of Dancing Water, Golden Reel, Sky Tower, Taipa Village, casino hopping, watch some other shows and discover other activities not included in this tour. Everything is worth a visit. Till next time.
Carla Kim Philippines
May 2016
Our tour guide, Cisco, was the best! He gave many useful info about Macau and its top attractions. He even gave photo recommendations so we and #39;ll have a good remembrance from our trip. He was accommodating and friendly. The tour was also great!
January 2016
Great tour! Francisco was a great guide. If you want to know everything and anything about Macau, he knows. From the start of the tour to the end of the tour, he took good care of us. This was an English tour but you had a mix of different nationalities. So, if you have 7 - 8 hours and want to get the most out of Macau, take this tour and hope that you get Francisco.
November 2015
It was well covered and yay only one casino and that was at the end of the day.
Cisco was very well informed and organised, many thanks.
August 2015
Excellent tour, very informative
December 2014
The tour guide was knowledgeable and entertaining
December 2014
October 2014
September 2014
Our guide, Cisco was fantastic. He was so knowledgeable about all the local culture and history of the very beautiful Macau. We saw some fabulous sights, most notably the Ruins of St Paul and tasted the best Portugese tarts ever! Great way to spend a day in Macau

July 2014
Lovely! Cisco, our tour guide was wonderful. I really appreciated how he set time limits in sights we visited and kept the group in line without being mean or rude. He is great at this job. And, he was always offering options for things to do (usually a choice between two things). A lovely time was had by all.
Advertisement
Advertisement