If you've wondered what's unique about the former Portuguese colony of Macau, take a city sightseeing tour with a knowledgeable local guide. Visit historical attractions like A-Ma Temple and the Ruins of St Paul—both UNESCO World Heritage Sites—and see a few modern wonders as well. Travel the Guia Circuit, home to the Macau Grand Prix, and step foot inside the world-famous Macau Casino to experience the premiere card room. Your full-day tour includes lunch as well as round-trip transport from the ferry terminal and selected hotels.
Highlights
Full-day city sightseeing tour of Macau
Take a scenic drive along the Macau Peninsula to experience the Guia Circuit, site of the Macau Grand Prix
Visit the UNESCO World Heritage-listed A-Ma Temple and see the statue of Kun Iam, Goddess of Mercy
Climb the steps to the Ruins of St Paul, another UNESCO World Heritage Site
Take photos from the Macau Tower, the world's 11th highest tower, and play cards at the Macau Casino
Enjoy a lunch of local specialties at a Macau restaurant
Round-trip transport included from ferry terminal and selected hotels
What You Can Expect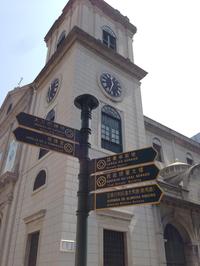 Macau, reunited with China in 1999, was once the oldest European settlement in the Orient. You'll find classic Chinese architecture as well as modern influences as you explore the city on your full-day sightseeing tour. Begin with pickup by your guide (from selected hotels or the Taipa Temporary Ferry Terminal) and drive along the scenic Macau Peninsula, following the route of the Guia Circuit—site of the annual Macau Grand Prix. Experience the thrill of this street circuit, considered to be one of the world's most challenging due to its elevation gain and tight corners.
Make your first stop at Kun Iam Temple and admire its bronze statue of Kun Iam, Goddess of Mercy. Flanked by eighteen Buddhas, the figure stands 66 feet (20 meters) tall in beautifully embroidered silk. After your guide discusses the statue's importance at this temple—where Marco Polo happened to study Buddhism during his travels in the 13th century—continue to Macau Tower to enjoy unparalleled views of the city. This iconic tower, the 11th tallest tower in the world, reaches an incredible height of 1,108 feet (338 meters). Entry to the observation deck is optional (own expense).
Next, your guide will take your group to two UNESCO World Heritage Sites: A-Ma Temple and the Ruins of St Paul. Head to Macau's historical center to visit the elegant 15th-century sanctuary built in honor of Matsu, the goddess of seafarers. As you explore the halls of A-Ma, guarded by stone lions, admire its classical Chinese architectural features. Your guide will share folktales about the goddess who blesses and protects fishermen before taking you to a local restaurant.
After a delicious lunch, make your way to the 16th-century Ruins of St Paul. An impressive facade of the historical church is what remains of the original complex, which included St Paul's College and the Cathedral of St Paul. Walk up the 66 steps to see the evocative remnants, whose intricate stone carvings and sculptures were designed by Italians and built by Japanese Christian exiles. Admire the still-remarkable details and then follow your guide on a short walk to the city center, whose pedestrian thoroughfare is another UNESCO World Heritage Site. Here, take some time to stroll past quaint shops and local restaurants along the charming cobblestone streets.
Before your comprehensive city tour ends, don't miss a chance to see the world-famous Macau Casino. Make a brief stop and try your hand at the gambling tables of this premiere card room; you can join one of the daily poker tournaments or play blackjack, Spanish 21, mini baccarat and more! Your tour concludes at the Macau Maritime Ferry Terminal, with complimentary drop-off at selected hotels.
August 2015
Excellent tour, very informative
December 2014
The tour guide was knowledgeable and entertaining
December 2014
October 2014
September 2014
Our guide, Cisco was fantastic. He was so knowledgeable about all the local culture and history of the very beautiful Macau. We saw some fabulous sights, most notably the Ruins of St Paul and tasted the best Portugese tarts ever! Great way to spend a day in Macau
July 2014
Lovely! Cisco, our tour guide was wonderful. I really appreciated how he set time limits in sights we visited and kept the group in line without being mean or rude. He is great at this job. And, he was always offering options for things to do (usually a choice between two things). A lovely time was had by all.
March 2014
I love this tour lead by Cisco the guide. He was funny yet knowledgeable. He took us through back streets near the Ruins of Saint Paul's and explained in detail Macau's history and shared little anecdotes such as where the location of Indiana Jones movie was shot. Worth every single cent!!
April 2015
Yes really enjoyed the tour very informative and the lunch we had was really nice
February 2015
We loved the City tour. The knowledge and insights of the very seasoned tour guide, Mario, was excellent. We learned more about Macau much more than any history book can offer.
The places we visited truly represented the city.
This would have been excellent if not for poor feedback in the booking
July 2014
Well organized with highly knowledgable guide.
Advertisement
Advertisement