Experience the culture of Madeira during this full-day tour leaving from Funchal. On this tour see artisans at work in Camacha and the renowned cottages atop Santana mountain village. Also while visiting east Madeira, capture stunning views in Pico do Arieiro, Ribeiro Frio, and Portela.
Highlights
A full day tour of East Madeira

See some of Madeira's picture perfect scenery

Discover some enchanting cottages

Enjoy a delicious lunch

Visit the historic seaside town of Machino

What You Can Expect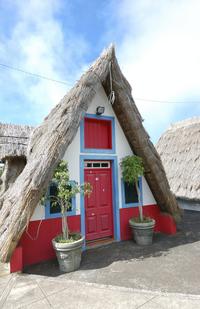 Meet your air-conditioned coach at the hotel bus stop on Avenida do Mar or your Funchal city hotel for a full day tour of east Madeira. Buckle-up and begin your journey to the villages of Camacha, Pico do Ariero, Ribeiro Frio, Portela and Santana.

First travel about 20 minutes to the village Camacha and visit its acclaimed wickerwork factory. Watch as artisanal weave baskets, chairs and even animal figures. If an item catches your eye, feel free to purchase it.

Next, cruise to the second-highest summit on Maderia, Pico do Arieiro. Stare down at the clouds or out toward the island of Porto Santo (Pico do Facho) in the distance. Enjoy crisp mountain air as you head to Ribeiro Frio. Here, explore a natural park within the deep valley and visit its popular governmental trout hatchery and farm.

Briefly visit Faial before you ascend to the charming village of Santana. Admire the triangular, fairytale cottages with straw roofs that sprinkle the mountainside. Stop for a tasty lunch before climbing 2,198 feet (670 meters) to Portela. Marvel at Eagle's cliff and see it rise high above the pristine coastline.

On your journey home to Funchal, visit the southeast part of Madeira and discover the town of Machico. It's here that Portugal's great navigators arrived in 1420. Finally, end your tour back at your original point of departure.
April 2016
Excellent comprehensive tour of the East of Madeira. Very knowledgeable driver who took us to the important sites, told us about the areas and gave us time to explore on our own. We were picked up from our hotel and returned there. As we were only staying in Madeira for a few days this was an ideal way to get an insight into an important part of the island. Definitely would recommend this tour.
September 2015
This was great value for money including a very nice lunch. our driver was Pedro who made the day interesting. the view from Pico do Ariero was superb. I have been on this trip twice now and highly recumbent it.
February 2014
Great day trip... Well recommended...
Barbara N United Kingdom
August 2011
Very good multi-cultural trip. Guests from Brazil, Belgium, Korea, Portugal and UK. Mini bus which enabled us to visit places a large coach could not. Driver excellent, knowledgeable, funny and very accommodating. Lunch was excellent. Very good value for the money. Would recommend.
Richard H United Kingdom
August 2011
We had a very short break in Madeira and wanted to sample some of the beutiful scenary. I've have used Viator several times before and was happy to book another tour with them. It was excellent, out hotel pick up was on time. The driver courteous and knowledegable giving us a commentary of facts and sights as we proceeded. Madeira has such a pleasant climate. Camacha, perched on the hillside with breathtaking views and flowers everywhere was followed by the drive up through the clouds to the mountain top.The views were stunning, looking down on the clouds and through the gaps down into Funchal and the harbour. It would have been nice to have seen to the island of Porto Santo, but the cloud did not break in that direction. The valley of Ribeiro Frio was wonderful, so green fresh with flowers everywhere. We had booked lunch and tucked into a feast of local produce with wine too. The traditional houses of Santana are so colourful and photogenic. The views on from the clifftops from Ponta do Rosto near the eastern tip of the island were beautiful. only spoiled by the fact we were nearing the ends of the day and making our way to Machico, the original landing place of the original settlers. A small but beautiful beach of golden sands topped it off. Alltogether an excellent day whcih I'd happily do again on any future visit.
Mark P USA
August 2008
The tour to East Madeira was breathtaking - a must see. The island is beautiful! The coordination of the tour was perfectly implemented and our tour guide was outstanding!
June 2016
Really great tour guide, very informative and spoke perfect French and English. The only down side was the lunch as pretty dreadful - I and #39;d rather had paid more for better food. All in all it was a day well spent.
John S United Kingdom
August 2011
Excellent trip lead by Manuel who drove us around the eastern part of the island and was very enthusiastic and knowledgeable about everywhere we went. However, we would prefer not to have spent 3 hours in a Theme Park, although the history of the island pavilion was very impressive and informative. This is a good way to see quite a lot of the island if you're not on the island for very long.
ketunpoppa Finland
November 2012
Nice relaxing trip. Driver was ok, but overpriced. Normal price is only 20 Euros if you book through all travel agencies in Madeira !
October 2014
We loved Madeira and enjoyed seeing the variety of topography of the eastern side. We were in the back of the van and could barely hear the guide (no mike) which was too bad though we drove a lot without him talking at all.
I have taken several local tours like this and always object to the hour long stops to shop. That is not our purpose for tavelling and the prices are always much higher than near where we are staying.
Advertisement
Advertisement