Stop at Pico dos Barcelos, viewpoint from where you can admire a beautiful view over Funchal. Journey to Eira do Serrado, viewpoint (1,094 meters) overlooking the valley of Curral das Freiras, a little village built in the crater of an extinct volcano.
Highlights
Discover Madeira's traditions and valleys

Enjoy spectacular views from Eira do Serrado

Visit Funchal, the beautiful capital of Madeira

Have a blast on a long sledge ride

Be amazed by the small village of Monte

Includes Wine Tasting

What You Can Expect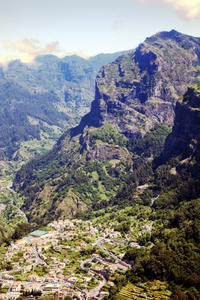 Tour next stop will be at Monte a village situated in the suburbs of Funchal where you will visit the Parish church. Enjoy the famous sledge ride 'Toboggan' that can take you as far as Livramento. Finish the tour visiting a private wine cellar to tasting of various Madeira wines.
June 2015
What a great tour. We were picked up earlier, which was fine as we were ready. It was a mini bus transport and when we got on I said did we have to pick up other people and he said no we were the only ones. We had a really VIP tour, with no waiting around for other people stopping and looking at what we wanted.
I would recommend this tour to see just a bit of Maderia, which you can then extend another time to see more.
August 2011
This trip started off as a disaster. The bus turned up about 10 minutes early and the guide did not check paperwork so a couple called Williams; who had booked a different trip took our place by mistake. At around 14:15 i went to check with the very friendly and helpful "Guest relations" lady, who phoned the tour company and they eventually sent another minibus to do the tour. Due to go at 14:00 went at 15:00. We did the trip in reverse with the wine tasting first. Nice visit , very olde world cellar and interesting tasting the 4 types of madeiran wine. Then off to the top of the nuns valley. No wonder the Madeiran drivers are good as the bad are all dead, going off the steep, narrow roads. Great views from the top, cafe, shop etc. well worth the trip. Then off to the Monte suburb. The gardens are splendid with a great variety of plants, trees etc. Did we want to do the sldge run? 25 euros a couple, and goes downhill for about 2 kilometers down toward Funchal town, pulled by two energetic men. We passed as my wife had done the run 20 years ago and it's no fun on your own. Well worth the money trip.
July 2010
Lovely trip with fine views. The wine tasting was a little disappointing, that was my only critique.
November 2012
Driver didn't explain anything. Overpriced
Advertisement
Advertisement