Sip wine, immerse in Portuguese tradition, and visit enchanting valleys during this half-day wine tasting tour of Madeira, departing from Funchal. This tour visits Madeira's most dramatic mountain villages, like Monte, filled with exotic plants and flowers. See astonishing views from atop Eira do Serrado of the valley of Curral das Freiras, a tiny village inside an inactive volcano crater. Plus, this tour includes a fantastic Madeira wine tasting of local varietals.
Highlights
Discover Madeira's traditions and valleys

Enjoy spectacular views from Eira do Serrado

Visit Funchal, the beautiful capital of Madeira

Have a blast on a long sledge ride

Be amazed by the small village of Monte

Includes Wine Tasting

What You Can Expect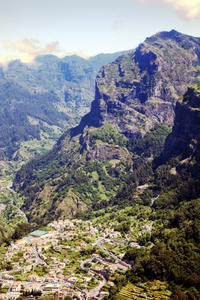 Meet your guide at the hotel bus stop on Avenida do Mar or your selected Funchal city hotel, and hop into an air-conditioned coach for your half-day tour of Madeira's enchanting valleys and traditions. Buckle-up and head 25 minutes north to Eira do Serrado. Climb to the top of the pass and look down into an extinct volcano crater where a tiny village named Curral das Freiras has resided since the 15th century. Spend time capturing shots of this village's stunning terrain.

Then, head to Monte a quaint village tucked in the suburbs of Funchal. Here, see the 18th century Parish church surrounded by terracotta roofed homes. Afterward, take a ride aboard a city toboggan, designed out of a large wicker basket (own expense). Cruise about 2 kilometers (1.2 miles) down to the Livramento school at exciting speeds.

Next, head back to Funchal and visit the Madeira region's capital city. Finally, indulge traditional Madeira wines (fortified wines) at a private cellar tasting before you return to your hotel in Funchal where your tour ends.
Jane C United Kingdom
June 2015
What a great tour. We were picked up earlier, which was fine as we were ready. It was a mini bus transport and when we got on I said did we have to pick up other people and he said no we were the only ones. We had a really VIP tour, with no waiting around for other people stopping and looking at what we wanted.
I would recommend this tour to see just a bit of Maderia, which you can then extend another time to see more.
June 2016
We booked the tour in advance to be part of our cruise. On arrival we went to the pick up point at the advised time but the coach did not arrive. I called the operator and within 15 minutes a Mercedes and driver turned up and we had a private tour instead of a coach tour. This was very much appreciated by us and made the day despite the earlier mistake. This would normally be 5 star but for the booking mistake and we had good customer service and a good time.
John W United Kingdom
August 2011
This trip started off as a disaster. The bus turned up about 10 minutes early and the guide did not check paperwork so a couple called Williams; who had booked a different trip took our place by mistake. At around 14:15 i went to check with the very friendly and helpful "Guest relations" lady, who phoned the tour company and they eventually sent another minibus to do the tour. Due to go at 14:00 went at 15:00. We did the trip in reverse with the wine tasting first. Nice visit , very olde world cellar and interesting tasting the 4 types of madeiran wine. Then off to the top of the nuns valley. No wonder the Madeiran drivers are good as the bad are all dead, going off the steep, narrow roads. Great views from the top, cafe, shop etc. well worth the trip. Then off to the Monte suburb. The gardens are splendid with a great variety of plants, trees etc. Did we want to do the sldge run? 25 euros a couple, and goes downhill for about 2 kilometers down toward Funchal town, pulled by two energetic men. We passed as my wife had done the run 20 years ago and it's no fun on your own. Well worth the money trip.
Denis B United Kingdom
July 2010
Lovely trip with fine views. The wine tasting was a little disappointing, that was my only critique.
ketunpoppa Finland
November 2012
Driver didn't explain anything. Overpriced
Advertisement
Advertisement