Explore Seville and Cordoba, two of the most interesting cities in Andalucia and home to several UNESCO World Heritage Sites, during this 2-day overnight trip leaving from Madrid. Over the course of your southern Spain excursion you'll discover the rich religious heritage of Cordoba at the city's mosque and Jewish Quarter, and head to Seville to take in its main cathedral, beautiful gardens and the Santa Cruz quarter. Your Andalucian excursion also includes all entrance fees, a guide, accommodation at a three- or four-star hotel, transport by coach and AVE train and meals as noted in the itinerary.
Highlights
Two-day tour to Cordoba and Seville from Madrid
Two of Andalucia's most famous destinations
Guided visits to Cordoba and Seville
Cordoba's Jewish quarter
Seville's beautiful cathedral and Santa Cruz quarter
One night's accommodation, with a choice of a three-star or four-star hotel
English-speaking guide
Transportation by air-conditioned deluxe coach and tourist-class AVE train
What You Can Expect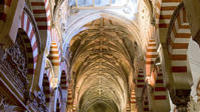 This 2-day overnight tour of Seville and Cordoba from Madrid offers a simple, no-hassle option to explore the fascinating culture and centuries-old traditions of this southern Spanish region. Shaped by rich legacy left behind by the Moors, Andalucia's main urban areas offer a unique blend of religious traditions, historic buildings and ancient city centers that date to the medieval era.
Start your trip by hopping aboard Spain's high-speed AVE trains in Madrid at 8:30am on day one, proceeding first to the city of Cordoba.
I
n Corodoba, see the town's beautiful mosque and Jewish Quarter. Then you'll travel on day two to historic Seville to visit a wealth of highlights, including its UNESCO World Heritage-listed cathedral, serene gardens and centuries-old Santa Cruz district.
Itinerary
Day 1: Madrid - Cordoba - Seville (D)
Morning departure from Madrid along the land of Don Quijote -The Man from La Mancha. Upon reaching Cordoba there is time for lunch and a city tour visiting the Mosque and the Jewish Quarter. In the afternoon proceed to Seville for dinner and overnight.
Seville accommodation: Catalonia Santa Justa (3-star) or Melia Lebreros (4-star)

Day 2: Seville (B)
After breakfast, enjoy a morning city tour (The Cathedral (outside), Santa Cruz Quarter, Maria Luisa Gardens). The afternoon is at leisure for you to discover exclusive views, specific favors of this full of light city. In the late afternoon transfer on your own to the train station to depart by AVE, high speed train, at 6:45 pm from Seville arriving to Madrid at 9:15 pm

The hotels detailed above are as a reference only and are subject to change.

February 2014
We left promptly at Plaza de Espana and our tour guide Josef shared a lot of information about the places we visited. Cordoba is lovely and I would love to go back for an overnight stay there. Cristobal is very knowledgeable. He reminded me of professors who are very passionate about their jobs and who share a lot of information in a short span of time.
By the time we reached Seville it was late afternoon, but most of us in the group opted to watch the flamenco. We enjoyed it very much. The Plaza de Espana, the Alcazar and the Cathedral were my favorites.

September 2014
We Enjoyed it .it was very Good

September 2014
It was Very Good We as Family Enjoyed it
April 2013
This was an amazing experience! The church in Cordoba is a must-see. The only thing I wish this tour would have included is a tour of the Cathedral in Seville, but other than that, it was amazing.
April 2013
The guides were excellent, the bus trip was beautiful and the tour of Cordoba and the Mosque and Jewish quarter were excellent. I am sorry I can't say the same for Seville. That part of the tour was a disappointment. I also felt I should have been informed ahead of time that I was the only one signed up for the two day tour and would be put in with a group doing a four day tour.
Cheryl F USA
July 2010
Overall, we enjoyed aspects of the tour but there were several negatives. Several tour groups were combined, so the itinerary was confusing. We were instructed to meet at the travel agency. When we arrived they were not familiar with our tour plans. After several phone calls they instructed us to catch a taxi at our expense to a hotel, to meet the rest of the group. We almost missed the bus.

Once on the bus I thought we were on the wrong tour because our guide kept talking about Barcelona, and other places not on our itinerary. It turned out that we were the only ones on the two day tour to Cordoba and Seville. Next our tour guide proceeded to sell tour packages to us. I mistakenly thought that the tours were included in the package. Our guide explained that only the panoramic tour, the view from the bus was included. You had to pay extra for guided tours to the various sights. At 36 euros per person this was no small price for a family of four.

The guided tours were good, but expensive. The hotel 3 star was poor quality with a gaping hole in the wall next to our room and yellow stains on the pillows. The food was mediocre and drinks i.e. water cost extra. If I had to do it again, I would travel by AVE train, really awesome both ways and see the cities on my own.
Roman S USA
July 2010
The itinerary is OK, but AVE train is a lot faster getting to Cordoba Seville. Lunch was not included as described in the itinerary and explanations in Spanish seems to be a lot longer than in English.
July 2010
There were several major flaws to this trip. First, it seemed to be a big waste of time to take a tour bus to Cordoba for 5 hours when we could have just taken the AVE train and gotten there in 45 minutes. There weren't really any sites on the way to Cordoba. Second, the itinerary states you will have lunch provided in Cordoba. Lunch was not provided, we had to pay for it and instead of eating in Cordoba at a restaurant we ate at a truck stop on the way to Cordoba. Third, the dinner that was included was at the hotel we stayed at. We booked the three star hotel assuming everyone would meet up for dinner at an interesting local place. Instead we were just dropped off at the hotel and told that dinner was in the hotel lobby by ourselves. Finally, the tour in Seville did not go into most of the sites. I know that was stated on the website but there seemed to be no reason why the tour guide shouldn't have taken us into the sites. Overall, this tour could easily have been done on your own for around the same price and without a 5 hour bus ride.
Advertisement
Advertisement