351 Reviews
Location:

Madrid, Spain

Duration:

4 days / 3 nights
Special Offer
Save 20% by booking select dates. See pricing options for complete details.
Discover the rich cultural tapestry of Andalusia on a 4-day tour of Cordoba, Seville and Granada with a knowledgeable guide. Travel from Madrid in an air-conditioned vehicle and arrive amid the Moorish magnificence of Cordoba for a guided tour of the UNESCO-listed city and its impressive monuments. Spend two nights in the regional capital, Seville, reputed to be the birthplace of feisty Spanish flamenco dancing, and then delve into the intriguing historical heritage of Granada as you tour the majestic palace complex of Alhambra. Conclude your enriching excursion with a stroll around the medieval walled city of Toledo and enjoy comfortable accommodation in 4-star hotels for a total of four nights.
Highlights
Four-day tour to Cordoba, Seville and Granada from Madrid
Visit Andalusia's most popular cities
Enjoy guided tours in Cordoba, Seville and Granada
Explore Cordoba's medieval Jewish quarter
See Seville's cathedral and visit the Santa Cruz quarter
Admire the beauty of Granada's famous Alhambra and Generalife Gardens
Three nights' accommodation, with a choice of four-star hotels
English-speaking guide
Recent Photos of This Tour
4-Day Spain Tour: Cordoba, Seville and Granada from Madrid
What You Can Expect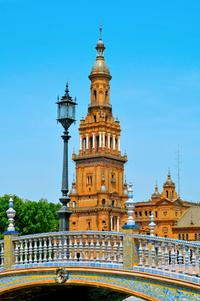 Delve into the colorful culture and alluring history of Andalusia on this 4-day exploration of the rich region; begin in Cordoba, a UNESCO World Heritage-listed city in which the stunning Mezquita, or Mosque-Cathedral, reigns supreme. Tour the ancient Jewish quarter with your knowledgeable guide then continue to Seville, a city characterized by feisty flamenco, enticing tapas bars and remarkable architecture. Tour the city's significant sights and enjoy some leisurely free time before heading to Granada to explore the opulent chambers of the Alhambra palace complex. Conclude your tour with a visit to the fortified medieval city of Toledo, arriving in Madrid on the fourth day of the excursion.
Included in the tour is 4 nights accommodation in 4-star hotels; entrance fees; guided tours of Seville, Cordoba and Granada; selected meals; and transportation by air-conditioned coach.
Itinerary
Day 1: Madrid -- Cordoba -- Seville (D)
Your tour begins with a morning departure from Madrid to Cordoba, as your luxury coach takes you through the legendary countryside depicted in Don Quixote, the Man from La Mancha. After enjoying lunch (own expense), take a guided tour of Cordoba to discover the city's mix of Jewish and Arab culture. Admire Cordoba's medieval architecture, with its whitewashed courtyards, winding alleys and leafy squares. Leaving Cordoba, continue to Seville for dinner and your accommodation.

Overnight: standard-grade Catalonia Santa Justa or superior-grade Melia Lebreros in Seville

Day 2: Seville (B, D)
After breakfast, enjoy a morning tour of the beautiful city of Seville, including the cathedral (from outside), Santa Cruz quarter and Maria Luisa Gardens. Discover the hidden secrets of this lively city built on the banks of the Guadalquivir River, with its rich Arab legacy and colorful local districts such as Triana and La Macarena.

Spend the afternoon exploring Seville at your leisure, before returning to your hotel for dinner. In the evening, stroll along the riverside promenade, visit one of the city's legendary bars or experience the drama and passion of flamenco at a Seville flamenco show (optional extra).

Overnight: same as previous night

Day 3: Granada -- Alhambra -- Generalife Gardens (B, D)
After breakfast at your hotel, relax on board your luxury coach during the scenic drive along the historic Caliphate road to Granada. In this legendary city renowned for its amazing Moorish architecture, take a guided tour of the World Heritage-listed Alhambra and Generalife Gardens, one of Andalusia's special highlights. In the mosaic-tiled and landscaped gardens of the Alhambra, discover the culture and history of Spain's Moorish rulers and admire their exotic architectural legacy. After dinner at your hotel, spend the evening at your leisure or watch a Gypsy Zambra flamenco show in Granada's Gypsy quarter, Sacromonte (optional extra).

Overnight: standard-grade Hotel Los Angeles or superior-grade Melia Granada Hotel in Granada

Day 4: Granada -- Toledo -- Madrid (B)
Following breakfast at your hotel, enjoy a scenic coach ride to the World Heritage-listed imperial city of Toledo. Discover the city's multicultural layering of Christian, Moorish and Jewish culture, and well-preserved medieval architecture. After lunch (own expense), take a guided walk into the past along Toledo's cobblestone alleyways and enjoy a tour of the city's monuments and landmarks. During the tour, hear about the work of baroque artist El Greco in Toledo, and see examples of Toledo's signature Damasquinado metalwork, delicately etched with gold. Departing Toledo in the afternoon, relax on the return drive to Madrid, where your tour ends.




The hotels detailed are as a reference only and are subject to change.
January 2016
My first experience with a viator/local tour company tour was a very pleasant one. Tour escort Gosep was very knowledgeable of all the sites we visited and made us all feel at home. Driver Roberto was excellent, taking us to all venues in a timely and safe manner. All local guides were awesome, Cristobal, Lydia, Oscar. Hotel and meal services were very good. I'm looking forward to taking another tour by these folks in the near future!
December 2015
Tour was very good organised.
December 2015
Well organized, great tour, we had a lot of fan
November 2015
This was a fantastic tour and I highly recommend it to everyone visiting Spain. I would not have been able to see all these beautiful Andalusian sights in 4 days on my own. The tour was well-planned and well-paced, and our tour guide Grace did a great job getting all 37 of us from one sight to another. The bus was very comfortable and well maintained.
I chose the superior hotel option but wasn't too impressed with the rooms - in fact, I could not sleep at all at Granada because the room was freezing. On a more positive note, the superior hotels are centrally located, especially the one in Granada, so that made it easy to explore the city on foot.
We chose to do all the optional tours but the only one that was worth our time was the flamenco show in Seville. Please skip the river cruise in Seville and the Arab town walking tour and gypsy show in Granada - you're better off exploring on your own. The river cruise in Seville lasted an hour, but we spent it wishing that we were at Alcazar or the cathedral instead because they close around 5/6 PM and you don't get a lot of time to look around.
A helpful tip: the pick-up point is currently in the Plaza de Oriente bus parking in front of the Royal Palace. The voucher says we need to go to level -2, however the elevators only go to -1. You need to take the elevator to level -1 then walk to -2. It took me a while to figure that out and I was worried about missing the tour.
November 2015
The tour was amazing and exceeded all our expectations. We saw much more of Spain than we would have if we had been travelling by ourselves with the little time we had available. It was very well organized and kept us on a tight schedule. Grace, tour guide, was excellent, as was our cautious, highly-skilled driver, Antonio. We enjoyed the optional flamenco show, but felt our time on the river cruise would have been better spent walking around Seville. The gypsy evening option was an enjoyable adventure, although the many other groups on the walking tour made it a little difficult at times to follow and hear our guide. The tour group, 52 of us, were multinational and of varied ages, but fun, compatible and got along well together. A very positive first experience of group travel.
November 2015
It was stellar. The tour guide Mariola was absolutely fantastic. She was friendly, organized, attended to every detail. The local guides were super as well.
My BIGGEST complaint was that I was not directed to the correct pickup spot for the tour. From the email I received, I went to a closed office and after having to figure out the new location on my own without knowing any Spanish. Luckily it was close and because of some miracle I was able to find it despite the pouring down rain, in the dark and it was underground in a garage.
November 2015
Couldn't have been better. Everything was perfect. Tour guide, accommodations were excellent!
October 2015
Great tour, great tour guide and stunning hotels.
September 2015
This was a wonderful Tour. Margarita was an excellent guide.
September 2015
Very good tour with excellent tour guide Hugo and driver Merino. Tour is conducted in Madrid by the largest tour company in Spain so you get good hotels. Time in Granada and Toledo is not enough but it gives you a reason to return to Spain to see those 2 amazing places..
Advertisement
Advertisement