Discover the rich cultural tapestry of Andalusia on a 4-day tour of Cordoba, Seville and Granada with a guide. Travel from Madrid in an air-conditioned vehicle and arrive amid the Moorish magnificence of Cordoba for a guided tour of the UNESCO-listed city and its impressive monuments. Spend two nights in the regional capital, Seville, and then delve into the intriguing heritage of Granada as you tour the majestic palace complex of Alhambra. Conclude your excursion with a stroll around the walled city of Toledo.
Highlights
4-day tour to Cordoba, Seville and Granada from Madrid
Visit Andalusia's most popular cities
Enjoy guided tours in Cordoba, Seville and Granada
Explore Cordoba's medieval Jewish quarter
See Seville's cathedral and visit the Santa Cruz quarter
Admire the beauty of Granada's famous Alhambra and Generalife Gardens
3 nights' accommodation, with a choice of 4-star hotels
English-speaking guide
Recent Photos of This Tour
4-Day Spain Tour: Cordoba, Seville and Granada from Madrid
What You Can Expect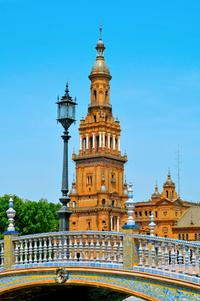 Delve into the colorful culture and alluring history of Andalusia on this 4-day exploration of the region. Begin in Cordoba, a UNESCO World Heritage-listed city in which the Mezquita, or Mosque-Cathedral, reigns supreme. Tour the ancient Jewish quarter with your guide then continue to Seville, a city characterized by flamenco, tapas bars and remarkable architecture. Check off the city's significant sights and enjoy some leisurely free time before heading to Granada to explore the opulent chambers of the Alhambra palace complex. Conclude your tour with a visit to the fortified medieval city of Toledo, arriving in Madrid on the fourth day of the excursion.

Included in the tour is three nights of accommodation in 4-star hotels, entrance fees, transport by air-conditioned coach, select meals and guided tours of Seville, Cordoba and Granada.
Itinerary
Day 1: Madrid — Cordoba — Seville (D)
Your tour begins with a morning departure from Madrid to Cordoba, as your luxury coach takes you through the legendary countryside depicted in Don Quixote. After enjoying lunch (own expense), take a guided tour of Cordoba to discover the city's mix of Jewish and Arab culture. Admire Cordoba's medieval architecture, with its whitewashed courtyards, winding alleys and leafy squares. Leaving Cordoba, continue to Seville for dinner and your accommodation.

Overnight: standard-grade Catalonia Santa Justa or superior-grade Melia Lebreros in Seville

Day 2: Seville (B, D)
After breakfast, enjoy a morning tour of the beautiful city of Seville, including the cathedral (from outside), Santa Cruz quarter and Maria Luisa Gardens. Discover the hidden secrets of this lively city built on the banks of the Guadalquivir River, with its rich Arab legacy and colorful local districts such as Triana and La Macarena.

Spend the afternoon exploring Seville at your leisure, before returning to your hotel for dinner. In the evening, stroll along the riverside promenade, visit one of the city's legendary bars or experience the drama and passion of flamenco at a Seville flamenco show (optional extra).

Overnight: same as previous night

Day 3: Granada — Alhambra — Generalife Gardens (B, D)
After breakfast at your hotel, relax on board your luxury coach during the scenic drive along the historic Caliphate road to Granada. In this legendary city renowned for its amazing Moorish architecture, take a guided tour of the World Heritage-listed Alhambra and Generalife Gardens, one of Andalusia's special highlights. In the mosaic-tiled and landscaped gardens of the Alhambra, discover the culture and history of Spain's Moorish rulers and admire their exotic architectural legacy. After dinner at your hotel, spend the evening at your leisure or watch a Gypsy Zambra flamenco show in Granada's Gypsy quarter, Sacromonte (optional extra).

Overnight: standard-grade Hotel Los Angeles or superior-grade Melia Granada Hotel in Granada

Day 4: Granada — Toledo — Madrid (B)
Following breakfast at your hotel, enjoy a scenic coach ride to the World Heritage-listed imperial city of Toledo. Discover the city's multicultural layering of Christian, Moorish and Jewish culture, and well-preserved medieval architecture. After lunch (own expense), take a guided walk into the past along Toledo's cobblestone alleyways and enjoy a tour of the city's monuments and landmarks. During the tour, hear about the work of baroque artist El Greco in Toledo, and see examples of Toledo's signature Damasquinado metalwork, delicately etched with gold. Departing Toledo in the afternoon, relax on the return drive to Madrid, where your tour ends.

The hotels detailed are as a reference only and are subject to change.

June 2016

May 2016
Very pleased we took this tour.
May 2016
Oh WOW, I don't know where to begin! It's a hectic and nonstop tour but there is down time on the bus, thank goodness. The cities we saw were just amazing! We also stopped in Toledo on our way back to Madrid and I was so amazed by view of the city. It was like a fairy tale! I also have to mention our tour guide, GRACE! She was WONDERFUL! She was definitely a people person and made us laugh and was so knowledgable at the same time. The accommodations were very good and although there were some glitches with the restaurants at the hotels, on the whole we were very pleased. I highly recommend this tour.
May 2016
Hugo and all the local your guides except for the optional tour in Grenada were fantastic.
Terry C Thailand
April 2016
What a fantastic tour, great cities to visit made even better by our tour guide who was fun throughout. We had wonderful times in Seville as it was the time of the fair, saw a great flamenco show, on the way there we stopped off to see 'the man from La Mancha', the visits to Granada and Cordoba were also very interesting, the hotels were great and the whole tour was very well organised, although there was no toilet on the bus, we had regular 'comfort breaks', all the passengers on the trip were really interesting, they came from 'all walks of life' and many Countries, l am sure that we all made new friends, it was a pleasure to have participated in the tour, the value was good, the food was acceptable for 4 star hotel standards, l would recommend this tour to any traveler who is thinking of visiting Spain
April 2016
The tour was very well organised. Everything was on time. Both Grace and the driver were very patient , polite and in good mood. The superior hotels Melia in Sevilla and Granada were of very high quality and in central locations. The two language guide was tiring. The coach was not very spacy and did not have Wi-Fi. If you do not take a taxi to get you straight to the parking of the coach in plaza Oriente you have to get down the stairs following the label of the local tour operator until the 1st underground floor and then get the lift to the 2nd underground floor where the coach waits for you.
April 2016
The tour was very good, led by a very professional, experienced and humorous guide. He shared many history and knowledge of his country and the places we went during the 4 days tour. Hotels offered were good though the one at Granada can be better in terms of location accessibility. Its quite a walk from the city centre. Local guides at the various destinations were knowledgeable but it will be great if they can provide us with some time to take photographs. There wasn't enough time to do that when the places are so beautiful. Highly recommended.
April 2016
It was a super trip! The guide was terrific and took care of everything. We had activities each day that were optional after the daily tours if we wanted more to see or do that was organized or we could go on our own. We chose the premium hotels which was an excellent extra amount of money because the hotels that were a little more were closer to the city center and the main action, plus their buffets for dinner and breakfast were excellent! If you are the type of person that likes to see and learn as much as you can in a short time, likes to have the route planned so you don't waste time looking for things and enjoys a combination of walking tours and panoramic on the bus sight-seeing this is a great deal that brings it all together! It was our best trip yet and ax a result we may look into more extended day tours like this though we have always done just full day tours in the past. Great value for your money, time we'll spent, lots of free or optional time, super food, good company and knowledgeable guide - WHT more could you ask for!
March 2016
This was a great tour. Weather was great in March for sightseeing and I have nothing but good things to say about the entire trip, except I didn't enjoy the Flamenco tour to the cave in Granada. There was a mix-up on time, and the show didn't begin until after 11:00 pm. We didn't get back to the hotel until 1:00 am and had an early start planned the next day, so not much sleep. The rest of the tour went as planned. The tour guide Hugo was awesome. He was helpful, informative and dependable. There was enough time at each place to do some souvenir shopping and it was planned well so that there was not much down time. We enjoyed it thoroughly and highly recommend this trip.
February 2016
It was very well planned. We had a good balance of guided activity and free time, and our main guide was exceedingly helpful and well informed. As an introduction to Andalucia it was just what we wanted.
Advertisement
Advertisement