Explore the historic Portuguese city of Lisbon as well as some of the country's top nearby sights during this 5-day, 4-night trip from Madrid. Discover the top landmarks in the hilly capital of Lisbon, including the
Belém Tower and UNESCO World Heritage-listed Monastery of Saint Jerome (Mosteiro dos Jeronimos). Then head to Portugal's Estremadura region to wander the picturesque seaside town of
Óbidos and nearby Alcobaça before making a pilgrimage to the religious center of
Fátima. This multi-day experience in Portugal includes accommodations at 4-star hotels, guide, coach transport, entrance fees and meals as per the itinerary.
Highlights
4-night tour of Portugal from Madrid including hotel accommodation in Lisbon and Fátima
Enjoy a sightseeing tour of Lisbon and visit Monastery of St Jerome (Mosteiro dos Jeronimos), a UNESCO World Heritage site
Visit the villages of Óbidos, Alcobaça, Nazaré and Batalha on a full-day tour of Estremadura
Make the most of a day of free time in Fátima, one of Portugal's famous Catholic pilgrimage towns
Pay a visit to the Sanctuary of Our Lady of the Rosary of Fátima and attend mass, if you wish
Explore the Spanish cities of Trujillo and Cáceres while traveling between Madrid and Lisbon
What You Can Expect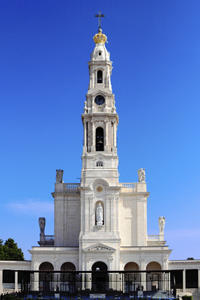 Get a taste for the beautiful Portuguese capital of Lisbon, plus the region of Estremadura and the religious city of
Fátima, during this 5-day, 4-night excursion departing from Madrid. This multi-day trip to Portugal is the perfect chance to discover some of the country's rich cultural traditions, UNESCO World Heritage-listed attractions and unique scenery.
Start your Portugal trip at 8:30am in Madrid, departing from the city's Plaza de España on a 3.5-hour trip by coach to the Portuguese city of Trujillo, stopping to stretch your legs and admire the city's picturesque architecture. You'll finish the day by arriving in Lisbon, where you can check into your hotel and have time to wander the city or enjoy a performance of Fado, a typical Portuguese guitar music (at your own expense). Begin day two with a 3.5-hour sightseeing excursion through Lisbon, stopping to explore the city's many neighborhoods, plus famous attractions like the Statue of Prince Henry the Navigator (one of Portugal's most famous explorers) and the Monastery of Saint Jerome, a UNESCO World Heritage site.
Head along Portugal's coast on day three to visit the Estremadura region, stopping in the walled seaside city of
Óbidos and then visiting the UNESCO World Heritage-listed
Mosteiro de Santa Maria de Alcobaça in the town of
Alcobaça
. You may also have time to explore the cliffside village of
Sítio if time permits, then proceed on to the impressive monastery found in
Batalha, another UNESCO World Heritage site. Start your fourth day exploring the religious center of
Fátima, where you'll tour the city's many impressive spiritual sites, including the
Sanctuary of Our Lady of the Rosary of Fátima, before heading back in Lisbon for you last night and returning to Madrid the following day. For a full run-down of the tour stops and cities visited, please see below.
Itinerary
Day 1: Madrid –Trujillo – Lisbon
In the early morning, leave central Madrid by air-conditioned coach to travel southwest to Portugal. Relax on board and, after roughly 3.5 hours, arrive in Trujillo, your first stop of the day.

Believed to be the birthplace of the founders of Peru, the city is awash with interesting history and cultural sights. Hear tips for places to visit during your hour of free time, and perhaps stretch your legs on a stroll. Landmarks to check out include Plaza Mayor, Trujillo's handsome central square. Return to your coach at the prearranged time and resume your journey, traveling west to Lisbon. Cross the city's famous 25th of April Bridge, and then check in to your Lisbon hotel.

In the evening, why not head out on a 1-hour evening coach tour followed by a 2-hour traditional fado show? The combined excursion is at your own expense, but offers a pleasant introduction to the city and its nighttime illuminations plus a dose of Portuguese culture! Dramatically performed songs — etched with emotion — are typical of the fado performances that take place throughout Portugal.

Overnight: 4-star Hotel Lutécia in central Lisbon

Day 2: Lisbon (B)
Enjoy breakfast in your hotel, and set off on a 3.5-hour sightseeing tour of the Portuguese capital. From the comfort of your air-conditioned coach, learn about Lisbon's history as an ancient city, and see several of its top attractions and sights. Swing past Belém Tower and the Statue of Prince Henry the Navigator — an explorer who kick-started the Age of Discoveries —and enjoy visits to the UNESCO-listed Monastery of St Jerome (Mosteiro dos Jeronimos) and National Coach Museum. Learn about different Lisbon neighborhoods from your onboard guide, and travel through bustling districts such as the Alfama quarter. Other highlights include Liberty Avenue (Avenida da Liberdade) and the Marquis of Pombal Square, home to a statue dedicated to the Marquês de Pombal.

Finish your tour in the center of town, and then enjoy a full afternoon and evening of free time. Perhaps visit one of the atmospheric Lisbon cafes for lunch or sightsee independently on foot.

Overnight: 4-star Hotel Lutécia in central Lisbon

Day 3: Lisbon – Estremadura (Óbidos – Alcobaça – Nazaré – Batalha – Fátima) (B)
After breakfast, leave Lisbon for a full day of sightseeing around the coastal region of Estremadura. Your first stop is Óbidos, a beautiful walled town that's known for its picturesque streets. Walk around the winding, narrow lanes with your guide and stop for photos outside the town's pretty castle, Pousada do Castelo. Travel onward to Alcobaça, a tiny town home to Mosteiro de Santa Maria de Alcobaça. Awarded UNESCO World Heritage status, the imposing 12th-century monastery is home to the tombs of Don Pedro and Dona Inês — the so-called 'Portuguese Romeo and Juliet.' Hear of their tragic love story, and then continue to the colorful fishing village of Nazaré for lunch (own expense).


If time permits, continue with a trip to the nearby cliff-top village of Sítio and soak up the coastal views. Alternatively, travel straight to Batalha, another picturesque town in the north of the region. Like many Estremadura towns, Batalha's main claim to fame is its impressive religious monuments. Visit the UNESCO-listed Batalha Monastery (Mosteiro de Santa Maria da Vitória) and learn about its eye-catching Gothic and Manueline architecture on a tour.

In the late afternoon, travel further inland to Fátima, one of Portugal's top Catholic pilgrimage destinations.

Overnight: 3-star Hotel Sao Jose or 4-star Hotel Santa Maria in central Fátima

Day 4: Fátima – Lisbon (B)
Enjoy breakfast in your hotel, and then spend the rest of your day at leisure, doing whatever you wish. No matter what your religion or beliefs, Fátima is impressive with numerous religious monuments and places of worship to be seen. Perhaps pay a visit to the Sanctuary of Our Lady of the Rosary of Fátima to see the tombs of three famous Portuguese children: Lúcia, Francisco and Jacinta. The three shepherd children are said to have witnessed the first of six apparitions of the Virgin Mary in the town and are revered throughout the country for that very fact. Other highlights of the sanctuary include its chapel, where mass is regularly held. Head inside to attend a service, if you wish. Any entrance fees or activities on this day are at your own expense.

Meet your guide at the prearranged time in the late afternoon, and then travel back to Lisbon for your final overnight stay.

Overnight: 4-star Hotel Lutécia in central Lisbon

Day 5: Lisbon – Cáceres – Madrid (B)
Enjoy breakfast in your hotel, check out, and then wave goodbye to Lisbon as you travel east to Cáceres, an elegant Spanish city. Stop to stretch your legs and enjoy some free time, perhaps lunching in one of Cáceres' many cafes or exploring the UNESCO-listed Old Town.

Travel onward to Madrid in the afternoon, and then finish your tour with a drop-off at the start point in the center of the city.

The hotels detailed are as a reference only and are subject to change.
May 2016
It didn't help that our bus broke down at our first stop and we had to wait for a couple of hours for another bus to arrive. That meant we arrived in Lisbon very late which made it a very long day and we missed out on that nights entertainment. The rest of the tour was fine with the guide and bus driver being very good.
May 2016
We had an excellent tour guide Ismael and driver Cata both were very friendly and helpful. We did not get great directions for picking up the tour 'Bus station at Plaza Orient', but this was our second tour with a local tour company, so we knew where to go. The first day was quite boring apart from a single interesting stop in Trujillo the other stops were 'toilet stops' and included lunch at 'petrol stations' along the highway. I understand why the tour has to do this it is a long drive from Madrid to Lisbon, but I would have stayed longer in Trujillo to include lunch, and ditch the cafeteria food stop. We also did not get our initially requested 'double bed' at the hotels despite the tour guide having this 'paperwork', and the Hotel Lutécia front desk staff were dismissive apparently, 'double' means two people, not a double bed. Breakfast was moderate fare, and dinners were not included, although given the bland fare provided on the other tour hotel food for US tourists?, this was a mixed blessing, permitting us to sample local more delicious fare. Days 2 and 3 were much better, with a good morning city tour of Lisbon and then free time day 2, and then a full day of site visits on day 3 Óbidos, Alcobaça, Nazaré, Batalha. Day 4, a free day in Fatima, was personally speaking too long a time to spend there, but others with a more religious inclination may disagree. Day 5, another long trip back to Madrid, was better than Day 1, including a stop in Cáceres with options for lunch. Overall, a tour I would recommend, but that I would modify slightly if I was arranging. We had a small group, and that made it also a friendlier experience.
December 2015
The Tour Director was not detailed in instructions. There was day, we did not know what time the pick up was. I tried to text but no reply. I just wished that the group be concentrated with one language so time is not wasted in speaking in different languages. This comment applies to all tours!
August 2015
Guide in Madrid and on to Lisbon was just OK - he didn't seem too interested or concerned. Guide in Lisbon to end of tour was excellent can't remember her name. I did, however, find it very annoying that she had to say everything in 3 languages so there was a great dealing of talking always going on.
Advertisement
Advertisement