Get to know six captivating Spanish cities in one enjoyable 7-day tour from Madrid. With a combination of city sightseeing tours, guided visits and free time to explore independently, leave Spain's capital to discover the history and highlights of magnificent Cordoba, Seville, Granada, Valencia, Barcelona and Zaragoza. Enjoy guided tours of Granada's exquisite Alhambra Palace; Cordoba's Great Mosque, and other top landmarks, and enjoy a city tour and free time to explore buzzing Barcelona. Your tour includes 3- or 4-star hotel accommodation, daily breakfasts, three dinners and round-trip coach transport.
Highlights
7-day tour of Spain's most famous cities

Enjoy guided tours in Cordoba, Seville, Granada and Barcelona

Visit the beautiful Alhambra and Generalife Gardens in Granada
Admire Antoni Gaudi's masterpieces in Barcelona, including La Sagrada Familia

Spend six nights in deluxe or standard hotels (your choice) in Seville, Granada, Valencia and Barcelona

Transportation in an air-conditioned deluxe motor coach

What You Can Expect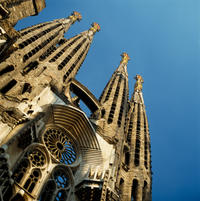 Uncover six of Spain's most splendid cities on this 7-day tour. On Day 1, leave Spain's delightful capital of Madrid by comfortable, air-conditioned coach, and travel to historical Cordoba for a city tour and guided visit of its sublime Great Mosque.
Afterward, continue to the charming, orange-scented city of Seville for a 2-night stay, with free time to explore independently and a guided city tour. Then, on Day 4, travel to Granada and enjoy a memorable guided visit to its spectacular Moorish jewel: the UNESCO-listed Alhambra Palace and the neighboring Generalife Gardens.
After an overnight stay in Granada, continue to the glittering seaside city of Valencia, the birthplace of paella; before enjoying a 2-night stay in vibrant Barcelona, one of Spain's most iconic cities. Finally, on Day 7, visit the intriguing city of Zaragoza, and get free time to explore its Moorish and Gothic highlights on your own before your tour ends back in Madrid.
Your tour includes round-trip transport by air-conditioned coach, several city sightseeing tours and guided visits to top sights, including Granada's Alhambra and Cordoba's Great Mosque; plus free time to discover each city on your own. Six breakfasts and three dinners are also included, as is free time each day to have lunch at your own expense.
Itinerary

Day 1: Madrid - Cordoba - Seville (D)
Start your 7-day tour of Spain with a trip from Madrid to the beautiful city of Cordoba. Its old town, which is a UNESCO World Heritage Site, is the second largest in Europe. Visit the Jewish Quarter (Juderia), part of Cordoba's historic center.

Your guide will lead you through its medieval streets, show you the gorgeous synagogue and tell you about Cordoba's Jewish history. Take a break for lunch (own expense), and then head to the most famous landmark of the city – the Great Mosque of Cordoba. Have a look inside and admire the forest of columns and red-and-white arches.

Then board your deluxe motor coach for the drive to Seville, where you'll enjoy a delicious dinner (included) and spend one night.

Seville accommodation: Catalonia Santa Justa (standard) or Melia Lebreros (superior)

Day 2: Seville (B, D)
After breakfast (included), spend Day 2 in Seville, the capital of the Andalusia region and the cultural center of southern Spain. Go on a panoramic tour, where you'll see Seville's top attractions from your motor coach. Take a good look at the Cathedral of St Mary, the largest Gothic cathedral in the world – it's impressive!

Then, head out on a walking tour with your expert guide and visit the Santa Cruz quarter, the former Jewish quarter with winding alleys and picturesque lime-washed houses. See the famous Alcazar, Seville's magnificent royal palace and UNESCO World Heritage Site.

Have a short lunch break (own expense), and then continue your tour around the Alcazar and to the beautiful Maria Luisa Park, the principal green area of Seville and the perfect location to relax. The park is home to the great Plaza de España – a fabulous location to take some stunning pictures!

You'll have the rest of the day free to discover more of the city on your own. Your guide will recommend the best sights to see and things to do. Make your way through the various quarters, like the Triana, with many historical buildings, the Macarena, where most of Seville's monuments can be found, or Nervión, a modern neighborhood in eastern Seville.

After dinner (included), you have the option to go on a Flamenco tour to see a performance of Spain's traditional Flamenco dance (own expense).

Seville accommodation: Catalonia Santa Justa (standard) or Melia Lebreros (superior)

Day 3: Seville - Granada (B, D)
After breakfast (included), leave Seville behind and move on to Spain's sunshine city, Granada.

Your guide will show you the famous Alhambra Palace and the Generalife Gardens, a UNESCO World Heritage Site visited by two million people each year, making it the most-visited attraction in Spain.

La Alhambra is a massive palace and fortress complex that was once the home of many Arab sultans. Hear the history behind the beautiful architecture from your guide and be amazed by the beautiful Moorish features. Next to the Alhambra are the sumptuous Generalife Gardens, with interestingly shaped trees, gorgeous flowers and stunning fountains, perfect for a relaxing stroll.

After your dinner (included), you have the option to go on a Gypsy Night Tour (own expense) to the Albaizyn quarter (the old Arabic quarter) with your guide. Or simply discover more of Granada on your own, and check out the local nightlife. You'll spend the night in Granada.

Granada accommodation: Los Angeles (standard) or Melia Granada (superior)

Day 4: Granada - Valencia (B)
After breakfast (included), continue your seven-day tour to Valencia, where you'll spend the night.

Enjoy a panoramic sightseeing tour and see the most important sights, such as the Cathedral of Valencia and the impressive Plaça de l'Ajuntament when you arrive. Absorb the beauty of the city as your guide tells you about Valencia's history.

You can then join an optional walking tour around Valencia's old quarter (own expense) and visit the Silk Exchange and the Fallas Museum.

Dinner is not included on this day, but your guide will recommend the best local restaurants that offer paella, the traditional dish for which Valencia is famous.

Valencia accommodation: Hotel Ilunion Aqua or similar (standard) or Tryp Valencia Oceanic (superior)

Day 5: Valencia - Barcelona (B)
You'll have breakfast in Valencia (included), and then enjoy free time to discover more of the enchanting corners of the city. Work on your tan at the beach, educate yourself in one of the various museums (at own expense) or see sharks, dolphins and jellyfish at L'Oceanogràfic (entrance fee not included). If you have trouble picking something, you'll also have the option to go on a guided sightseeing tour (additional cost).

In the early afternoon, depart Valencia for Barcelona, where you'll spend the next two nights. Dinner is at your own expense; your guide will recommend restaurants where you can enjoy the finest Spanish cuisine.

Barcelona accommodation: Catalonia Barcelona 505 or similar (standard) or Barcelona Plaza or similar (superior)

Day 6: Barcelona (B)
After breakfast (included), enjoy a panoramic city tour of Barcelona, the capital of the region of Catalonia and the second-largest city in Spain. Your guide will show you the top attractions; relax in your motor coach and see the Park of Montjuic, the Olympic Ring, the old Gothic quarter and the impressive buildings designed by Spain's famous architect Antoni Gaudi.

Then spend the rest of the day exploring Barcelona on your own. Make up your own itinerary and go for a walk on Las Ramblas, the city's famous promenade. Or breathe in fresh sea air at the beach, and visit some of Gaudi's masterpieces, such as La Sagrada Familia or Park Güell.

Dinner is not included on this day, but your guide will again recommend local restaurants.

Barcelona accommodation: Catalonia Barcelona 505 or similar (standard) or Barcelona Plaza or similar (superior)

Day 7: Barcelona - Zaragoza - Madrid (B)
After breakfast in Barcelona (included), head off to your last destination of your tour – Zaragoza. You will have free time here to see the top sights of this intriguing city, such as the Basilica del Pilar, La Seo Cathedral and the Aljaferia Palace, at your leisure.

Then depart Zaragoza for the return trip to Madrid.

The hotels detailed above are as a reference only and are subject to change.
June 2016
October 2014
Joseph was an excellent guide for this tour. He looked after us very well and really made the trip. It was great for us being first timers in Spain. We met lovely people and really would like to go back to Spain with a bit longer in each city.
April 2016
This tour has two parts. Don't expect to be in one tour group for the entire duration.
Our tour guide Joseph was excellent! He took care of us from Cordoba, Seville and Granada. Loved all the local tour guides. We covered all the important sites. I just wish we were given more time to explore and take in the beauty of the Alhambra. We just went in then out of the place. Too fast.
I found the tour group too BIG on this leg. Also the air-conditioning system of the bus didn't work for a couple of hours. But they were able to address this concern. They should have checked the bus before leaving for a 7 day tour.
We were then transferred to another tour group/bus for Valencia-Barcelona-Zaragoza-Madrid. Our tour guide Hugo, was the opposite of our first tour guide. He was just ok. : Local tour guide for Valencia and Barcelona were good as well.
Hotels for superior hotels were all good except for the one at Barcelona. They should change the beds. So old and used. Pillows were not fluffy as well.
We didn't proceed to Zaragoza-Madrid as we took the train going to France.
Best way to see Spain.
October 2014
The tour was well planned,we had a friendly tour guide namely HUGO and enjoyed the whole tour.
May 2014
Overall it was excellent, guides were great! We had a great time and saw many places and learned a lot about the history here. Only negative was we booked the "superior" hotels and seems the standard were every bit as good or better. Save your money and book the standard rooms.
October 2012
Our tour was very much enjoyable but once we bought the tour package 'Viator' did not provide any information about it, like time schedule of arrival and departure from different cities, hotels, we needed to know before - they just referred to 'Julia Travels'. Otherwise the tour guides, bus transportation, hotels were good. We would sure consider tours like this through Viator in future.
June 2016
We enjoyed all the cities we visited. We think it is unnecessary to offer 2 grades of hotel. There was very little difference in the standard, both 4 star. In 2 cities the superior grade was closer to the inner city but each day we wasted time visiting 2 hotels, finding,loading or unloading luggage and waiting for passengers. The guide was non strict enough about times. We changed buses and drivers after 5 days as the 1st driver had done his hours. The secondbus had no wifi and was not a coach. On our way to Granada our guide announced that the local tour operator did NOT have tickets for us to enter Alhambra Palace and that we were doing a night tour of the Generalife Gardens. ALL TRAVELERS were very angry and disappointed. We felt we had been cheated out of visiting the number one tourist place in Spain and had no come back to the local tour operator. I visited their office in Madrid and they felt that Viator had misadvertised the tour!!!! The local guides were very good and our tour guide very friendly. There were some long days of travelling but I guess that was necessary to cover all the cities. At the end of the tour we were staying in an airbnb address so were dropped off at the first hotel, not where we had been picked up the first day , which was what was stated on the itinerary. This resulted in a long walk , asking directions. All that aside, we had a good time and saw many places, enjoyed the countryside, vines and olive trees.
July 2012
Review of 7 days trip across Spain - First let me cover the negative points: Whole trip is just like riding on a long distance Grey Hound Bus on a multi-day journey only with the exception of getting additional hotel arrangements with free breakfasts and  few free selective dinners. In seven days the tour operator does cover 6 cities with brief stop overs and they arrange local tour guides to escort the entire bus tourists in every tourist spot. Evenings they put us in their pre-arranged hotels. Some hotels are above average and some are below average. But all hotels do serve horrible food and sometimes the food can be a real nightmare! If you are a vegetarian forget it, salad is the only choice!! Most terrible thing is almost all restaurants Julia travels took us do serve pork or ham which is typically avoided by Muslims, Hindus, Buddhists and even many Christians don't bother taking it since this affects one's collestral level ...perhaps this is something to do with entire Spain culture rather than Julia travels or the particular hotels, so I won't hold it against them.
- Not all the hotels are located in a great area so that we can walk around freely in the neighborhood
- Most of the day you will end up in riding the Bus traveling city to city.....and it could be boring since we get nothing to do otherwise
- The most annoying part is they cover only few tourists attractions in all cities and they will let you roam on your own by giving you some hours of free time to cover other attractions on our own!
- Especially one entire day was wasted by spending 50% in the Bus journey /transfer and then the rest of the day wasted by leaving us alone in Valencia - which was not fair!
-  The rip off part is - Julia Travels do provide some optional side tours in the evening for some extra cost such as 30 euros a person for some stupid Flamenco or some gypsy trips...we strongly discourage you from participating in these side trips, since this is a waste of money and you can use that money and time wisely elsewhere!
-  Almost all places they stop at some kind of church or basilica or cathedral or mosque. Nothing wrong with that but there plenty of other things to see as well. Most of the time church is the only stop over
- At one spot in Seville they do drop off the tourists and ask them to walk around and explore that part of that city and ask you to walk back yo hotel....that was about 45 minute walk! We pay for the trip and we had to walk on our own to reach hotel!
- I have paid about $870 per person (for 3 of us it costed us about $2700 USD) and yes we had covered lots and lots of miles across the length and depth of Spain, but what exactly we had seen was not that much in 7 days.
Pros:
Now let me cover positive points as well:
+  Price wise it is very reasonable. If you add bus ticket cost for all the 6 cities and 6 night hotel cost plus few dinners and all breakfasts plus local tour guide fees, it will cost more than a thousand bucks compared to what they charge due to the nature of the package.
+  You don't have to tax your brain what to see and how to get to each place and where to stay, etc. Basically someone is handling all the logistics for you.
+ Imagine getting in and out of planes or trains or private busses and then catching taxis to get to the hotels and arranging our own tourist visits and trips in each and every city. That will not only cost us lots of money also consumes plenty of time and lots of hassles to go with it. We just leave all the issues with one professional company and let them take care of all issues for a very reasonable price. We just need to sit and relax.
+ Some times half the fun is to get there. By traveling by the tour bus from one city to another city across the Spain you get to see the varying landscapes. In addition to seeing each city it is also important to see the country side and the beautiful landscapes. This is the best way to enjoy a country in a traditional way rather than taking a flight and making surgical trips (pre-selective and isolated visits)
+ English language is spoken by the bus guide and also by local guides
+ Friendly staff
Summary
- In nutshell is it cheaper? yes! But could we have seen more places? hell yeah!!
- Good for family with kids and for older couples who don't have the luxury to do 'run-around' business and handle all kinds of 'logistical' issues....or for someone who wants to relax and see few places as well along the way. But not recommended for those hardcore-avid travellers with lots of things in mind to achieve in a shorter time.
Rating
Over-All I would give 2.5 stars out of 5!
September 2012
Too much time on bus. Included tours were weak and addtional tours seemed like a rip off. They should have been included. Having two levels of hotel waisted time going from one hotel to the other. Should have only been one.
Advertisement
Advertisement