See the best of Andalucia on this 7-day tour, beginning in Madrid. Spend two days exploring the Spanish capital independently, and then travel through the iconic Don Quixote countryside to Cordoba, Seville, Grananda and Toldedo over the course of the week. Check off top sights, including the rose-hinted Alhambra in Grananda and Toldeo's UNESCO-listed Old Town, and enjoy a combination of both guided tours and free time. Six nights of accommodation, select meals, transport and the services of a professional guide are all included.
Highlights
7-day tour to Cordoba, Seville, Granada and Toledo from Madrid
Visit Andalusia's most famous cities, plus Toledo's Old Town
Take guided tours in all five cities
Enjoy free time to explore Madrid and Seville at your leisure
Choice of 3-star or 4-star hotels
All breakfasts and some dinners are included
What You Can Expect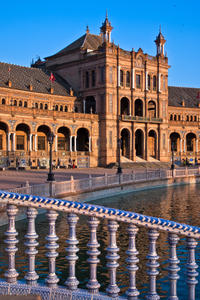 Your seven-day Spain tour starts with two nights in Madrid, where you'll have free time and see its top sights on a panoramic tour. Then travel through legendary Don Quixote countryside to take in Cordoba's multicultural mix of Jewish and Arab backgrounds and medieval architecture.

Your last stop for the day is Seville on the Guadalquivir River, home to the eponymous cathedral, Maria Luisa Gardens and colorful Santa Cruz quarter. Spend two nights in Seville, then continue to Granada, renowned for the amazing Arab architecture of the Alhambra, the last stronghold of the Moorish kingdoms and one of Andalucia's special highlights.

Following a night in Granada, your last stop is Toledo for a tour of the city's World Heritage-listed Old Town before returning to Madrid for the night. The next day, your tour concludes with a transfer to the Madrid airport.

To customize your trip, you can opt to begin the tour a day later and enjoy your free day in Madrid on Day 7 instead of Day 1. If you are not arriving or departing at the Madrid airport on Day 1 and/or Day 7, you can be picked up and/or dropped off at the central Madrid location of your choice.
Itinerary
Day 1: Madrid
After being greeted at the Madrid airport, you will be transferred to your hotel for your overnight accommodation in Madrid. The day and night are free for you to discover the city on your own.

Accommodation: Hotel Mayorazgo or similar (three stars), Hotel Catalonia Gran Via, Tryp Madrid Plaza España or similar (four stars) in Madrid.

Day 2: Madrid (B)
After breakfast at your hotel, have free time to spend the morning exploring Madrid's monuments, boulevards and squares at your own pace. In the afternoon, board your deluxe air-conditioned coach for a panoramic sightseeing tour of Madrid. Return to your hotel to spend the evening at your leisure.

Accommodation: same hotel in Madrid

Day 3: Madrid - Cordoba - Seville (B, D)
After breakfast, board your luxury coach to drive through the legendary land of La Mancha to Cordoba. After enjoying lunch (own expense) and a guided city tour revealing Cordoba's mix of Jewish and Arab culture, medieval courtyards and winding alleys, continue to Seville for dinner and your accommodation.

Accommodation: Catalonia Santa Justa (three stars) or Meliá Lebreros (four stars) in Seville

Day 4: Seville (B, D)
Breakfast is followed by a tour of Seville's monuments and panoramic views, featuring an external visit of Seville Cathedral, the Santa Cruz quarter and Maria Luisa Gardens. Spend the afternoon exploring Seville at your leisure, before returning to your hotel for dinner and an optional flamenco tour (additional expense, payable at time of tour).

Accommodation: same hotel in Seville

Day 5: Seville - Granada (B, D)
After breakfast, return to your coach to drive to the legendary city of Granada, traveling via the Caliphate road. A guided tour of the World Heritage-listed Alhambra and Generalife Gardens reveals the culture and history of Spain's Moorish rulers and their exotic architectural legacy. After dinner you have the option of joining a Gypsy night tour (own expense) before returning to your hotel.

Accommodation: 3-star Hotel Los Angeles or similar, 4-star Hotel Melia Granada or similar.

Day 6: Granada - Toledo - Madrid (B)
Following breakfast, travel to the UNESCO World Heritage city of Toledo, where the city's Christian, Jewish and Moorish cultures are evident at every turn during your tour of the winding backstreets of its cobblestone Old Town. Return to your coach to travel to Madrid, where you'll stay overnight.

Accommodation: Hotel Mayorazgo or similar (three stars), Hotel Catalonia Gran Via, Tryp Madrid Plaza España or similar (four stars) in Madrid.

Day 7: Madrid (B)
After breakfast at your hotel, you'll be transferred to the airport for the conclusion of your seven-day excursion through Spain.
October 2014
The tour was great! Hugo, our travel guide, and Miguel, the bus operator, were wonderful to travel with. Unfortunately our very first hotel wasn't booked correctly, but other than that little hiccup, we really enjoyed it. Thanks for everything!
March 2013
Tour guides were excellent. Hotels were excellent. Food could be better. Also, it really was a four day tour. The other three days in Madrid were really on your own except fot a three hour sightseeing tour. So one could save money by just doing a four day. More time needed at Cordoba.
January 2013
Everything was good except lack of communication between local T/A and customer. On Dec 30 P.M. Panoramic tour of Madrid - time and location not advised.
On Jan 1 A.M. City tour of Seville. As we did not take the optional PM tour, we were left alone and either wait 4 hours or return hotel on our own.
November 2013
The local tour guides for the cities were amazing! As for the tour guide wh accompanied us on the bus. She was okay but a little disappointed we didn't get more narrative along the way on the bus trip to the different cities. Seemed to be a lot of road time and not enough time in the cities. Toledo is a quant, most beautiful city yet we were not there three hours maximum. On the way to Toledo, our guide dropped us off for lunch which was half an hour and there were no restaurants open, only a bakery, and a couple of other shops where you were left to fend incur own. Not sure where she went for the half hue, but it was disappointing . . felt we were on up own. Don't bother taking the seven day trip. You'd be best to do the 4 day trip and see Madrid on our own. Thei plus was the pick up and departure ride to the airport as it is about a 25 minute drive. The driver was great and prompt. The santo Domingo for being an upgrade was a little disappointing. In North America, it would be a three star tops. The room we got in Madrid at that hotel at the start of our trip was a decent size with a amazing view of a garden wall. On our last leg of the trip our final night in Madrid at the same hotel, we had a tiny room with terrible cot type beds. I asked for a different room and was shown one even smaller!!! For 40 euros though I was told I could upgrade. No thanks. We did two tours which were "optional" which was a flamenco dance performance for 37 euros or thereabouts each. Also in Granada for another 38 or so euros was another " optional" excursion of old part of granada. I feel these code been included with the cost of the trip. Overpriced for too much time on the bus.
Advertisement
Advertisement