Discover all that southern Spain has to offer, from beautiful beaches to ancient palaces and beautiful art, on this 8-day trip from Madrid covering Toledo, Cordoba, Seville, Granada and the Costa del Sol. Stop by the Great Mosque of Cordoba, explore Granada's magnificent Alhambra Palace (a UNESCO World Heritage Site), see Seville's Alcazar, plus much more. Enjoy a combination of organized visits, plus unstructured free time to wander at your own pace. Your 8-day excursion also includes a guide, 7 nights accommodation at 3- and 4-star hotels, meals, transport by luxury coach, plus select entrance fees and guided visits.
Highlights
8-day tour of Spain from Madrid

Discover southern Spain's most beautiful cities as you explore the Andalusia region with your expert guide
Visit UNESCO World Heritage Sites like Alhambra Palace and the Generalife Gardens in Granada and the Alcazar in Seville

Explore Toledo, the hometown of painter El Greco, and see the Great Mosque and the Jewish Quarter in Cordoba

Enjoy free time in Seville and Costa del Sol to explore more on your own
Seven nights of accommodation in standard or superior hotels and daily meals are included
Transport by comfortable, air-conditioned coach
Recent Photos of This Tour
8-Day Southern Spain Tour from Madrid: Cordoba, Seville, Costa del Sol, Granada and Toledo
What You Can Expect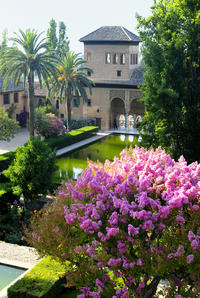 Experience 8 days immersed in the rich culture and amazing attractions of southern Spain, exploring Toledo, Cordoba, Seville, Costa del Sol and Granada during your trip. If you're looking for a comprehensive introduction to some of the top historic sights in Andalusia, plus a chance to explore the famous beaches of its sun-drenched coast, this tour is for you.
Start your exploration in central Madrid at 8:30am on day one, continuing by coach towards Cordoba, as you pass through Castilla-La Mancha, the supposed home of literary hero Don Quijote, en route. Spend your first day in Cordoba, touring the city's Jewish Quarter and Great Mosque, before spending the night in Seville. The next day, check out the iconic Santa Cruz neighborhood in Seville, along with the immense cathedral, and enjoy an optional flamenco show in the evening.
Then head to the sunny Costa del Sol for three days of beach time plus a trip to Tivoli World, its action-packed amusement park. On days seven and eight, head to Granada for a guided tour of the incredible UNESCO World Heritage-listed Alhambra Palace, and then to Toledo, where you'll have time to discover the home town of famed Spanish artist El Greco.
Throughout your tour, you'll stay in high-end 3- and 4-star accommodations like the Melia Costa del Sol Hotel in Costa del Sol and have the chance to savor delicious Andalusian dishes like
paella
(rice with vegetables and meat).
Seven nights of accommodation in superior hotels, seven breakfasts and seven dinners are included.
Please see the
Itinerary
section below for details on each day of the tour.
Itinerary
Day 1: Madrid -- Cordoba -- Seville (D)
Start your 8-day tour of Spain enjoying the drive from Madrid through the land of Don Quixote in an air-conditioned coach to Cordoba. When you arrive, explore Cordoba's old town, a UNESCO World Heritage Site and the second-largest old town in Europe, on a guided walking tour. Follow your guide through the medieval streets of the Jewish Quarter (Juderia), part of Cordoba's historic center, and visit the gorgeous Córdoba synagogue, one of the oldest in the world and the only of its kind remaining in Andalusia. Learn about Cordoba's Jewish history and discover how this beautiful synagogue was combined with a cathedral, making for a truly unique place of worship.

After a break for lunch (own expense), head to the most famous landmark in the city: the Great Mosque of Cordoba. Inside, admire the forest of columns and red-and-white arches. Then, re-board your coach for the drive to Seville, where you'll enjoy dinner and spend the night.

Accommodation: 3-star Catalonia Santa Justa or 4-star Meliá Lebreros in Seville

Day 2: Seville (B, D)
After breakfast, spend the day in Seville, the capital of the Andalusia region and the cultural center of southern Spain. Enjoy a panoramic city tour with your guide and visit sites such as the Cathedral of St Mary, one of the largest Gothic cathedrals in the world. Then, take a guided walking tour of the Santa Cruz quarter, the former Jewish quarter with winding alleys and picturesque lime-washed houses.

After a short lunch break (own expense), continue to the beautiful Maria Luisa Park, home to grand Plaza de España. You'll have the rest of the day to discover more of the city on your own. After dinner at your hotel (included), immerse yourself in more of Spain's culture with an optional flamenco tour (own expense) to see a performance of Spain's traditional flamenco dance.

Accommodation: Same hotels in Seville

Day 3: Seville -- Costa del Sol (B, D)
Start your morning with breakfast and spend the day exploring Seville independently. At your leisure and expense, wander through the city's enchanting narrow streets and see the famous UNESCO World Heritage-listed Alcazar, Seville's magnificent royal palace. Learn more about the history of this town at one of the various museums and have lunch at a picturesque sidewalk café. In the early afternoon, meet your guide and head to Costa del Sol for dinner and an overnight stay.

Accommodation: 3-star Sol Principe or 4-star Melia Costa del Sol in the Costa del Sol

Day 4-6: Costa del Sol (B, D)
Enjoy breakfast at your hotel before spending the next three days discovering the beautiful region of Costa del Sol on your own. Your guide will give you great recommendations on what to do and see, including the thrilling amusement park, Tivoli World, the city's largest center for family entertainment. Wander through the quaint, narrow streets and sample local fare; take a stroll along the stunning beaches; and relax and enjoy a cocktail at one of the several beach bars along the coastline, which stretches more than 100 miles (160 km). Return to your hotel each evening for dinner and an overnight stay.

Accommodation: Same hotels in Costa del Sol

Day 7: Costa del Sol -- Granada (B, D)
Have breakfast at your hotel before heading off to Granada. With your guide, visit UNESCO World Heritage-listed Alhambra Palace and the Generalife Gardens, an amazing historic site that served as the last stronghold of the Moorish Kingdom until 1492. Have lunch at a local restaurant (own expense) and then explore the old city on your own. Head to your hotel for dinner and take an optional gypsy tour, where you can learn about local gypsy legends and hear how Sacromonte is still, to this day, a place where gypsies live in cave homes.

Accommodation: 3-star Los Angeles or 4-star Abades Nevada Palace in Granada

Day 8: Granada -- Toledo -- Madrid (B)
After breakfast at your hotel, relax on the drive to Toledo, a UNESCO World Heritage City where the three cultures of Spain -- Christian, Moorish and Jewish -- are melted together. After lunch (own expense), take a tour of the city's interesting architectural mix of mosques, synagogues and churches and learn how Toledo is the hometown of famous painter El Greco.

Wander through the narrow streets and visit a factory to see how the famous damasquinado gold jewelry is made. You'll see the ancient technique of hammering gold into slits in metal, followed by an oxidizing process to create the blackened areas. In the early afternoon, depart Toledo for the journey back to Madrid, where your 8-day tour will end.

Please note: Hotels are subject to change; if this happens, you'll stay in hotels similar to the ones listed.
May 2016
Very nice. A little rushed in Córdoba and Toledo. Would have been nice to get 15 minutes to window shop. Go back into Madrid right on time.
October 2014
Loved the tour. Guides were knowledgeable. Visits and scenery were beautiful. Hotels and food were very good.
Charlene USA
July 2013
We had great tour guides.
August 2014
The tour was excellent value for money! In general the hotels were exceptional, the guide was great (good English) and the coach was acceptable. Overall we were happy with the experience, considering how difficult and costly the trip would have been if we had done it alone. The convenience is the best part!
The only complaint we have would be the lack of communication in Costa Del Sol. It is really important, when in a foreign country, that the tour guide always lets you know what is going on and unfortunately they really let us down here. Also, the hotel on the last night was WAY too far out of town! Particularly considering we had paid for the hotel upgrade, it was disappointing to have to catch 2 buses to get into the city!
Nevertheless, we were really impressed over all.
thanks for a great experience!

July 2014
Nice trip. Three days is too long at Costa Del Sol and 3 hours is not enough for the best city on the trip Toledo. Hotels were nice with the exception of Granada which was too far from town and had terrible food. Bus drivers and tour guides were all nice. Be aware that Madrid tour office has no bathrooms and first stop is two hours at the beginning of the tour.
June 2014
I'm very please withThe tour, the guides and the hotels. If is any thing that cut be improve is the tour time in Toledo, I think that the time that we expend in a big and historical city like Toledo was to short.
Thank you.
Fernando Valdizan

December 2013
My 8 day tour was great. I booked three star and a couple of the hotel were not three star. Also i made friends with people who had booked four star and there was a huge difference between the hotel, but also the treatment the three star people received. The hotel in Granada was fabulous. Best one of the trip. Sol principe is like a small town with thousands of people staying there. Restaurant for brek and dinner unbearably noisy, with queues to get food. Catalonia st just in Seville was awful, incl. food. All the tours with local guides were excellent. It is tiresome to have three languages explaining all the time. Very big groups.
Carlos from Julia tours did not advise e of pick up from sol principe in torremolinos. I was the only one from the 8 day tour staying there. I made four phones to madrid and Alabama before i found out my pick up time.
Carlos was remiss and it cost me €4.80 which the hotel charged me to find out the pick up time.
December 2013
had a good holiday ,Spain is the best ,the tour was part of our 14 day stay in Spain and was perfect,nice to have tour guide at each stop,hotels were OK,however the hotel in Granada is way out of town needed to take taxi into Granada..
August 2014
Have been on much better tours in other countries. Tours were not that detailed and way too many people (50 people, which is conveniently not mentioned on the voucher). Three languages is way too much to sit through on a tour and only sometimes were head sets used. The included tours did not go into enough significant buildings - felt I could have gotten the same experience by wandering the streets with a Lonely Planet book. Hotel in Torremolinos was great - excellent food, cleanliness, and location. Other hotels were too far from the centre. Giuseppe - our second guide who picked us up from Torremolinos - was fantastic. Good energy and a lot of fun.
September 2013
I thought the destinations included in the tour were excellent and we enjoyed seeing them.
That is only one of a few positive statements that I can make. Joining the tour and dragging luggage across 4-lanes of traffic was difficult but obviously could not be corrected without major physical changes to the street location. The initial tour guide Christina was very disappointing. On the trip from Madrid to Seville, she spent most of the time trying to get the paper work squared away. She spoke for less then 10-minutes on Spain despite the fact that we were driving past fields of solar panels, grape trees and other sites. On three occasions I asked if the air conditioning could be adjusted to make the bus cooler. Several other passengers made the same request and you could see almost everyone trying to open the overhead vents to get more air. I also asked the driver during a stop and was told that it was automatic. Christina did not have the temperature adjusted and spent most of the trip, other than the paperwork, sitting in the front seat with a large hand fan cooling herself or sleeping. The tour groups were mixed and she briefed the portion of the group that was staying with her on what they would be doing. When she was asked by our group that was going to Torremolinos what we might do in Costa del Sol and Grenada, she explained that she would not be with us and could not help us. We were specifically told that although there would be no guide for the Costa del Sol portion, the tour guide would provide a host of information on the area. We received absolutely nothing and merely picked up by a new driver and dropped off at the street in front of the hotel with no information, not even the time we would be picked up for the rest of the tour. Josef called the day before and left word for the pick-up and took us on the rest of the tour. The bus was air-conditioned and he was pretty talkative and helpful.
Advertisement
Advertisement