Enhance your sightseeing experience of Spain's rich Andalusia region and the medieval city of Toledo on an 8-day tour of Spain from Madrid. Visit an impressive array of UNESCO World Heritage-listed sites as you explore the diverse country; delve into the richly decorated chambers of Granada's Alhambra palace complex on a guided tour; relish the powdery sands of the Costa del Sol's beaches; and observe a cosmopolitan combination of cultures in Toledo, a medieval walled city boasting a remarkable architectural tableau. Stay in 3- or 4-star accommodation for seven nights and enjoy informative guided tours and transportation by luxury coach.
Highlights
8-day tour from Madrid to Toledo and Spain's most famous Andalusian cities
Enjoy guided tours of Madrid, Cordoba, Seville, Granada and Toledo
Visit the Great Mosque of Cordoba and Seville's Santa Cruz Quarter and Maria Luisa Gardens
Visit Granada's UNESCO World Heritage-listed Alhambra Palace and Generalife Gardens

Have free time in Madrid, Seville, Ronda and Costa del Sol to explore more on your own
Take an optional flamenco tour in Seville and a gypsy night tour in Granada
Witness the mix of three Spanish traditions -- Christian, Moorish and Jewish -- in the UNESCO World Heritage City of Toledo

Seven nights of accommodation and transport by comfortable coach included

Recent Photos of This Tour
What You Can Expect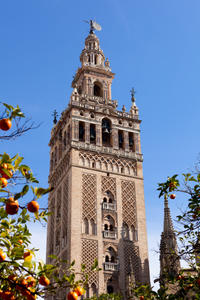 Commence your cultural adventure in Madrid and see the Spanish capital's impressive landmarks on a comprehensive sightseeing tour. Drive through the legendary land of Don Quixote to Cordoba, an ancient city home to the magnificent Great Mosque. Head to Seville to stroll the historical neighborhood of Santa Cruz and opt to take a flamenco tour and see a feisty dance performance while here.
Explore the ancient Celtic monuments of Ronda, a picturesque city cradled by the Sierra Nevada Mountains, and recline on the soft sands of the Costa del Sol's beaches. Conclude your tour in Toledo, a cosmopolitan city whose architecture pays testament to three contrasting cultures, before returning to Madrid.
Your tour includes seven nights accommodation in 3- or 4-star hotels, guided tours, transportation by luxury coach and selected meals. Please see the Itinerary section below for a detail schedule of each day.
Note: This tour begins on a Tuesday, but you have the option to start the following day and thus have an extra day at the end of your tour.
Itinerary
Day 1: Madrid
When you arrive at the airport in Madrid, your driver will assist you with your luggage and take you to your Madrid hotel to gear up for your exciting exploration to Spain's Andalusia region.

Overnight: 3-star Hotel Mayorazgo or similar, 4-star Hotel Catalonia Gran Via, Tryp Madrid Plaza España or similar.

Day 2: Madrid (B)
After breakfast at the hotel, you'll have free time to explore the fascinating city of Madrid at your leisure. In the afternoon, you'll be picked up from your hotel for a panoramic sightseeing tour of the city with your knowledgeable guide. Explore Gran Via with its shops and restaurants, see the La Cibeles statue, and wander through Plaza de España.

At the end of the day, enjoy a relaxing stay at your hotel.

Overnight: 3-star Hotel Mayorazgo or similar, 4-star Hotel Catalonia Gran Via, Tryp Madrid Plaza España or similar.

Day 3: Madrid – Cordoba – Seville (B, D)
Start your third day with early morning breakfast at your hotel before taking a comfortable coach ride through the land of Don Quixote, the 'Man from La Mancha,' to Cordoba.

When you arrive, you'll take a guided city tour and visit the Great Mosque of Cordoba and the historical Jewish Quarter. Afterward, you'll continue your journey to Seville for dinner and an overnight stay.

Overnight: 3-star Catalonia Santa Justa or 4-star Meliá Lebreros in Seville

Day 4: Seville (B, D)
On your fourth day, enjoy breakfast and then take a tour of Seville with your guide. Admire the grand exterior of Seville Cathedral and wander through the Santa Cruz Quarter and Maria Luisa Gardens.

You'll have the afternoon to continue exploring at your leisure. Your guide will point out great spots for you to enjoy marvelous views of the cityscape.

At the end of the day, return to your hotel for dinner and a relaxing night's rest. Or, you can continue the fun with an optional flamenco tour! Head to a local venue for an entertaining flamenco show featuring lively dancers and catchy music.

Overnight: 3-star Catalonia Santa Justa or 4-star Meliá Lebreros in Seville

Day 5: Seville – Ronda – Costa del Sol (B, D)
Reminisce on your time in Seville over breakfast before heading to Ronda, where you'll enjoy time at your leisure to explore this Celtic town and admire great views of the valley and the surrounding mountains. Then, continue your tour to Costa del Sol, a beautiful region on the Mediterranean coast.

The afternoon is yours to relax, find a great place for a traditional Spanish lunch, or sightsee on your own. Afterward, head to your hotel for dinner.

Overnight: 3-star Sol Principe or 4-star Melia Costa del Sol in Costa del Sol

Day 6: Costa del Sol – Granada (B, D)
Begin your sixth day with breakfast at your hotel before departing for Granada, an hour from the coast at the foot of the Sierra Nevada mountains. Here, your guide will take you to UNESCO World Heritage-listed Alhambra Palace, an impressive 14th-century royal palace and fortress complex, and its Generalife Gardens, the last stronghold of the Moorish kingdom. As you tour this site with your guide, you'll be amazed at the incredible mix of impressive architecture and beautiful nature.

When you head to your hotel for dinner in the evening, you'll have the option to take a gypsy night tour to explore Granada's 'gypsy' neighborhood with your guide.

Overnight: 3-star Los Angeles or 4-star Abades Nevada Palace in Granada

Day 7: Granada – Toledo – Madrid (B)
On your last day of sightseeing, have breakfast and depart for the Imperial City of Toledo, a UNESCO World Heritage City where three of Spain's cultures -- Christian, Moorish and Jewish -- have lived together for centuries.

Take a tour of the city's most important and interesting monuments as you wander through its narrow streets. Your guide will also take you to local shop to see damasquinado, a famous method of intricate gold and silver inlaying in iron.

Continue your journey back to Madrid for a relaxing overnight stay.

Overnight: 3-star Hotel Mayorazgo or similar, 4-star Hotel Catalonia Gran Via, Tryp Madrid Plaza España or similar.

Day 8: Madrid (B)
After breakfast, reflect on your amazing Spain experience on the ride back to the airport for your departure flight.

The hotels detailed above are as a reference only and are subject to change
June 2016
Fantastic and very enjoyable trip I and #39;ve ever joined highly recommended to anyone who wants a great time in Madrid
June 2016
My friend and I had a great experience with your tour, our guides were knowledgeable and experienced, our hotels were clean and centrally located, this was my first time using your tours, from now on, I will only use your company, thanks for exceeding my expectations.

March 2016
The tour guide was very welcoming and knowledgeable.
October 2015
This was our first time traveling to Spain. We felt so lucky joining this tour because of our guide Josef. He was so well informed and shared with us the history of the different locations that we visited.The hotels we stayed at included breakfast and dinner and they were clean and comfortable.The driver handled all driving situations like a pro. All in all we enjoyed every thing that we saw, and experienced.
March 2015
Most excellent tour! Can't praise more the tour company for working with such wonderful guides like Hugothe main tour guide and Carmenour Madrid guide, our bus driver Jesus, the local guides like Luis in Cordoba, Gloria in Seville, Triny in Granada and Angel in Toledo. And last but not least Mona and Sonia, the two ladies who kept us informed about the tour beforehand. Spotllesly organised from the start to the finish. We had a smaller group, and had plenty of time to visit different places as to have optional tours or rest. The hotels were excellent so as the food. Can't recommend it more.
February 2015
An amazing tour! The tour was very well planned, loved all the locations we were taken too and the knowledge of the tour guides. Although the only thing to be advised is that in the winter time it can be cold and so pack accordingly.
Gordon D Canada
August 2014
This was an excellent tour.. Our guide was personable, organized and knowledgeable. The hotel in Granada wasn't central and that would be our only negative comment. The tour overall was well-paced, interesting and we had a great time!
March 2016
i would recommend it! very well organized tour. we had a fantastic guide. the tour operator should just improve the tour in madrid by bus is not the best choice and the choice of the hotel in sevilla a little bit far from the downtown.
Madelyn G United States of ...
November 2015
My tour guide Josep was amazing. He was very informative and very funny. We really enjoyed having him as our tour guide. There was some hotel confusion when we arrived at Costa del Sol, but the situation was resolved but we arrived late and didn't get to see anything there before moving on to our next stop. The places that we saw were all beautiful and very interesting. I would love to go back at my own leisure and re-visit some of the towns without being so rushed. The whole experience was fun though and we met a lot of nice people on the tour.
October 2015
The trip was great! The guide was fun and the accommodations were all very nice. The bus was clean and comfortable. I saw all the places in Andalusia I wanted to. I was thrilled with the guides in Sevilla and Cordoba. They were very knowledgeable and interesting. I could have done without Costa del Sol because it was a touristy high rise on the beach. I wanted to see the culture -not other foreigners. This was the perfect time of the year because it was sunny but not hot. I think this is excellent value for money!!
Advertisement
Advertisement