Succumb to serenity at the soothing Arabian baths, Hamman Al Ándalus, with a luxurious massage. Immerse yourself in the relaxing resplendence of the candle-lit oasis, allowing your body and mind to unwind amid the Arabian décor and tranquil ambience of the spa. Sip on refreshing mint tea, submerge yourself in the soothing water of the pools then indulge in a massage delivered by an expert masseuse. Upgrade to enjoy a 30-minute massage and exfoliating body scrub.
Highlights
Enjoy a session inside Hamman Al Ándalus, Madrid's Arabian baths
Spend time at leisure enjoying the thermal baths and steam room
Sip on mint tea and admire the bath's ambient Arabian decor
Choose your own massage oil from a selection of rose, lavender, violet or red amber essences
Relax during a 15-minute massage or upgrade to the 30-minute option that includes an exfoliating body scrub

What You Can Expect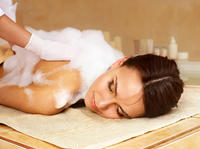 Make your own way to Madrid's Hamman Al Ándalus and descend into the subterranean cistern that promises peace. Built by Moors in the medieval ages, the luxurious baths have been used by locals as a relaxing refuge for centuries.
Enjoy 1.5-hours of luxurious leisure when you step inside the beautiful baths; designed according to an Arabian theme, the baths feature candle-lit walkways, ambient chambers and soothing waters. Sip refreshing mint tea and cooling water as you submerge yourself in a thermal bath, then plunge into the ice-cold depths of a cold pool to revitalize your senses.
Inhale the soothing aromas of the steam room then stroll to the Aroma Corner for your mesmerizing massage. Select oils scented with rose, lavender or violet then succumb to serenity as the masseuse soothes your muscles during a 15-minute session. Upgrade to double the time of your massage and enjoy an exfoliating body scrub proven to re-energize and smooth skin.
Refresh in the lavish shower facilities then emerge from the baths feeling idyllic and invigorated.
June 2016
This is a must do in Madrid.
We had a long 14 hour flight and this was just magic. Great massage and relaxing baths.
Wonderful staff.
May 2016
Unique experience. Very relaxing. Great way to end trip.
May 2016
Had a fab and relaxing time, really enjoyed.
January 2016
Super relaxing way to end our time in Madrid! I would definitely do the exfoliation next time.

November 2015
What an amazing experience, from the staff to the entire ambience of the place, massage was very nice, the Turkish bath was unlike anything I have had. My body still feels clean and smooth 4 days later!!
November 2015
This was a spectacular experience. We absolutely loved this and would recommend this to everyone. The baths were relaxing and the massages were wonderful. His was a great way to end our vacation trip.
October 2015
We loved this, after travelling for hours and with the 6 hour time change, we didn't want to sleep too early and mess ourselves up time-wise so we booked this for the day we arrived, had a lovely relaxed massage and float in the hot baths. Rejuvenating and relief for those sore, aching muscles after sitting on planes for so long. Great way to start the va ca!
October 2015
On our last day in the busy City of Madrid and after traveling 8 days into the Andalusia area my husband and I enjoyed the Arabian baths plus massage.It was just the perfect way to end a fabulous trip to Spain.
July 2015
excellent massage. a little hard to find.....lalatina tube walk along to plaza tirso de molina, then up bit of hill on left to calle atoche. turn left and its few shops down...was good experience and very relaxing.
July 2015
Loved it. What a wonderful spa experience. Peaceful, serene, and rejuvenating. Would go weekly if I could!
Advertisement
Advertisement