Soccer fans will love this exploration of the Atlético de Madrid football club, including admission ticket and 45-minute guided tour inside the team's Vicente Calderón Stadium. Follow a guide on a visit into the stadium's press room, VIP box, player changing rooms and pitch, discovering the history of the team as you go. Your entrance to Atletico Madrid's stadium also includes access to the on-site museum, where you can discover over 1,000 pieces of soccer memorabilia including shirts, trophies and vintage season tickets.
Highlights
Entrance ticket to Vicente Calderón Stadium, home of Atlético de Madrid
Explore Vicente Calderón Stadium on a tour and learn about the football club's history
Visit Atlético de Madrid's changing rooms where players like Tiago Mendes prepare for games
See the playing pitch, press room and VIP box
Walk around the stadium museum at leisure and see an incredible collection of football paraphernalia
Why Our Insiders Chose This Tour
This is the best tour for Atlético de Madrid football fans who want to see the stadium and the museum while learning about the history of the club.
What You Can Expect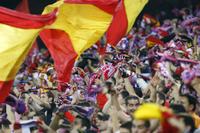 Explore the hallowed ground of Vicente Calderón Stadium, home field for the Atlético de Madrid football club, with this admission ticket and guided tour. Whether you're a die-hard Atlético fan or simply interested in Spain's soccer culture, this excursion is a great pick.
Start your visit any time during the stadium's opening hours, Tuesday through Sunday from 11am to 7pm, where you'll meet up with your guide for your tour. Discover details about the fascinating history of this famed football club, first founded in 1903. The team's home field was originally known as Manzanares Stadium, though they changed its name to Vicente Calderón Stadium to honor one of the club's most popular presidents.
Step onto the stadium pitch, site of any number of historic international matches, and check out the changing rooms where famous players like Jorge Pulido and Tiago Mendes get suited up. Along the way your guide shares insights into the team's most famous matches and its loyal fan base, who don their red-and-white striped jerseys before each competition. Next stop by the press room, home for the many journalists covering the team, and visit the VIP box, which plays host to visiting dignitaries.
Finish your guided tour after 45 minutes, continuing as you explore the on-site museum at your leisure. Check out the vast collection of Atlético-themed memorabilia on display, covering shirts, photos, flags, trophies, mini models of the players, old season tickets and more. The collection totals well over 1,000 unique items.
Feel free to continue your visit inside the stadium for up to three hours, taking a break to have a snack or drink at one of the on-site cafés or bars.
August 2015
Fantastic tour well worth going

March 2015
The tour was excellent, great to see the history of the club and the facilities within the club. Recommended tour if you have the time.
March 2015
The tour is a must do for any football fan, although not the best stadium ever visited it is nice to have another one ticked off the list!!
November 2014
found this tour to be intersting , you get to look around the club museum ,and see all the trophies the club has won over the years, plus loads of memorabilia including sighed shirts from former players, old season tickets ETC.
after looking around the museum you are then given a guided tour off the ground including the changing rooms, and press rooms , while being told about the history off the club and ground , there are many good photo opportunities.
if you are a football fan and enjoy looking around football stadiums and club museums then you will enjoy this tour.
October 2013
a great tour , just check the times of the tour as we had to wait for a couple of hours
July 2015
February 2015
Unfortunately had just missed previous tour and had to wait but made most of time with some refreshments, actual tour, not much to see in museum and tour itself not what I expected, however, it was an experience. Would love to go again when the new stadium is open.
April 2014
The tour was delivered in Spanish and therefore, we didn't learn anything about the stadium but it was still enjoyable to see the stadium, the dressing rooms and the museum where there was information available in English. It is a guided tour so there is less freedom and opportunity to take photos but well worth it for the price.
October 2015
The ticket from Viator I bought online said all I needed to bring to the stadium was my ID , I had no access to a printer or I phone , so my ID did not get me into the stadium , the stadium had no record of my purchase, I had to pay again. Not very good.
June 2015
Over the many, many years that I have spent travelling the world I have seldom felt the need to provide feedback or reviews but I feel that I should on this particular occasion. The tour vouchers from Viator were issued for a day that the stadium was closed to tours which we obviously had no idea about at the time. When we arrived at the stadium, the staff were EXTREMELY rude, disinterested and unhelpful and blamed Viator. The result - one devastated 10-year old son who had been looking forward to the trip for weeks and made worse by the fact that one staff member admitted that she didnt care how disappointed he was. This whole saga wasted a considerable amount of valuable and limited time from our holiday particularly the Madrid part. We contacted Viator immediately after we returned to our Madrid hotel who claim that they have referred the matter to the local agent for their comments. That was several days ago and were still waiting for a response. In the meantime, weve continue to receive emails asking us to review completed tours and consider booing additional trips. Overall, Im struggling to find a reason to justify a single star. Best advice I can give is just dont bother!
Advertisement
Advertisement