1163 Reviews
Location:

Madrid, Spain

Duration:

9 hours

(approx.)
Soak up Spain's fascinating history and legendary culture on an Avila and Segovia day trip from Madrid. Explore the walled city of Avila, Spain's best-preserved 11th-century fortified town, and discover why it is known as the City of Stones and Saints. Then unravel centuries of history in the city of Segovia, from its two-tiered Roman aqueduct to its Moorish fort and stunning Gothic cathedral. With the option to indulge in a gastronomic lunch, your trip to these two UNESCO World Heritage sites is a feast for all the senses!
Highlights
Day trip from Madrid to Avila and Segovia
Enjoy a photo stop with superb panoramic views of Avila
Tour Avila's UNESCO-protected city walls and towers
See Avila's San Vicente Basilica and cathedral
Visit Segovia's magnificent Roman aqueduct and Gothic cathedral
Optional tourist-style or gourmet Segovian lunch with drinks
Recent Photos of This Tour
Avila and Segovia Day Trip from Madrid
What You Can Expect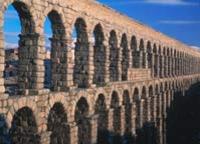 Your day trip from Madrid to Avila begins with a stop at hilltop Los Cuatro Postes to admire superb panoramic views over the city of Avila, dotted with church towers and Gothic palaces, and declared a UNESCO 'Heritage of Mankind' city.

Entering the 11th-century city walls encircling Avila, notice how the 90 fortified towers and circular turrets look like they've stepped out of a storybook, and hear how Avila is an important pilgrimage site as the birthplace of the mystic writer Saint Teresa of Jesus (1515–82). Then explore two of the best examples from the astounding array of Romanesque and Gothic churches in Avila, packed with one of the highest concentrations of Romanesque and Gothic churches in Spain.

Your guided visit to Avila's churches takes you to San Vicente Basilica, a Gothic masterpiece and home to some of Spain's most prized examples of Romanesque sculpture. Then see how Gothic and Romanesque architecture combine in Avila's celebrated cathedral, with its fortress design and alabaster chapels and tombs.

Continue your Segovia day trip to see one of the finest Roman-era monuments in Spain -- Segovia's Roman aqueduct. Admire the scale of this incredible feat of engineering, built entirely without mortar during the reign of Augustus in the 1st century AD, and see how the aqueduct originally had 118 arches and was 10 miles (16 kilometers) long.

Your guided tour of Segovia also takes you to the famous Alcazar, a beautiful 11th-century medieval fort that inspired the design of Disney's fairytale castle. One of the finest Moorish fortresses in Spain, it's also at the heart of one of the most significant group of medieval buildings in the country. Step back in time and imagine the medieval tournaments that once took place here, and the heroic knights who fought in the court of the kings of Castile who ruled from Segovia.

Complete your Segovia guided visit with a look at the city's impressive cathedral, the last Gothic cathedral built in Spain and known as 'the Lady of the Cathedrals'.

On this day trip to Segovia you have the option of including a tourist-style lunch of stuffed veal or a superb gastronomic meal featuring local Segovian specialties such as roasted suckling pig.
Itinerary
Sample Menu (subject to change)
Tourist Lunch:
La Granja white beans
Beef cooked 'Segovian style'
Dessert
Gastronomic Lunch
La Granja white beans
Roasted baby pig
Segovian cake
Mineral water, wine and coffee
November 2015
Excellent guides and interesting history
November 2015
Tour guide was really good! She knew her stuff and was funny in the process. Loved it and would do another day trip tour through Viator again!!
November 2015
An amazing tour not to be missed. It is a full day with LOTS of walking. I think I measured over 7 miles!
After meeting at the tour office, we walked a short distance to the very comfortable bus with our guide Nuria. She speaks great Spanish and English, the tour is bilingual. You start out with a lovely drive to Avila, a walled city. Lots of walking and picture opportunities here. Make sure you visit the restrooms before leaving Avila...she doesnt point out that opportunity before leaving. Then another drive to Segovia where you can see the aqueduct and have some time for lunch. We did the lunch on your own option, which I highly recommend. Lots of restaurants very reasonably priced. On to the rest of the walking tour. Exhausted at the end of a long day but one well worth the effort.
November 2015
Great time in Avila and Segovia. Was certainly worth it.
October 2015
This was a excellent tour. Isabel, our guide, was knowledgable and fun. We tend to avoid these kinds of tours big buses full of tourists and we did our own tours of Toledo and Cordoba. There were 42 people on the bus but we divided into two groups. We could not have duplicated the experience of this tour on our own. To have missed this tour would have been great loss to our Spain tour vacation.
October 2015
Lo disfrutamos muchisimo!!! Isabel nuestra guia con pleno dominio y Conocimiento. Espectacular el acueducto!!!
October 2015
Lo disfrutamos muchisimo!!! Isabel nuestra guia con pleno dominio y Conocimiento. Espectacular el acueducto!!!
October 2015
A really interesting tour, beautiful Avila town wall, great structures in Segovia. nicely planned, enough independent time as well as information from the tour guide. The tour guide Isabelle was a real modern Spanish woman, passionate Spanish patriot and skillful professional. I would highly recommend this tour.
October 2015
I loved this tour! Segovia and Avila are beautiful places with a lot of history.
October 2015
we had a great time. The group was around 20 and that is a good size. We didn't feel rushed with Gorge. He was very clear in his explanations and full of information.
I would recommend this to anyone!
Advertisement
Advertisement