Discover the rich history and culture of Madrid with your Madrid Card. Gain entry to over 50 museums, partake in a "Discover Madrid" walking tour or visit the Real Madrid Stadium Tour. With the choice of a 24 hour, 48 hour, 72 hour or 120 hour card, you can also enjoy discounts on shopping, restaurants and nightlife such as a flamenco show.
Highlights
Free admission to more than 50 Madrid museums

Priority access to Prado Museum, Madrid Royal Palace, Thyssen-Bornemisza Museum and Reina Sofia Museum, and the Cable Car

A Guided tour of Madrid including Santiago Bernabeu Stadium tour and Las Ventas bullring

Free guidebook and map to Madrid

Shopping, restaurants and nightlife discounts

Choose from 24-hour, 48-hour, 72-hour or 120-hour cards
Recent Photos of This Tour
What You Can Expect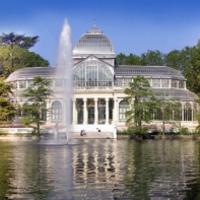 You will also receive a tourist guide with information about museums and services included available in 5 languages. A map of the city showing the locations of participating establishments will also be included when you collect your card.

Includes priority access into Prado Museum, Madrid Royal Palace, Thyssen-Bornemisza museum, Reina Sofia museum, Wax museum, Cable Car and Real Madrid stadium tour and up to 50 more museums

Itinerary
Once you have purchased your Madrid Card, entry to the following museums, palaces and monuments is FREE:
THE ART WALK (with priority access):
Prado National Museum
Reina Sofia National Museum and Art Centre
The Thyssen-Bornemisza Foundation Collection
NATIONAL HERITAGE:
Royal Palace of Madrid (with priority access)
Royal Palace of El Pardo
The Royal Monastery of the Encarnation
Velázquez Palace
NATIONAL MUSEUMS:
Museum of America in Madrid
National Anthropology Museum
National Archaeology Museum
National Museum of Decorative Arts
Cerralbo Museum
Sorolla Museum
Clothing Museum
MUNICIPAL MUSEUMS:
La Casa Encendida

The Debod Temple
Madrid Planetarium
Cristal Palace

Romanticism Museum
CSIC:
Natural Science Museum
Geomining Museum
Royal Botanical Gardens
National Science and Technology Museum
Aeronautics and Astronautics Museum
MISCELLANEOUS:
San Fernando Royal Academy of Fine Art
Wax Museum
Bullfighting Museum
Public Arts Museum
Atletico de Madrid Museum

Naval Museum
Madrid's Matadero

Santiago Bernabeu stadium (with priority access)
Lope de Vega House
Royal Tapestry Factory
Cable car (with priority access)
Las Ventas bullfighting plaza
Lazaro Galdiano Museum
Anden 0
Mapfre Foundation
Raton Perez House/Museum
Tiflologic Museum
Circulo de Bellas Artes rooftop terrace
Royal Mint House Museum
CaixaForum
In addition to the above mentioned FREE admissions, the card also provides discounted or added value for shopping, restaurants, flamenco shows, and much more!
November 2015
The Madrid Card certainly expedited getting into the various museums and other tours as well as saving us some money.
October 2015
We purchased the cards before we went. The cards saved a lot of money and saved standing in queues. However, there was quite a queue to collect it from the airport!.
October 2015
If you plan to see the major museums, royal palace this can't be beat. Even if you don't break even euro for euro on what you go to, the skip the line feature alone is worth the cost.
September 2015
September 2015
Excellent access to fine museums
September 2015
Prado and Reina Sofia worth skip the line.alone worlth
September 2015
This is an excellent way to save money and see all the sights you would like.
This card is a must have, it will enable you to see more sights than you could imagine, or have time to visit, as I found out recently.
D.McAlister
September 2015
We got the 24-hour Madrid card, activated it in the afternoon of our first day, and used it til the afternoon of our 2nd day. We got to see the Palacio Real, the Prado, the Botanical Gardens, and the Reina Sofia--all without lining up! It was a great time-saver. The person at the tourist information booth was also very helpful, suggesting that we see places that are close together on the same day so we don't waste time commuting. I definitely recommend this for the traveler who wants to make the most of his or her time in Madrid.
August 2015
Great card! I highly recommend it! Saved u time waiting in line to buy tickets and able to use fast line at certain locations. You actually save money since u are admitted free into those places, Easiest way to see these places are using the hop on, hop off bus which is separate cost, however very economical if u purchase for multiple days............
July 2015
Very conveninet. Free entry to almost all museums...Rolay palace was amazing and also Prado
Advertisement
Advertisement