Immerse yourself in Madrid's history as you explore the city's most important sites and Royal Palace during a 3-hour excursion. Get the story behind the city's architectural history, following its evolution from "Moorish Madrid" into the Habsburg and Bourbon periods, during which the city's palaces and central squares like Plaza Mayor and Puerto del Sol changed dramatically. Then visit the Spanish Royal Palace (Palacio Real) where you'll see the royal collections and admire its Baroque details. Finish your day at Madrid Rio, the city's newest public park. This Madrid sightseeing tour also includes all entrance fees and a soft drink refreshment.
Highlights
Madrid sightseeing tour with Royal Palace (Palacio Real) visit

Learn about Madrid's Moorish origins in Barrio de la Moreria
See Madrid's famous Habsburg monuments and squares
Visit Rio Madrid and other sights of modern-day Madrid
Stop for a drink at the Hard Rock Cafe
View the Royal Palace's throne room, banqueting rooms and royal apartments with your professional guide

What You Can Expect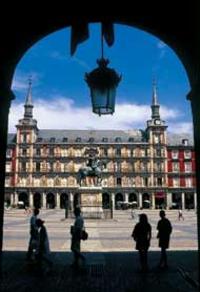 Get an overview of the centuries of history, culture and tradition that have shaped the Spanish capital of Madrid, covering its Arab and medieval periods up to the present. During this tour you'll have the chance to visit some of the city's most important historical sites along with its Royal Palace and its newest city park at Rio Madrid.
Start your day at 9am in central Madrid, heading out to begin your exploration of the many hundreds of years of architectural history that have shaped the boundaries and buildings of this dynamic urban area. Discover the Moorish history of Madrid in the Barrio de la Moreria, an old Moorish section of the city. Proceed from there to view some of the various structures of Madrid's Habsburg period, including Calle Mayor, Plaza de la Villa, the Prado Museum and Plaza Mayor, an era characterized by its renaissance and baroque architectural styles.
Continue your visit with an examination of the architecture of the period surrounding the reign of Charles III in the 18th century. During this era, Madrid gained in importance as a critical knowledge center for culture and science, as artists and intellectuals flocked to its neighborhoods. Check out the Monumento de la Encarnación, Puerta del Sol and Puerta de la Opera, which provide excellent examples of the flurry of construction that took place during this time.
Head next into the contemporary era of Madrid's history, first by exploring the boulevards of Gran Vía and Paseo de la Castellana. Then head next to the beautiful structures of the Barrio Salamanca and Parque del Oeste neighborhood, along with a chance to view some of Madrid's most important commercial and financial areas. You'll also stop at modern architectural sites like Ventas Bullring or Santiago Bernabeu Stadium, before taking time for a stroll at the city's newest public space Madrid Rio.
Stop for a break at the Hard Rock Cafe for a free drink before heading to the Royal Palace (Palacio Real). This former home of the Spanish royal family was constructed in Italian baroque style in the 18th century near the city's historic alcazar (Arab-fortress). Take a tour inside this beautiful palace, among the best-preserved in Europe, as you listen to your guide place it into context with other surrounding structures like the Plaza de Oriente and Campo del Moro.
Then go inside the palace to admire the extensive collection of antique clocks, armor, art, porcelain and tapestries that line its halls. Make sure to check out the works by Spanish masters Goya and Velazquez and stop by the throne room, banquet halls and private royal apartments. You'll also have time to see the royal armory, pharmacy and grand hall of columns.
End your Madrid tour around noon outside the Royal Palace.
June 2016
This tour was a good way to get a quick overview of the city and to help acclimate to where things are located in case you want to go back. Enjoyed doing the Royal Palace tour as part of this tour as the line to get in the Royal Palace on your own can be quite long.

Ted Canada
March 2016
This was a great way to be introduced to Madrid. And the Royal Palace tour was a nice addition. I ended up returning to many of the sights we saw on the tour, just so that I could spend more time there.
March 2016
Excellent tour and guide with plenty of photo stops and it's always good to have a guide in the palace for all the extra info you find out
December 2015
very educated guide and the royal palace is worthwhile. To be recommanded!
December 2015
Excellent tour! Much better than visiting the Royal Palace and simply taking photos. Would highly recommend it.
November 2015
Great tour, highly recommend it.
October 2015

October 2015
The tour was very interesting and informative! I really enjoyed the guided Royal Palace part and I would definitely do it again! I think a sightseeing tour is a must for all cities that you visit! On my tour, the guide spoke half English and half Spanish which was kind of redundant since I speak and understand both languages. Other than that, everything was perfect!
March 2015
Tour was excellent. Guide was knowledgable and made interesting comments along the way.
March 2015
Excelletn English speaking Guide. Very informative. Palace was amazing!
Advertisement
Advertisement