19 Reviews
Location:

Madrid, Spain

Duration:

10 hours

(approx.)
Pay less and get more on this Madrid Combo tour, which combines a half-day tour of Toledo and a half-day tour of Aranjuez. In the morning you'll travel to Toledo, Spain's medieval capital and a treasure trove of architecture and El Greco art. Then spend the afternoon in Aranjuez, a beautiful World Heritage-listed royal city. You'll be accompanied by a knowledgeable guide all day.
Highlights
Madrid Combo tour of Toledo and Aranjuez

Admire El Greco's The Burial of the Count of Orgaz in Toledo

Walk through Toledo's medieval cobbled streets
Visit the beautiful Palacio Real in Aranjuez

Discover the beauty of the palace gardens

Free drinks at the Gran Casino de Aranjuez
What You Can Expect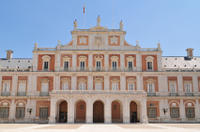 Morning Tour: Toledo
A highlight of any visit to Toledo, a UNESCO World Heritage Site filled with wonderful architecture, is seeing The Burial of the Count of Orgaz, the famous painting by 16th-century master El Greco. Toledo was the setting for many of El Greco's art, and you'll see this painting – one of his most famous – at the Church of St Tome.

Toledo is known for its art and history and has a landscape that combines Arabic, Mudejar, Gothic, medieval and Renaissance architecture. Surrounded by the River Tajo, the atmospheric walled town is crammed with churches and museums. Sights you'll see include the amazing 13th-century Cathedral of Toledo, the medieval castle, Santa Maria la Blanca Synagogue, San Juan of the Kings Monastery and the Victorio Macho Museum.

Afternoon Tour: Aranjuez
In the afternoon, enjoy the beautiful architecture and regal atmosphere of Aranjuez, which sits at the confluence of the Tagus and Jarama rivers. Your local guide will lead you the Palacio Real (Royal Palace), part of Aranjuez's UNESCO World Heritage Cultural Landscape. It is a Spanish Royal Site – the spring residence of Spanish kings since the late 1800s. Admire the decorative styles, and see the Throne Room of Elizabeth II, the Prince's Gardens, the Parterre and the Island. The palace gardens are so beautiful, they inspired Spanish composer Joaquin Rodrigo to compose his Concierto de Aranjuez.

After relaxing in the gardens, you head to the Gran Casino of Aranjuez to have a little fun and enjoy a complimentary welcome drink. Your guide will show you around, and then you can try your luck at the tables if you wish.
November 2014
Excellent tours with great guides. These are really two half-day tours to sites in different directions from Madrid. So, first tour ends in Madrid with a quick hour (or less) for lunch and then the next tour leaves. This makes for a VERY strenuous and long day. Even though there is an escalator most of the way from the drop off point to upper Old Town Toledo, there is still a lot of hill left as well as stairs within the buildings visited. In addition, the Aranjuez Palace is multi-story. Even though I sat out and enjoyed a bench in the palace gardens after interior tour, I still had a wonderful time and would recommend the tour (but maybe split into two days).
June 2014
A wonderful experience, our guide was very knowledgeable, kind, and to the point. Both places are very pretty. In my opinion Aranjuez was more impressive than el Palacio Real in Madrid.
December 2013
April 2012
Our tour guides were both excellent. Although strict with time, they were so very knowledgeable and well-spoken. Both their Spanish and English were impeccable. Their passion was infectious and made the many sights we saw come to life. After the previous day's nightmare, I was relieved to have both excellent experiences. There were four of us in the group and we all noted how wonderful both tours were that day. We owe that to our guides.
April 2012
The guide we had, Ana, was extremely knowledgeable and pleasant. It was worth the price we paid. The bus we rode in was very comfortable. I will use Viator again on my next trip.
April 2012
Very good excursions for just one day. The guide was very good (but I don't know her name).
It's been a good choice!
October 2014
The guides were both every informative and friendly. They showed us a lot of the interesting sites and told us the important information. It would be better if it was a combined tour, as the trip back to Madrid was a bit unnecessary. I also wouldn't recommend the Aranjuez tour, only because the site itself is unorganised and inaccurate in terms of their flow of rooms, time periods and representation of rooms.
December 2013
The tour to Toledo was nice but a little too hard for my 87 years and my heart condition and I was not in shape to make the Aranjuez one the same day, so I asked Julia Travel to give me anothar date and they said it was not possible but they could cancel the Aranjuez part and Viator would reimbourse me, so I surrender my tickets to them. Ever since I have been asking you for such reimboursement on my credit card to no avail. So I trust this time you will acknowledge and comply.Thanks
Carlos Alzamora
September 2013
The tour to Aranjuez is great, both the programm and the guid are very good. But tour to Toledo can be better, there are significant places in Toledo which do not included in the tour.
August 2012
Advertisement
Advertisement