496 Reviews
Location:

Madrid, Spain

Duration:

4 hours

(approx.)
Special Offer
Book online and save over 15% on local price in Madrid
Sample Spanish nightlife and Madrid's tasty tapas on an evening walking tour that will tantalize your taste buds! Led by an entertaining foodie guide, this walking tour is the best introduction to the laid back Madrileno lifestyle. You'll visit Madrid's tucked-away corners and feast on tasty treats you would never discover on your own, leaving you with a lasting feeling for Madrid and its people, and an appetite for its fabulous food and drink!
Highlights
Evening walking tour of Madrid's tapas bars and restaurants
Visit four typical bars and restaurants
First drink and tapas free
Insightful commentary about Madrid's history and traditions
Entertaining and knowledgeable local guide, who can provide assistance with language and translation when ordering food and beverages
Small group tour with a maximum of eight people
Recent Photos of This Tour
Madrid Tapas Night Walking Tour
What You Can Expect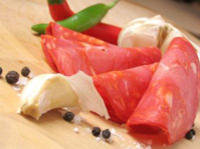 On the walking tour you'll visit four traditional bars/restaurants to try authentic Spanish delicacies. It might be chorizo in cider, octopus from Galicia, cider from Asturias, sherry from Andalucia or other regional specialties. The tour price includes your first drink and tapas at the first bar you'll visit. You can then choose how much or how little you'd like to eat and drink at the other bars/restaurants you'll visit on the evening walking tour. For a satisfying night out you should expect to spend about 30 to 35 euros per person.
Along the way, your English-speaking guide will explain the traditions behind Madrid's food and wine, and advise on local specialties. Your local guide will also assist with language and translation, while providing interesting facts about Madrid's history, culture and customs.
As the average maximum group size is eight people, you will enjoy a unique personalized experience on this special evening walking tour of Madrid's fabulous tapas bars and restaurants. It's the perfect way to discover local insights, while sampling traditional food and drink in great company. Ultimately, adding more color and flavor to your Spanish sojourn!
Itinerary
First stop:
An authentic Asturian bar, frequented by Spaniards of every age and description. A great place to kick off the evening trying their specialties of cabrales (blue cheese), chorizo and cider, which is poured in a very original way!
Second Stop:
A typical, very traditional "fino" or Sherry bar. This hostelry has changed very little in the last century with standing room at the bar or seating at wooden tables at the back. The bar is complete with the authentic oak sherry casks. "Fino" and "Manzanilla" sherries of various hues and tastes are served by the glass or from bottles filled directly from the kegs. Drinks come with complimentary olives or bread sticks.
Next stop:
This intimate local bar gives you a real taste of Madrid, with bulls' heads on the wall set off by various football shirts, and sawdust on the floor where locals deposit their olive pips before a final clear up at the end of the night. On the bar there is a huge selection of "tapitas" and "pinchos" (similar to canapes). Beside the bar is a model ship full of prawns which are usually provided as your complimentary "tapita" with drinks.
Final stop:
A very popular bar/restaurant serving wonderful "tostadas" and great salads, meats, cheeses and Tapas. This is a fantastic eatery with very good quality, no nonsense food and a great atmosphere with orders being shouted from waiter to waiter to bar to chef!
After this the night is yours! With the largest density of bars and restaurants per square meter in Europe, Madrid is famed for its vibrant nightlife. Even at 4 o'clock in the morning the streets are teeming with revelers, some only part way through their night out, others going to partake of the traditional "chocolate y churros" (gloopy hot chocolate and deep-fried doughnut twists) before bed. Madrid is not a place to sit back and watch the world go by, but rather somewhere you should throw yourself into the melee!
THE ABOVE ITINERARY IS AN EXAMPLE ONLY AND SUBJECT TO CHANGE.
July 2015
James was very personable and knowledgeable. He gave us a great introduction to tapas and the local drinks and was even willing to give suggestions about other activities in Madrid. My family of 6 had a marvelous time. I would highly recommend this tour, especially if no one in your group is fluent in Spanish.
July 2015
This was a great tour, made great by the guide Merriam and a great group limited to 8. I didn't have high expectations but this turned out well with an extra stop tacked on to the end. A lot of good information on the regional variations in Tapas.
July 2015
July 2015
An absolutely fantastic tour! James Fraser our guide was outstanding, humorous, clear, concise, so personable and very knowlegable. We were so thrilled we opted to do this tour on our first night in Madrid as it served as a wonderful introduction to the city, its layout, history and monuments, and then to the tapas way of dining with its traditions, and really excellent tapas bars and restaurants all of which we returned to as they were so good.. The food in each bar/restaurant was simply delectable ..all recommended and organised by James, with relevant accompanying drinks. Each person in our group of 9 was so pleasant, we enjoyed a truly memorable evening and a highly recommendable tour. Thank you so much James.
July 2015
Great Tour!! I advise this tour early on in your Madrid stay. Great way to learn the art of tapas! Tour guide was wonderful!
July 2015
Absolutely amazing! So much fun and our guide was perfect!
July 2015
James was incredible and an excellent guide for a fun night in Madrid! A MUST!!!
July 2015
Great experience ! James was superior , knowledgable , fun and took care of us as if we were long time friends. I would recommend this to to anyone . Worth every dime !
June 2015
Our tour guide, Miriam, was amazing! By the time we got back to our hotel, we were DRUNK, FULL, AND HAPPY!!!
June 2015
This is a MUST in Barcelona. We had a very knowledgeable, fun and courteous guide. We learned so much on this tour about the history and past live of Madrid, as well as present stories. This was not a collection of tourist traps in terms of restaurants and facts, it was a truly authentic experience of what it is like to be a Spaniard, what is it like to live in Madrid. We were encouraged to try foods we never would know to order on our own. Our guide from Adventurous Appetites was very knowledgeable about the tradition and the region associated with each dish. Highly recommend! You will feel Madrid's pulse on this walk.
Advertisement
Advertisement